Reporting from Sacramento
Anger, protests erupt over results of the California Democratic Party's election of a new leader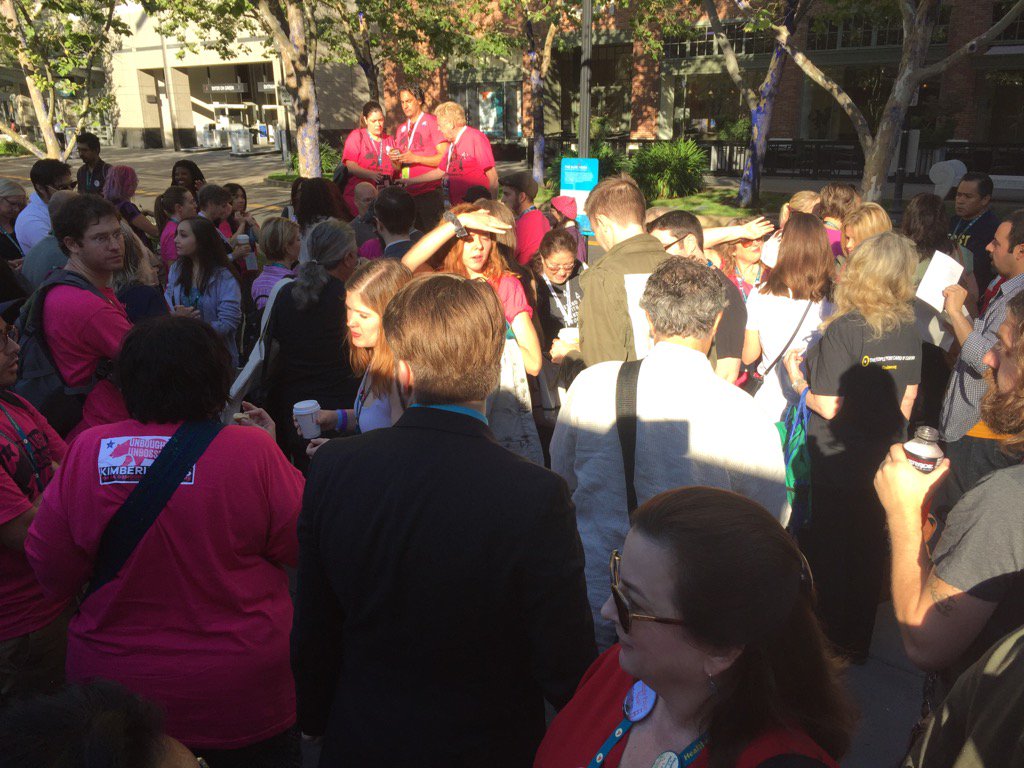 Supporters of the losing candidate in the California Democratic Party's race for chairperson were out en masse early Sunday morning at the state convention in Sacramento, many calling for an investigation of the party's voting process.
Longtime Democratic leader Eric Bauman eked out a victory Saturday to be the party's next chairman, beating rival Kimberly Ellis by just more than 60 votes, according to the state party.
A spokesman for the Ellis campaign on Sunday said they are consulting with legal counsel to determine their options. Ellis has not conceded.
The race, between a party insider and a progressive organizer, was a heated battle between divergent forces that are racking the Democratic Party nationwide. Bauman was a favorite of the party establishment, while Ellis drew the backing of liberals who supported Sen. Bernie Sanders in last year's presidential primary. 
Party delegates are scheduled to meet Sunday morning at the convention, a meeting expected to grow testy. 
Ellis supporters were gathering outside the Sacramento Convention Center just after 7 a.m., many expressing outrage about the outcome and demanding a recount.
"We got shafted," said Alexis Edelstein, founder of Berniecrats of California. 
Mani Kang, 41, a Democratic delegate from Orange and another Bernie Sanders supporter, said the result was too similar to the presidential race. Sanders supporters blamed the leadership of the Democratic Party, including former party chair Debbie Wasserman Schultz, of undercutting the Sanders campaign in favor of Hillary Clinton.
Kang said the Democratic Party establishment did the same to Rep. Keith Ellison of Minnesota, a favorite of Bernie supporters who ran for Democratic National Committee chair but lost to former Obama administration Labor Secretary Tom Perez.
"First it happened to Bernie in Philadelphia. Then it happened to Ellison. Now this is the third attempt," Kang said. "Kimberly had all the momentum in the last few weeks. This is a big deal. We need more transparency in the process."
A few Ellis supporters complained that Democratic Party officials did not check identification when delegates were voting.
Ellis was the director of Emerge California, a Bay Area nonprofit organization that trains Democratic women to run for office.
Latest updates
Copyright © 2017, Los Angeles Times