Reporting from Fresno
Lt. Gov. Gavin Newsom courts Central Valley voters with talk of water, single-payer healthcare at Fresno meet-and-greet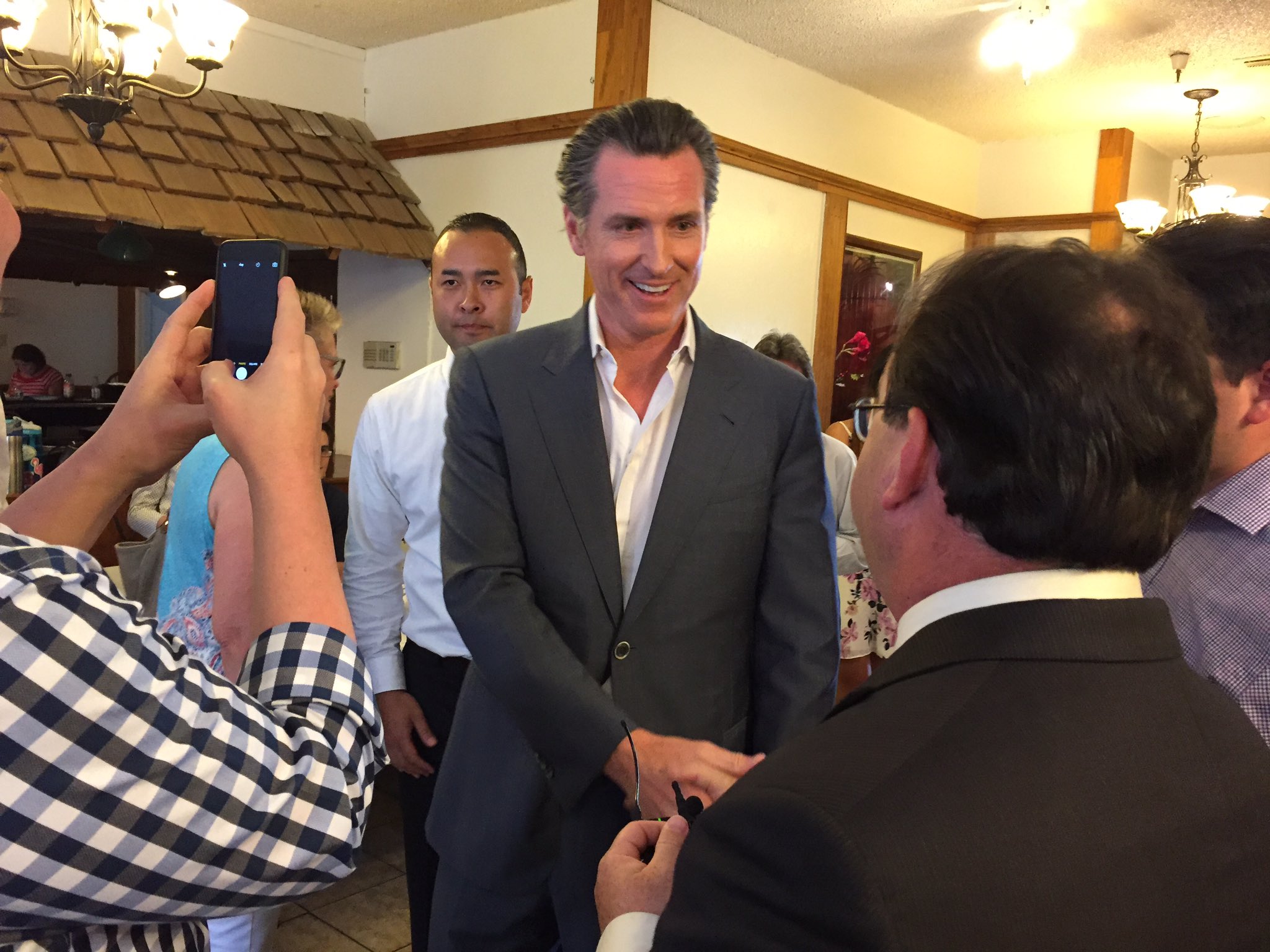 Lt. Gov. Gavin Newsom continued his swing through Central Valley for his 2018 bid for governor Tuesday, courting a packed hall of supporters and the merely curious with vocal support of water storage, single-payer healthcare and California's bullet train.
Those issues resonate in this swath of inland California, a place still limping out of the recession where voters often complain of being ignored by Sacramento politicians except at election time.
Newsom ditched his microphone in favor of pacing up and down the aisles inside Tuolumne Hall in downtown Fresno. He took questions from the about 200 people for close to 90 minutes.
Near the opening of the event, Newsom addressed the weekend's deadly violence in Charlottesville, Va., and President Trump's comments blaming counter-protesters as well as white supremacist groups for the mayhem.
"That kind of bigotry, that kind of hatred, people that stoke that kind of fear — these aren't dog whistles. These are racial provocateurs," Newsom told the crowd, eliciting applause. "They have no place in America, let alone in this state."
Newsom also fielded questions focused on proposals to strengthen the state's water supply and healthcare system. In both cases, Newsom's responses fell short of solid commitments.
The lieutenant governor said he was a strong backer of the $7.5-billion water bond approved by voters in 2014, including $2.7 billion for water storage. But he did not say for certain that he would support the proposed Temperance Flat Dam on the San Joaquin River, which would directly affect Central Valley farmers, or the proposal for the Sites Reservoir in the Sacramento Valley.
Newsom reminded the audience that the dams aren't exactly popular in the Bay Area and that other options such as underground storage may also be viable. Still, he assured the audience that he doesn't oppose the dam projects and indicated he would support the reservoirs if approved.
On healthcare, Newsom touted the fact that, as mayor of San Francisco, he helped establish a citywide universal healthcare program that predated President Obama's Affordable Care Act.
"I do believe in Medicare for all. I do believe that it's inevitable in this country," Newsom said. "Eventually we'll have some courage federally and we'll get there. The question is how can we complement that debate here in California."
Newsom said he was committed to continuing the debate over whether California can launch its own single-payer healthcare system, proposed in a bill shelved in the state Legislature this year. But he cautioned that it's a difficult issue to tackle given the enormous cost and complexities involved.
"I'd be lying to you if I [told you I] had a detailed plan," Newsom said.
Sally Garcia, 73, a retired secretary from Clovis, said she came to Tuesday's event with her husband, Jess, so that they would start educating themselves about the candidates running for governor. Garcia, a Democrat, left impressed.
"He seem to say the right things for the group here," she said. "He was talking to valley people."
Newsom's visit to Fresno is part of a broader Central Valley campaign swing, coming after stops in Placer County and Stockton. On Wednesday he heads to Bakersfield.
Mike Evans, chairman of the Fresno County Democratic Party, said Newsom's main Democratic rivals – former Los Angeles Mayor Antonio Villaraigosa and state Treasurer John Chiang – have also been regular visitors to the Central Valley since they launched their bids.
Seth Smith, who runs a veteran-owned medical marijuana cultivation business in Watsonville, said he liked what he saw in Newsom, but needs to hear more details on his plan to create jobs and improve education in California.
He was impressed by Newsom's defense of so-called sanctuary cities and his vow to protect immigrants, including those who entered the country illegally.
Smith was aware, of course, that Newsom was a major supporter of the successful November ballot initiative that will legalize the recreational use of marijuana in the state.
"That's one of the reasons I know him," said Smith, a Navy veteran and fourth-generation farmer who grew up in Fresno. "I don't know who else is running. So if anyone else is, they haven't made it plain yet."
Latest updates
Copyright © 2017, Los Angeles Times