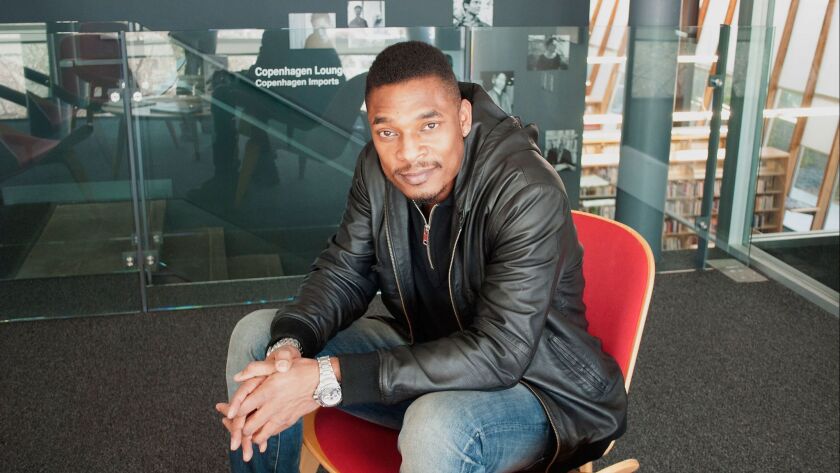 The longlist for the National Book Award for Poetry was announced Wednesday, with three of the nation's best-known poets joining several up-and-coming authors on the list of nominees.
MacArthur Fellow and one-time National Book Award winner Terrance Hayes is once again in the running for the prize, for "American Sonnets for My Past and Future Assassin."
Also on the longlist is Natasha Trethewey, the former U.S. poet laureate and a Pulitzer Prize winner, as well as acclaimed poet Rae Armantrout, a California native who teaches at UC San Diego.
Long Beach poet Jos Charles earned her first nomination for "feeld." Her previous collection was a finalist for the 2016 Lambda Literary Award for Transgender Poetry.
Two of the nominated books were the products of small presses based in Oakland. Omnidawn Publishing put out Diana Khoi Nguyen's "Ghost Of," while Timeless, Infinite Light published Raquel Salas Rivera's "lo terciario / the tertiary."
The 10 books on the longlist will be whittled down to a shortlist of five, which will be announced Oct. 10. The winner will be announced Nov. 14 at a ceremony in New York.
A full list of this year's poetry nominees is below.
"American Sonnets for My Past and Future Assassin" by Terrance Hayes (Penguin Books)
"Be With" by Forrest Gander (New Directions)
"Eye Level" by Jenny Xie (Graywolf Press)
"feeld" by Jos Charles (Milkweed Editions)
"Ghost Of" by Diana Khoi Nguyen (Omnidawn Publishing)
"Indecency" by Justin Phillip Reed (Coffee House Press)
"Monument: Poems New and Selected" by Natasha Trethewey (Houghton Mifflin Harcourt)
"Museum of the Americas" by J. Michael Martinez (Penguin Books)
"lo terciario / the tertiary" by Raquel Salas Rivera (Timeless, Infinite Light)
"Wobble" by Rae Armantrout (Wesleyan University Press)
---