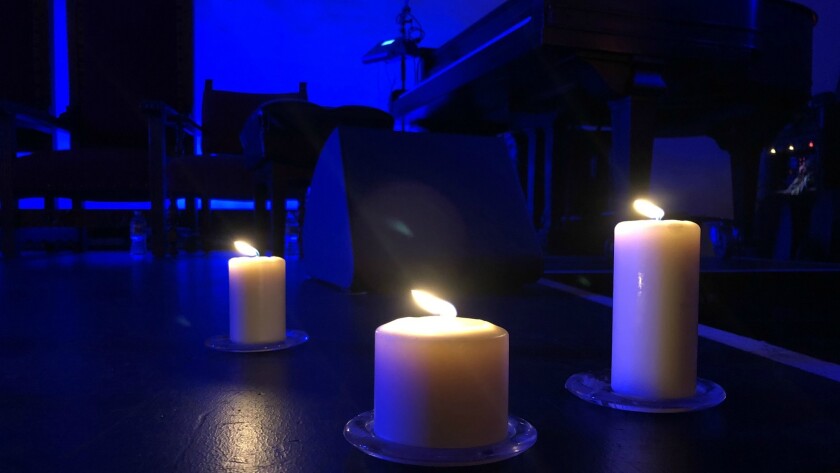 Under a full blue blood moon, a procession of figures in hooded red velvet robes approached the stage of the Masonic Lodge at Hollywood Forever Cemetery. Each held a single candle, with which they lighted the wicks of a candelabrum, and writer, producer and host Trish Nelson invited the full audience to join hands.
"I am here tonight to pledge my support to my fellow sisters," she said, and the crowd repeated her oath.
The first meeting of the Secret Society of the Sisterhood began.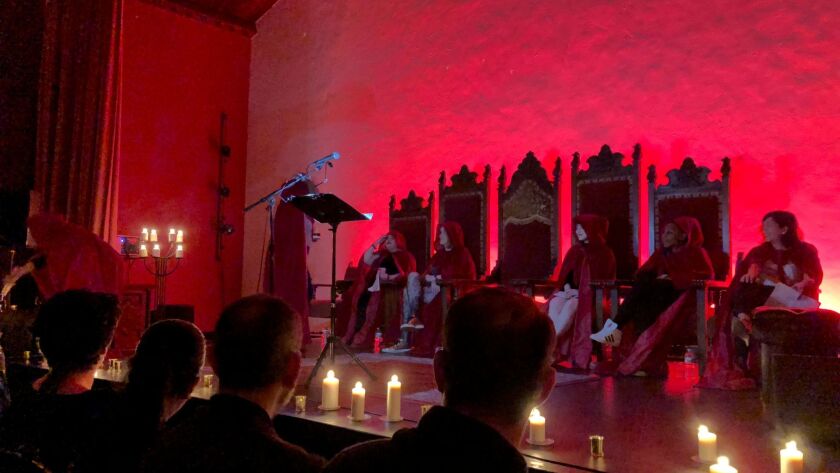 A new monthly storytelling event celebrating the work of women, the Secret Society invites presenters to prepare a reading or performance on a common theme; in the case of Wednesday evening: "Reclaiming My Time."
"I am also not a doormat," Nelson proceeded with the oath, "so if Steve from marketing and distribution claims my ideas as my own one more time…"
Performative, ceremonial and gleefully theatrical, the inaugural event drew laughter and cheers from an engaged crowd of mostly women, with an age range that was refreshingly wide. Proceeds from the evening benefited WriteGirl, a mentorship program for young female writers.
Novelist Jade Chang kicked off with an insightful deep dive into the history of the "that's what she said" punchline, noting that "it's always worth thinking about who the victor is and who the victim is in a joke."
Actress and author Mara Wilson told the moving story of coming out to her parents. Nelson described a time in which she'd lost and found herself in gaming. Having recently returned from New York, where she helped produce the reading series "Women of Letters," she quipped: "Now I'm a 40-year-old woman, which seems to be the perfect time to move back to Hollywood."
Author Randa Jarrar played up the theater of the evening. "I want to utter the name of the divine: Beyoncé," she said to applause, before honoring Democratic Rep. Maxine Waters, the originator of "reclaiming my time" and reading a piece on kink and BDSM.
Guest artists Kim Tabay and Stevie Wilson live-painted throughout the night. Actress Busy Phillips, a big-name draw on the bill, had canceled, but comedian Del Harrison stepped in to replace her and the show went on.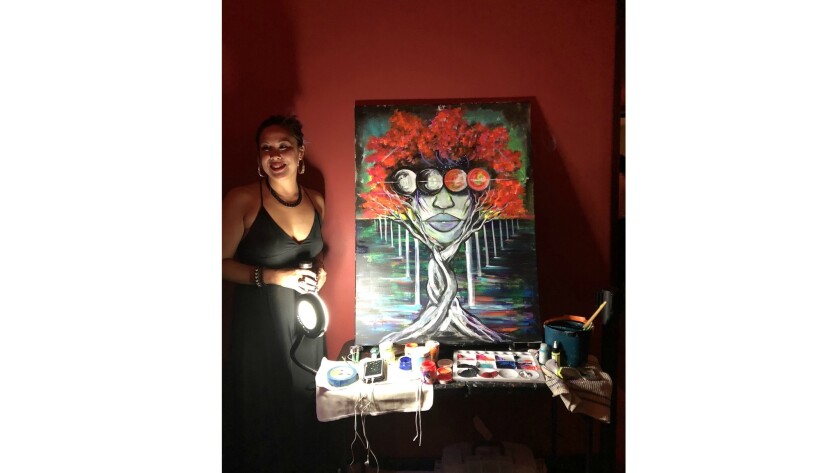 Actress Marianne Jean-Baptiste, who was nominated for an Academy Award for her role in Mike Leigh's "Secrets & Lies," recounted a gripping story about a ransom scam that went from terrifying to hilarious in a surprising reversal.
The first meeting of the Secret Society closed with Our Lady J, a writer and producer on the TV show "Transparent" who also holds the distinction of being the first open trans woman to perform at Carnegie Hall. Seated at the grand piano, she sang the titular song from her album, "Picture of a Man." A classically trained pianist, her performance brought much of the crowd to their feet.
"I started writing so that I could teach people who I was," said Our Lady J, a fitting finale for a night of storytelling.
"Our meeting is adjourned," announced Nelson, but she was already excited for next month. The Secret Society will convene again — on the full moon.
---