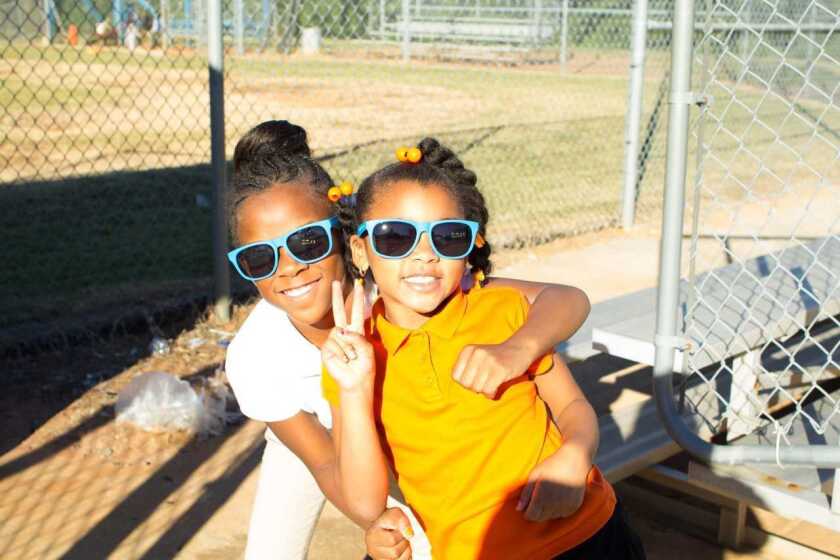 During the month of August, the eyes have it. Why? Because no fewer than three vision-related awareness campaigns are observed during the eighth month of the calendar year: August is National Children's Vision and Learning Month; National Children's Eye Health and Safety Month; and National Eye Exam Month.
The point of these campaigns is to educate parents and teachers about the crucial link between vision and learning in children and the critical importance of regular eye exams for everyone, but especially for kids, and especially as a new school year begins. According to researchers, identifying and correcting a youth's vision problem can positively impact academic performance, confidence, social activity, and even behavior.
If you're a parent, the best way to observe the ocular occasions of August is simply to take your child to the optometrist this month — or any month — for a routine eye exam. Fortunately, a program is arriving in Los Angeles later this month that will provide comprehensive eye exams and, if necessary, prescription glasses to children who are members of a participating Boys & Girls Club in Southern California.
And guess what? It's all free of charge, and that includes the glasses.
The transformative power of youth vision correction is the motivation behind the program, a charitable partnership between Boys & Girls Clubs of America and retail eye care and eyewear brand America's Best Contacts & Eyeglasses.
"Because a lot of young kids are shy, or they don't know anything is wrong with them, they oftentimes won't speak up [about vision issues]," said Oscar Hernandez, executive director, Boys & Girls Clubs of Whittier. "So they go the rest of their life feeling a little different. As they continue to grow through school, they continue to fall further and further behind."
For more than 150 years, Boys & Girls Clubs have helped children most in need to realize futures as productive, responsible and caring citizens. Its more than 4,100 Clubs nationwide serve nearly 4 million young people annually, through both direct membership and community outreach. Meanwhile, America's Best operates 630 retail stores across the country (including many in the L.A. area) offering quality eyewear at affordable prices, with more opening monthly.
To date, through the Boys & Girls Clubs and America's Best partnership, more than 11,000 children have been screened in cities throughout the country, including Atlanta; Portland and Dallas.
"We have a long-standing passion for helping the optically under-served," said Bob Stein, chief philanthropic development officer at National Vision, the company that operates America's Best. "We're very good at providing optometric and optical services to people, and Boys & Girls Clubs are very good at protecting kids and giving children a safe place to gather. So, it was a perfect combination of children who have a need and [our] remedy. It's like it was meant to happen."
Both National Vision and Boys & Girls Clubs have home offices in Atlanta and, incredibly, some 94% of America's Best retail locations sit within 10 miles of a Boys & Girls Club, making this partnership something of a natural fit. The need for free and easily accessible vision screening was clear when the collaboration began in 2015, with around half of American children having not had an eye exam in the preceding two years, according to a 2016 report from optical industry trade association and nonprofit The Vision Council.
The program works by first screening children at a local Boys & Girls Club, with a signed permission slip from a parent or guardian. Based on screening results, a child may then be referred to a licensed optometrist at an America's Best location for a free eye exam. To date, 94% of the children who had an exam received new glasses courtesy of America's Best, with a choice of more than 100 frames. There is no charge whatsoever to Boys & Girls Club members.
Hernandez said screenings will begin to be offered to members of Boys & Girls Club of Whittier between now and September, as schools citywide go back into session. By the end of this year, America's Best plans to offer free screenings and glasses to approximately 20 Boys & Girls Clubs in the L.A. area.
"A pair of glasses, for a child with even a moderate prescription, is an inflection point in the path of their life," Stein concluded. "It literally can change a child's life."
If you aren't yet involved with your local Boys & Girls Club, you can find a location nearest to you and apply for membership here.
—Paul Rogers for Boys & Girls Clubs of America and America's Best Contacts & Eyeglasses
---