California lawmaker pushing bill to jolt electric car market with $3 billion in subsidies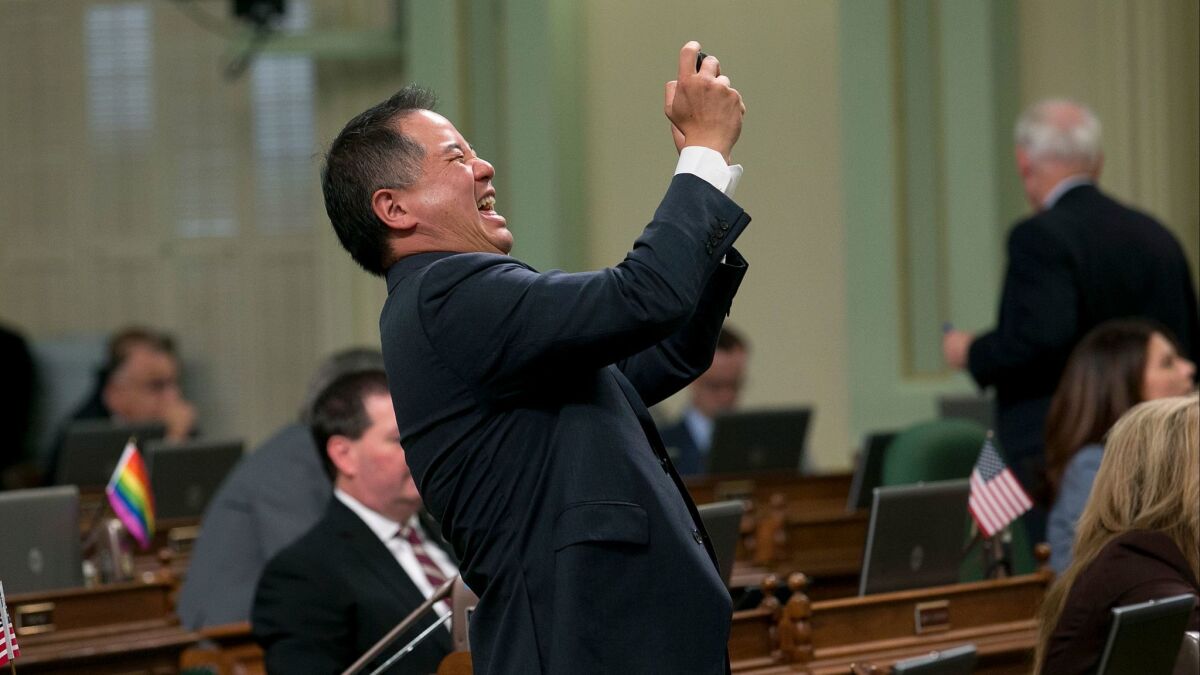 Reporting from San Francisco —
California's electric car rebate program needs a recharge to meet the state's clean air goals, said Democrat Assemblyman Phil Ting of San Francisco.
His bill to provide $3 billion in subsidies for electric car buyers over 12 years is wending its way through the Legislature. On Wednesday, Ting held a news conference in San Francisco to promote it.
Gov. Jerry Brown wants 1.5 million electric cars on the roads of California by 2025, but the total so far is 300,000, Ting noted. "We're nowhere close to that."
Hence, he wants a "very significant subsidy program" to jump start sales.
California already offers $2,500 in rebates to buyers of electric cars, on top of the federal government's $7,500. Ting would boost the incentive by adding enough of a state rebate to help bring the consumer cost of EVs on par with that of similarly sized and equipped gasoline cars.
The bill leaves the rebate amount to be determined. Ting said the subsidies would tail off as the electric car market gained momentum.
A combination of subsidies and the greater range being offered in new electric car models will goose the market enough to meet the 1.5-million goal, he said.
The bill "will jolt the EV market to the mainstream," said Dan Lashof, chief operating officer of NextGen Climate America, one of several environmental groups backing Ting's bill.
If enacted, the law would establish a new government program, the California Electric Vehicle Initiative, within the state Air Resources Board, "in coordination" with the state Energy Resources Conservation and Development Commission and the state Public Utilities Commission. The nature of the coordination is not spelled out.
The program would "begin a review to adopt revisions" to California laws meant to encourage zero-emission vehicles. That includes the state's Clean Vehicle Rebate Program, which give rebates to electric car buyers on a sliding scale. Right now, state rebates range from $1,500 to $2,000 for pure electric and plug-in hybrid cars, on top of federal incentives.
But there's an income cap for the state money: Single people who earn $150,000 or more and families that earn $300,000 or more don't quality for rebates currently.
To pay for the rebates, the state draws from revenue collected from its greenhouse gas cap-and-trade system, under which rights to emit polluting gases up to certain levels are traded.
The rebate money is appropriated each year. If cap-and-trade money runs out in less than 12 months, rebates are suspended until the next appropriation. The Ting bill would ensure continuous funding, making the program more predictable for buyers and car dealers, and allow dealers to advertise rebates, Ting said.
The cap-and-trade system is underperforming projections, and the state is currently wresting over legislation that would force a major overhaul of the program.
The Ting bill also calls for more emphasis on low-income buyers, getting charging stations into low income neighborhoods and providing electric car-sharing programs "to serve disadvantaged communities."
Twitter: @russ1mitchell