Indian rolls out big bagger Dark Horse Chieftain
Continuing to expand its line of big-bore highway cruisers, Indian Motorcycle has added a blacked-out bagger variation to its popular Chieftain.
The Dark Horse, built on the Chieftain chassis and powered by the same 111-inch Thunderstroke engine, looks like a street-smart version of its big Chieftain brother. It features a smaller fairing and shorter windscreen, and includes Chieftain-style locking hard-shell side bags.
But it's black -- really black. Though the machine is dotted with chrome accents, matte black is the color of its engine, fenders, fuel tank, side bags, forks, mirrors, handlebars, tank console, floorboards and taillight housing.
Only the exhaust pipes, wheels, brake rotors and levers get the traditional chrome treatment.
During a test ride this week in Los Angeles, embarking from San Pedro for a tour of the hills of the Palos Verdes Peninsula, the Dark Horse proved an amiable machine -- nimble for its weight, steady at parking lot speeds and pulling up to stop lights, and authoritative on the freeway.
The short windscreen provided a substantial rider pocket, with little buffeting.
Like the Chieftain, the Dark Horse features the signature deep fender skirts that tie the new Indians to their historic forbears. Like its dressier brother, it will come standard with ABS, cruise control, tire pressure monitoring system and remote, keyless ignition -- with a fob that also locks the side bags.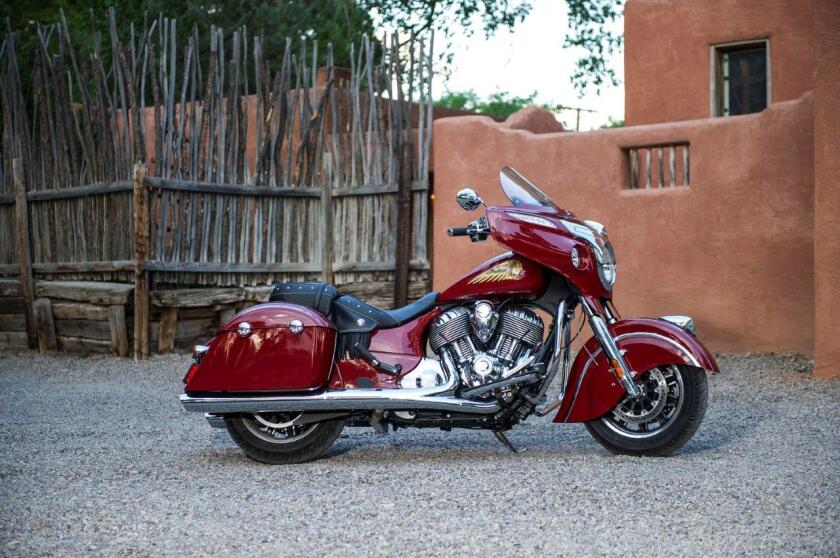 Unlike the Chieftain, it comes standard with a solo seat, though a passenger seat is an optional accessory.
Other accessories, from a substantial catalogue, include "ape hanger" handlebars and fully-blacked out saddlebags, fenders and floor boards.
A "performance package," which adds exhaust pipes and tips, air cleaner and cams, can be had for an extra cost of about $2,200. It adds an ominous hot rod tone to the Dark Horse's already rich low rumble.
It also is said to boost the horsepower 10% and torque 7%, and I believe it. During a ride this week, I found the "performance" model a little more compelling than the stock bike.
Without such embellishments, the air- and oil-cooled Thunderstroke engine will make 119 pound-feet of torque, fueled by electronic fuel injection, and puts that power to the rear wheel via a belt drive. (Indian doesn't provide horsepower numbers, but independent studies have put that figure at about 75.)
And, like the Chieftain, the Dark Horse is big, weighing in at 803 pounds dry.
The machine, which Indian representatives said are in dealerships already, is sold with a two-year unlimited factory warranty, and retails from $21,999.
Indian's folks say it is logical to assume there will be more Dark Horse-style variations to the current line. Purchasers of the relatively new Springfield, one Indian rep said, have already asked when they can get a stripped-down, blacked-out version of that bagger.
Follow me on Twitter @misterfleming
---
Your guide to our new economic reality.
Get our free business newsletter for insights and tips for getting by.
You may occasionally receive promotional content from the Los Angeles Times.