In dismissing a fraud claim against Tesla, a judge lets Musk be Musk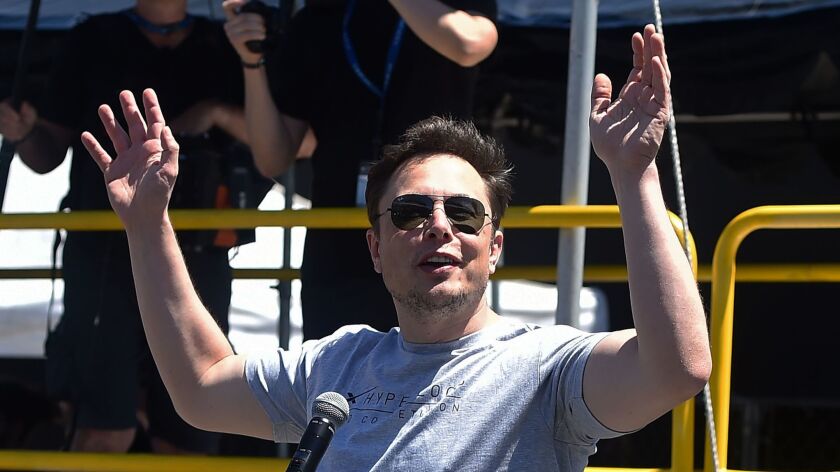 Reporting from San Francisco —
Tesla's Elon Musk is infamous for bold forecasts that pan out late or don't pan out at all. But in dismissing a shareholder lawsuit Tuesday, a federal judge ruled they don't constitute fraud.
"Federal securities laws do not punish companies for failing to achieve their targets," U.S. District Judge Charles Breyer said, granting Tesla's motion to dismiss the lawsuit.
The class-action suit was filed by the Rosen Law Firm of Los Angeles on behalf of lead plaintiff and Tesla investor Gregory Wochos.
The judge said "safe harbor" rules shield executives from liability for making forward-looking statements that turn out wrong when accompanied by "meaningful qualifications."
The boldest claim highlighted in the suit: Musk's repeated assertion that Tesla would produce 500,000 cars in 2017, including 400,000 of its new Model 3. As it turned out, slightly more than 100,000 cars were manufactured in total, only 2,685 of them Model 3s.
The class action covered investors who held Tesla shares from May 4, 2016, to Oct. 6, 2017. On Oct. 6, the stock was trading at $356.88. As Model 3 production problems became apparent, the stock began to sink, reaching a low of $266.18 in March. On Tuesday, Tesla stock closed down 2.3%, to $311.86.
Safe-harbor provisions were part of a 1995 bill passed by Congress to address complaints that mushrooming class-action lawsuits hobbled start-ups and other public companies.
"Congress was convinced that if, say, I were a CEO, I can't control the future, but I'd be afraid of making a projection" and risk a lawsuit, said Robert Bartlett at the UC Berkeley Center for Law and Business. "Meaningful qualifications" are key, he said.
The judge listed several statements he identified as meaningful qualifications, attributed to Tesla reports or to Musk himself:
"Our ability to achieve these plans will depend on a number of factors."
"I would certainly urge people to not get too caught up in what exactly falls within the exact boundaries of a quarter."
The assembly line "can only go as fast as the slowest item."
"It's schedule whack-a-mole."
The year 2017 will be "complicated and bumpy and dealing with a lot of unexpected issues."
The plaintiffs offered evidence that several Tesla executives warned Musk his forecasts were impossible to meet. But the judge said those warnings were not hard facts, but conclusions based on assumptions.
The dismissal is unrelated to a controversial Musk tweet that reportedly sparked a Securities and Exchange Commission investigation. On Aug. 7, Musk announced via Twitter that he had "funding secured" for a go-private deal at $420 a share. The tweet included no qualifications. Musk and Tesla dropped the plan Thursday. No evidence of secured funding was ever provided.
From the start, Judge Breyer made sure to distinguish Wochos' lawsuit from the Twitter matter. The first line in his ruling calls it a "non-Twitter-related securities action."
"That was unusual," said Jim Rosener, an attorney at Pepper Hamilton. "Usually the courts don't extemporize like that. I think he didn't want to prejudice new cases" based on Musk's tweet.
The judge's ruling on the fraud suit did not surprise Rosener. "Tesla was able to show enough in the disclosure that somebody who was interested in buying and selling the stock at the time would have had the full picture."
Wochos, the plaintiff, couldn't be reached for comment. A spokesman for the Rosen Law Firm said: "We don't talk to the press." Tesla had no comment.
Meanwhile, Tesla is struggling to meet Musk's goal of a sustained Model 3 production rate of 5,000 cars a week, or an annualized rate of 260,000.
The website Electrek, well known for publishing positive-spin leaks from inside Tesla, quoted an inside source Monday saying Model 3 production would fall short of Musk's 5,000-a-week, third-quarter goal.
"The company hasn't been able to go back to a production of 5,000 units in a single week" since it hit that mark in the last week of June, Electrek said. Musk is counting on sustained Model 3 production to meet his qualified forecasts of net profits and positive cash flow for the third quarter, which ends Sept 30.
Twitter: @russ1mitchell
---