AT&T says it will not sell CNN despite pressure from Trump's Justice Department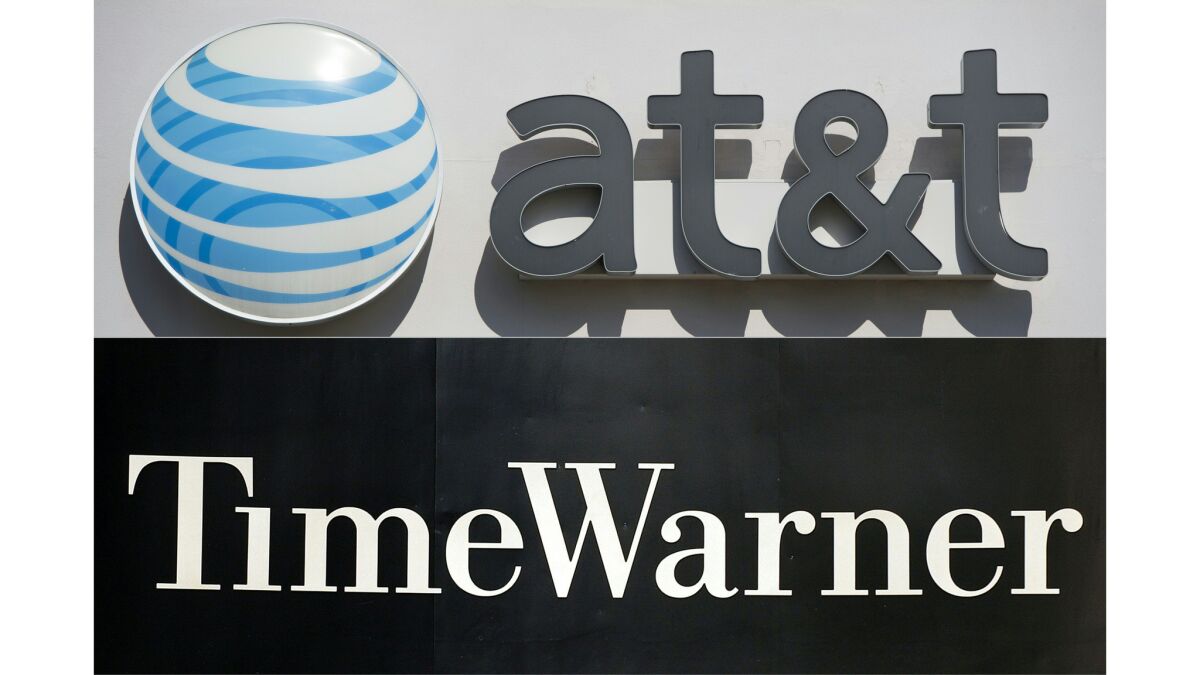 AT&T's proposed $85-billion purchase of Time Warner Inc. is encountering stiff resistance from the U.S. Department of Justice, which is pressuring the companies to sell Time Warner's news channel, CNN, to win approval of the deal.
The opposition — which some analysts called "unprecedented" — threatens to scuttle a massive media deal and could trigger a titanic court battle if the Justice Department sues AT&T to block its purchase of Time Warner.
The Justice Department has told AT&T that it wants it to divest Time Warner's Turner Broadcasting unit — which includes CNN, Cartoon Network, TBS, TNT and Turner Classic Movies. Another option would be to unload AT&T's satellite television unit, DirecTV, people familiar with the matter said.
"This has become political," said one person close to the situation who was not authorized to comment. "It's all about CNN."
Even before he was elected president, Trump was a critic of the deal. He also has made no secret of his disdain for CNN, calling the 24-hour channel "fake news."
But a demand to require the companies to divest assets, perhaps in part because of unflattering news coverage, would take Trump's objections about CNN to a new level.
"This … would be unprecedented as DOJ's deal review process historically has been quite apolitical and based purely on competitive considerations," Barclays Capital media analyst Kannan Venkateshwar said in a research report.
AT&T, which is unwilling to give up key assets, is preparing for a legal fight. It is expected to argue that opposition to the deal is politically motivated.
Demands to choose between keeping CNN and the other Turner assets — or keeping DirecTV — would undermine AT&T's rationale for combining mobile phone service, television distribution and content.
AT&T spent $49 billion two years ago to buy El Segundo-based DirecTV to expand its reach into television distribution. Now, AT&T wants to own content because it anticipates that viewers will increasingly watch news and entertainment on mobile phones and tablets — a core element of its business. AT&T has no plans to barter CNN.
"I have never offered to sell CNN and have no intention of doing so," Randall Stephenson, AT&T chairman and CEO, said Wednesday.
In a statement, the Justice Department said it "is committed to carrying out its duties in accordance with the laws and the facts. Beyond that, the department does not comment on any pending investigation."
For months, the Dallas-based telecommunications giant has been confidently predicting that it would finalize the takeover of Time Warner by year's end. It has lined up the financing needed to complete the blockbuster deal.
But on Wednesday, AT&T Chief Financial Officer John Stephens stunned Wall Street when he acknowledged there could be a delay.
"We are in active discussions with the [Department of Justice]. … I can't comment on those discussions," Stephens said Wednesday morning at an investor conference. "But … I can now say that the timing of the closing of the deal is now uncertain."
Stephens' remarks were AT&T's first public admission that the deal might be in trouble. The Financial Times first reported the Justice Department was pressuring Time Warner to sell CNN. The news channel has repeatedly provoked the ire of Trump with its coverage of him, his administration and the investigation into alleged Russian meddling in the 2016 presidential election.
In July, Trump even sent a Twitter message that contained an edited video of himself wrestling and punching a man whose head was obscured by CNN's logo.
Company insiders privately have dismissed Trump's tweets about CNN as being irrelevant to the legal process.
AT&T first unveiled its deal in October 2016, when Trump was still a presidential candidate. At the time, he said his administration would block a merger between the two behemoths, saying the combination would concentrate too much "power in the hands of too few."
AT&T was a top contributor to Trump's inauguration festivities.
For a while, it looked like the review process was proceeding smoothly. But the picture changed when the Senate in late September approved Trump's pick to be the new chief of the Justice Department's antitrust division, Makan Delrahim, following a lengthy delay.
After Delrahim took office, the merger review process stalled. In a speech in late October, Delrahim suggested he did not favor imposing conditions on mergers that require the government to monitor a company's behavior. Instead, he said he prefers "structural" changes to a deal, such as selling assets.
But legal experts say the government may have a difficult time proving the merger violates anti-trust laws.
"It's not uncommon for the Justice Department to put conditions on a merger," said Herbert Hovenkamp, an antitrust expert at the University of Pennsylvania Wharton School of Business. "But it makes no sense at all to try to shut down a media merger because of news coverage."
What's more, Hovenkamp said, the Justice Department doesn't have the authority to stop a merger. The government must persuade a federal judge that the proposed tie-up would harm competition and consumers. The burden would be on the department to demonstrate that its case would have a strong chance of succeeding.
Delrahim "can't just go into a U.S. District court and ask for an injunction by saying 'Trump doesn't like CNN, so we have to shut down this merger,'" Hovenkamp said.
Analysts have long argued there was no precedent for the Justice Department to block the AT&T/Time Warner merger because it was a "vertical" deal, where the businesses are different, as opposed to a "horizontal" transaction, where the assets overlap.
"Blocking a vertical deal would be quite unprecedented and would in our opinion have a high likelihood of being struck down in court," Venkateshwar said.
The Justice Department and the Federal Communications Commission in 2011 approved a similar media merger — Philadelphia cable company Comcast's purchase of NBCUniversal — by attaching numerous requirements to make sure Comcast didn't use its media assets to squeeze competitors.
Delrahim has given mixed signals regarding the AT&T/Time Warner deal. "Just the sheer size of it and the fact that it's media I think will get a lot of attention," Delrahim said in an interview with a Canadian broadcaster in October 2016, long before he was nominated. "However, I don't see this as a major antitrust problem."
Consumer groups, some TV networks and some conservative groups have criticized the transaction, saying it would give AT&T too much clout and lead to higher costs for cable and satellite TV companies and consumers.
"This is a lousy deal that would raise prices and give AT&T way too much power," said Craig Aaron, chief executive of the advocacy group Free Press. "The Justice Department should reject it."
Time Warner shares dropped 6.5% to close at $88.50. AT&T shares rose 1.1% to $33.44.
Twitter: @MegJamesLAT
Times staff writer Lauren Raab and the Associated Press contributed to this report.
---
UPDATES:
4:30 p.m.: This article was updated with additional analyst reaction and comments from the Justice Department.
1:15 p.m.: This article was updated with comments from AT&T CEO Randall Stephenson.
11:45 a.m.: This article was updated with new details, analyst comments and stock information.
This article was originally published at 10:30 a.m.
---
Inside the business of entertainment
The Wide Shot brings you news, analysis and insights on everything from streaming wars to production — and what it all means for the future.
You may occasionally receive promotional content from the Los Angeles Times.