Disney sues Redbox to stop digital movie sales, in the latest feud between the companies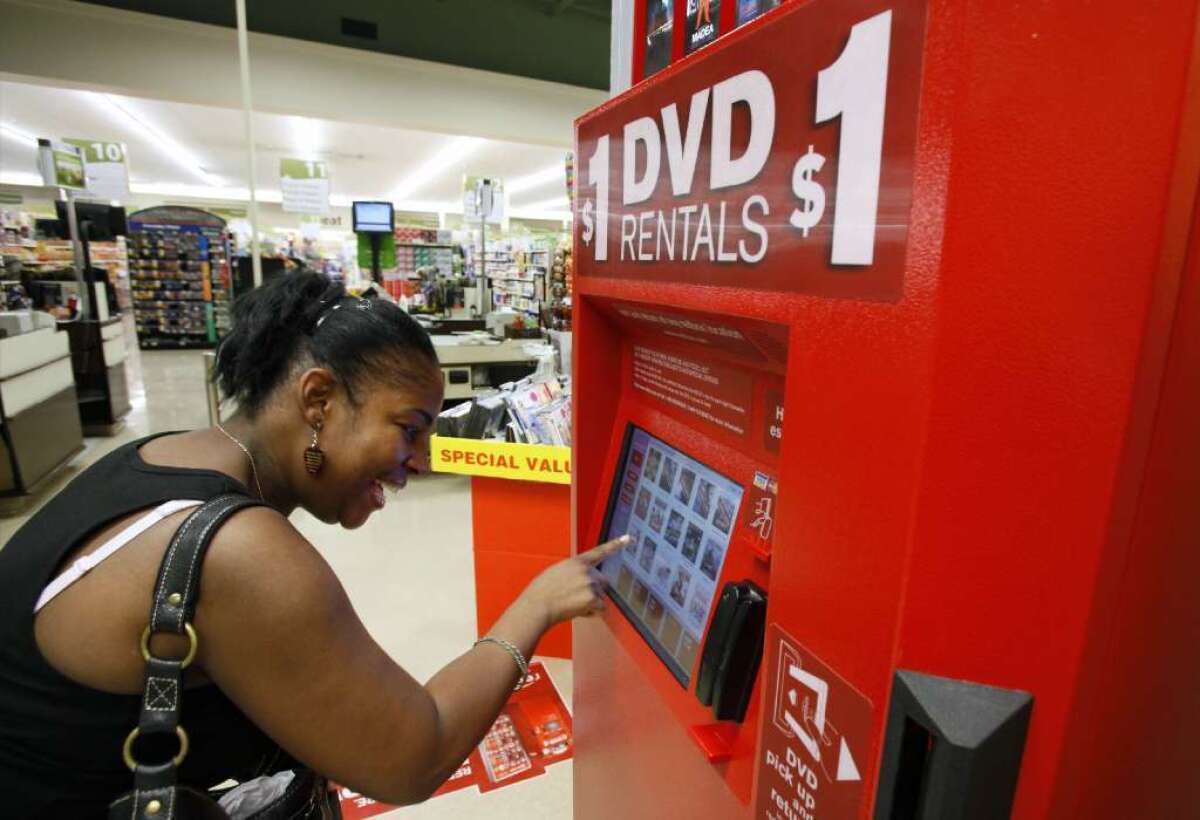 The Walt Disney Co. has sued Redbox to stop the home video kiosk company from selling digital versions of its movies, in a dispute that marks the latest feud between the two companies.
Burbank-based Disney on Thursday accused Redbox of violating its copyrights by selling digital codes that allow customers to download its movies, including "Star Wars: The Force Awakens" and "Beauty and the Beast."
Disney does not provide Redbox with the codes, which customers redeem at authorized websites, according to Disney's 16-page complaint filed in U.S. District Court in Los Angeles.
Instead, Redbox buys DVD and Blu-ray packages that include codes to give consumers access to digital copies of movies. The company then takes apart the packs and sells the codes separately, Disney said.
Disney said that Redbox does not have permission to sell the codes and that the practice "significantly undercuts" its normal prices. Redbox charges up to $14.99 for "Rogue One: A Star Wars Story," according to its website, which is much less than the price of $19.99 offered on sites such as iTunes, for example. Redbox sells some movie codes for as little as $7.99.
The Disney combo packs include a warning that "codes are not for sales or transfer," the studio said in its lawsuit.
"Redbox is selling our digital movie codes in blatant disregard of clear prohibitions against doing so," Disney said in a statement. "Their actions violate our contracts and copyrights, and we have filed this action to stop Redbox's unauthorized conduct."
Disney said it is asking the court to block Redbox from reselling the codes. The entertainment giant also is demanding damages in the form of Redbox profits, or up to $150,000 per infringed work.
Oakbrook Terrace, Ill.-based Redbox said in a statement that the company is "very confident in [its] pro-consumer position."
Redbox rose to prominence by allowing cheap DVD rentals from its red kiosks at grocery stores and convenience stores, but the model has fallen out of favor with consumers who have gravitated toward streaming services such as Netflix and Amazon.
According to Digital Entertainment Group, an industry organization that tracks home video sales data, kiosk revenue totaled $983 million in the United States through September in 2017, down more than 15% from a year earlier.
After struggling to adapt to changing consumer habits, Redbox and its parent company, Outerwall, were acquired by New York private equity firm Apollo Global Management in 2016 for $1.6 billion. Outerwall also owns Coinstar, a chain of kiosks that coverts loose change into paper money and gift cards.
Redbox has previously gone to blows with major studios, including Disney, because of its low-priced rentals, which studios feared would eat into already declining retail sales.
A major feud flared in 2012 when Disney said it would not provide rental partners, including Redbox, with discs of its movie "John Carter" until 28 days after the DVDs went on sale. Redbox responded by stocking its kiosks with discs purchased from big-box retailers.
Inside the business of entertainment
The Wide Shot brings you news, analysis and insights on everything from streaming wars to production — and what it all means for the future.
You may occasionally receive promotional content from the Los Angeles Times.