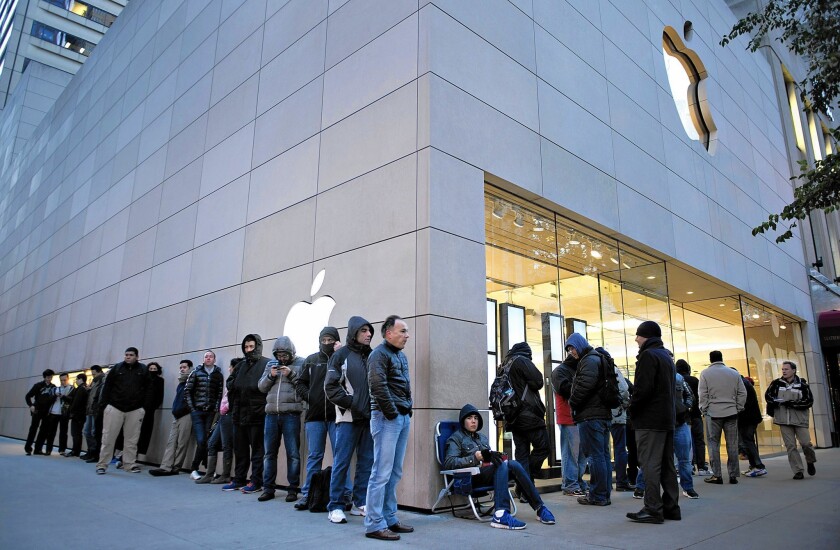 New iPhones have flown off store shelves since they were released last month, and now Apple is hoping to bring some of that magic to its cooling iPad sales.
The company has its work cut out: Year-over-year iPad sales have declined two quarters in a row, falling 9% to 13.3 million units sold in its most recent quarter.
Apple is hoping to reverse that trend starting Thursday, when it holds its annual October media event. The iPad almost certainly will be the focus of the show, and Apple is expected to announce a number of improvements and new features to entice customers to buy.
Among the rumors: a thinner and lighter iPad Air with Touch ID fingerprint technology, a better screen and camera, longer battery life and a faster processor. The addition of the company's new Apple Pay electronic payment system seems a sure bet. In a nod to its tried-and-true trick with the iPhone, Apple is reportedly releasing a gold-colored iPad.
But those are just incremental upgrades. Although a larger-screen iPad is reportedly in development, it has been delayed until next year. And Apple chose to hold its event in its small town hall at the company's Cupertino, Calif., headquarters, unlike its September iPhone event where it rented out the huge Flint Center auditorium nearby and asked U2 to perform.
"In a sense, they're signaling by their location how important they think the announcement is," said Frank Gillett, an industry analyst at Forrester Research. "Overall, no, it doesn't feel like the time for something big."
Although the latest iPad improvements may help generate buzz and jump-start sales, analysts say the iPad's recent slowdown is indicative of a category-wide problem not limited to Apple. Tablets, they say, appear to be going through a bit of a slump.
When Apple first released the iPad in 2010, some predicted the demise of traditional computers. The prevailing notion was that consumers would overwhelmingly replace their laptops and desktops with the hand-held touch-screen devices. That didn't happen.
"Tablets created a disruption in PC sales when they appeared, and now they're not behaving the way people expected," Gillett said. "We've seen PC sales resume."
After eight quarters of decline, worldwide PC shipments experienced flat growth in the second quarter, according to research firm Gartner. Shipments totaled 75.8 million units, a 0.1% increase from the second quarter of 2013.
It appears that consumers prefer to do casual tasks such as checking email, browsing the Web and watching videos on their tablets, but turn to traditional computers for heavy-duty work, long-term projects and hard-core gaming.
Consumers are also keeping their tablets a lot longer than expected.
Initially, many analysts predicted tablets would have similar turnover rates as smartphones. But phones are used much more frequently and have become status symbols among consumers wanting the very latest iterations.
Smartphone users are also heavily incentivized by wireless carriers to upgrade their devices once their contracts run out at the end of two years, or even sooner now that many carriers offer contract-free, installment-based plans.
"The tablet market is distinctively different when it comes to refresh rates," said Tim Bajarin, a longtime tech analyst and president of Creative Strategies. "A lot of people kept their original tablets longer than the two years we expected, so Apple could actually get a big refresh from people who have tablets that are 2, 3 years old who want to upgrade now."
But the new features have to be compelling. And Apple might have inadvertently given itself some competition last month by releasing its biggest iPhone ever: the iPhone 6 Plus that clearly falls into the "phablet" (or phone-tablet) category. With a 5.5-inch screen, the 6 Plus isn't that far off from Apple's 7.9-inch iPad Mini, so the phone could end up cannibalizing some Mini sales.
"In some cases, the iPhone 6 Plus can serve as a Mini tablet, but those are personal preferences and it's too early for us to make that judgment call," Bajarin said. "Apple's only had the iPhone 6 Plus for a month now, and personally, it has not replaced my Mini. I still like reading books and doing my Web surfing on a larger screen."
To differentiate its products and to appeal to businesses, Apple is facing pressure to supersize its iPad as well. The company is reportedly working on a 12.9-inch iPad geared toward large businesses.
For Apple to transform its mobile iOS operating system into more of a desktop-grade workhorse, "we see a larger iPad as a necessity," J.P. Morgan analyst Rod Hall said in a recent note to investors.
But if Apple does come out with a bigger iPad, it faces potential overlap problems on the other end as well, Hall noted, because a 12.9-inch iPad would probably compete with the 13-inch MacBook Air.
Apple is expected to make a slew of other announcements Thursday, including a release date for its new Apple Pay mobile payment system, new Macs and possibly new details about Apple TV, the Apple Watch and HomeKit. It will also probably launch the consumer version of its OS X Yosemite desktop operating system.
Twitter: @byandreachang
---