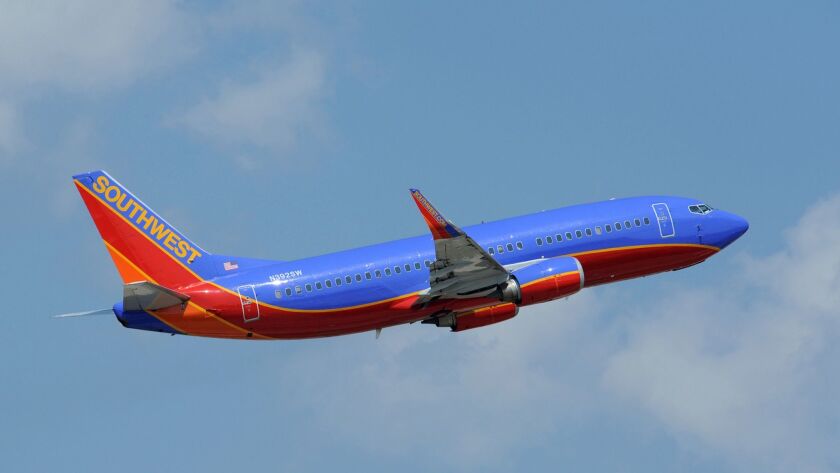 Bloomberg
The price of jet fuel is surging, but so far the airline industry has been so competitive that carriers haven't been able to pass along much of that cost to their customers.
That means investors are bracing for lower profit margins as travelers take advantage of cheap flights. An abundance of seats in the domestic market means airlines have limited ability to boost fares, and most companies aren't willing to trim before the summer travel surge. Southwest Airlines Co. temporarily offered one-way fares as low as $49 last week as it looked to reverse a decline in bookings after a fatal accident last month.
"It's a good summer to be a leisure traveler," said Samuel Engel, head of the aviation group at consultant ICF. "Airlines add seats, they add capacity, and they wonder why they are losing pricing power."
That's giving passengers a reprieve even as oil climbs to its highest price since 2014. Although the respite is apt to be short-lived since fares tend to rise over time when fuel gets more expensive, carriers probably won't be able to extract significantly higher fares until the fall. That's dragging down airline shares, which have slid 11% this year even as industrial stocks have edged up.
Domestic expansion
Airline schedules indicate available seats and flights on domestic routes will climb 5.7% this quarter, the most among global geographic regions, Brandon Oglenski, a Barclays analyst, said in a report this month.
At the same time, the price of jet fuel — one of the two biggest airline expenses, along with labor — has climbed 48% from a year earlier to $2.24 a gallon. More than half the increase has come in the last three months.
American Airlines Group Inc., the world's largest carrier, cut its earnings outlook last month, citing the rapid run-up in fuel costs. The company expects to pay $2.3 billion more for fuel this year than in 2017, with only $300 million of that coming from more gallons burned.
The largest carriers are still expected to report another year of multibillion-dollar profits — gone are the days when the industry would tremble when oil prices rose. And ticket bargains aren't quite as good as last summer, when a pricing skirmish among carriers resulted in fares of, say, $40 from Dallas to San Francisco or $49 for Chicago to Los Angeles. At that time, lower jet fuel costs gave carriers room to add domestic flying and chop fares.
Failed increases
This summer, even as costs jump, airlines are still having trouble boosting domestic fares to keep pace. Delta Air Lines Inc. tried and failed to raise prices for two straight months, Jamie Baker, a JPMorgan Chase & Co. analyst, said in a note. On May 11, American had to pull back an attempted increase of $2 to $5 each way. Carriers rescind price increases that aren't adopted by other airlines to avoid being left with higher fares.
"We're confident that the industry ultimately responds," Baker said, citing potential capacity cuts and fare increases. "But the question is when."
The answer is probably not right away, said Morgan Stanley analyst Rajeev Lalwani, citing "a level of management comfort with current profit outlook" despite the pressure from fuel prices. Domestic fares have climbed about 0.5% so far this year, Helane Becker, an analyst at Cowen & Co., said in a report Monday.
Southwest added more pressure on pricing, holding an unusual four-day summer sale that began May 15 with fares as low as $49 each way. The airline is trying to recover traffic lost after an April 17 engine explosion that killed a woman, the carrier's first passenger fatality from an accident.
The airline suspended advertising and social-media promotions afterward. Southwest returned to its normal promotional level both in social media and on-air and digital advertising with the summer fare sale announcement last week.
American won't reduce the seat supply during the busy summer travel season, Chief Executive Doug Parker said in a conference call last month to discuss earnings. But if fuel prices continue to rise, American and others are likely to trim expansion plans for the fall when leisure travel demand slows, he said.
Covering costs
Legacy carriers, including American and Delta, will probably raise the price of upgrading from discount-level tickets, and limit fare increases to more business-oriented routes where the airlines don't have much competition from low-cost competitors, ICF's Engel said. A smaller rival, Alaska Air Group Inc., has trimmed its planned expansion this year by one percentage point to 6.5%.
Deep discounters such as Spirit and Frontier Airlines generally try to cover higher fuel costs by tweaking charges for items such as seat assignments, snacks and drinks, which provide about half their revenue, he said. Spirit raised domestic fares $3 each way Monday, JPMorgan said.
Spirit will "make some changes to our network that reflect the higher cost" starting this fall, President Ted Christie said this month. That means capacity growth will slow in the fourth quarter and possibly next year, he said.
Schlangenstein writes for Bloomberg.
---