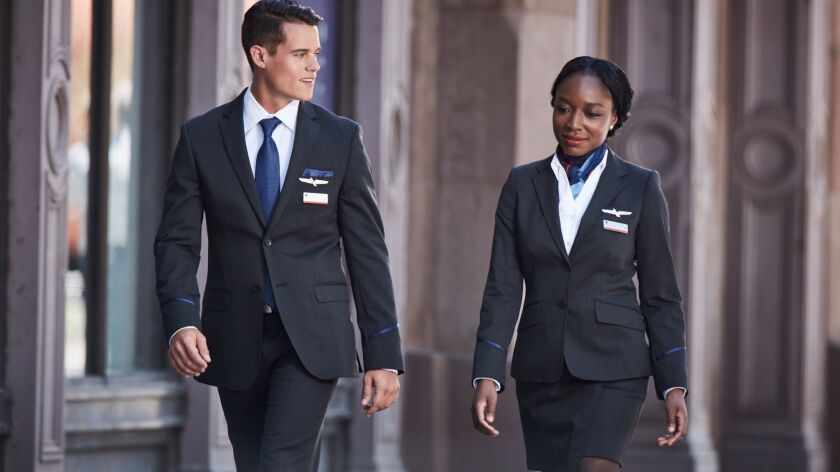 Two American Airlines flight attendants have filed a class-action lawsuit against the manufacturer of controversial new uniforms, contending that the clothing is causing health problems for many employees.
The suit, which names American Airlines flight attendants Thor Zurbriggen and Dena Catan as plaintiffs, asks the court to order the manufacturer, Twin Hill, to recall the uniforms given to more than 60,000 employees worldwide and to set up medical monitoring for employees.
The complaint was filed Wednesday in U.S. District Court in Chicago. It will be up to a judge to decide if the suit can proceed as a class-action case.
Twin Hill issued a statement that it stands by its product.
"Nothing in the complaint filed by two American Airlines flight attendants changes the fact that there is absolutely no evidence linking any of the symptoms alleged to our uniforms," the company said. Twin Hill is a subsidiary of Tailored Brands, based in Fremont, Calif.
American Airlines said all employees were offered the option of wearing alternative uniforms. "We would never ask our team members to wear an unsafe uniform," said Lakesha Brown, a spokeswoman for the airline.
The suit repeats complaints from American Airlines employees who say the uniforms, which were given to employees starting in September, are the cause of health problems such as rashes, headaches, fatigue, vertigo and respiratory problems.
A union representing American Airlines flight attendants says more than 3,500 flight attendants have filed complaints over the uniforms.
Twin Hill has said tests show that the materials used in the uniforms contained nothing that could cause health problems. Still, American Airlines and Twin Hill announced in June that they would end their partnership after the current contract expires in 2020.
In the lawsuit, Zurbriggen said he began to experience fatigue, rashes, eye irritiation and throat irritation, among other health problems, after getting his new uniform in November. Catan said she suffered blinding headaches after trying on her new uniform.
Even after replacing the uniforms with other clothing, Zubriggen and Catan said in the suit, the health problems continued when they came in contact with co-workers who continued to wear the Twin Hill uniforms.
"One conclusion that is clear, however, is the new uniforms are causing these health problems. That is the only possible conclusion given that the thousands of American Airlines flight attendants and pilots began reporting serious adverse reactions only after the new uniforms were introduced," the lawsuit states.
To read more about the travel and tourism industries, follow @hugomartin on Twitter.
ALSO
Paralyzed veterans sue over delay of a rule requiring airlines to track lost or damaged wheelchairs
Airlines with good passenger experiences have highest stock returns, study finds
Passenger rights group wins court victory in fight to keep airline seats from shrinking
---