California's housing shortage has companies carving up apartments to lower the rent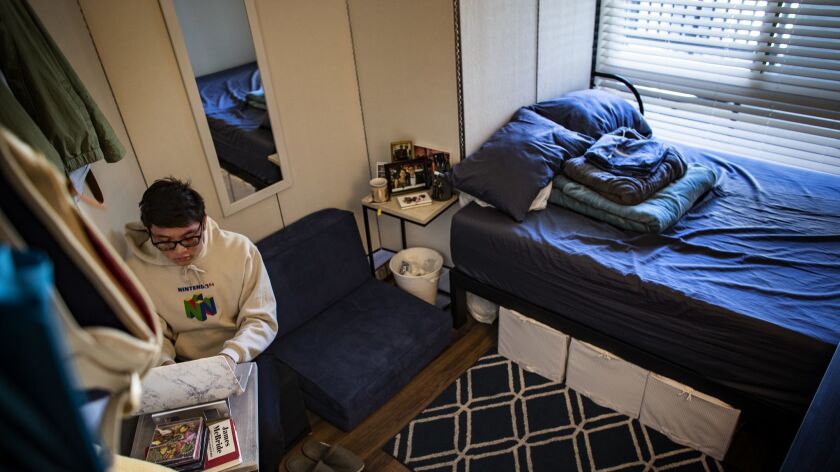 When Christopher Cacho is home, the 23-year-old data specialist doesn't do much out of the ordinary. He may run a computer analysis at his desk, play a video game or lie down with a good book.
But when he does, he'll do it from a roughly 11-by-8-foot space that's cordoned off by a foldable tan wall on wheels.
To make the pricey Southern California real estate market work for him, Cacho turned to a company that rented him a partitioned section of a living room. Inside, he's set up his bed and television. In the corner, there's a tiny, square end table and ottoman.
"It works well as a converted desk," the recent college graduate said.
Hard-pressed families have long turned couches into beds, and it's common for recent graduates to bunk with friends in a house. But amid a sharp rise in housing costs in booming U.S. cities, a growing number of companies say the affordability crisis has become so severe that there's significant money to be made in offering, if not solutions, at least some relief.
Some companies are selling dividing walls or curtains to create new bedrooms. Others are filling rooms with bunk beds. And some — armed with Silicon Valley backing and a brand of "co-living" — are offering a variety of sleeping situations and services that make it easier to find roommates and then live with them.
In the largest sense, these outfits effectively are adding bedrooms in a region that's hard-pressed to build enough new houses and apartments to meet demand.
"People are sharing spaces at a very large rate," said Tyler Lundmark, chief executive of RoomDividersNow, which sells partitions. "We have ridden that wave."
Such set-ups have grown more noticeable because of the housing situation in many large cities, which have added lots of jobs but not enough residential units. Median rent for a vacant apartment in the already pricey cities of Los Angeles, San Diego and San Francisco is one-third higher than it was in 2012, according to Zillow.
The median, Zillow data show, has dipped slightly in recent months as more supply comes online and tenants become tapped out. But that's been little relief for the roughly half of people in major California metro areas who pay rents that experts deem unaffordable.
The tried-and-true way to cut down on costs is to double or triple up. Nationally, the number of people per housing unit has been on the decline. But in California, that rate has increased from 2.79 per unit in 1990 to 2.97 this year, according to data from the state's Department of Finance.
The percentage of renters in crowded situations — more than one person to a room — jumped during the recession, then started declining, before taking off again in 2014 as rents climbed. As of 2017, the most recent year for census data, crowding was higher than before the downturn.
Many companies that facilitate sharing cater to people who can afford added services, if not their own comfortable apartment.
Cacho, for example, moved to the L.A. area from Northern California to take a job as a data specialist for a local nonprofit organization. He wanted a nice, affordable place in a safe neighborhood, with parking and an in-unit washer and dryer. To get it, he turned to a San Francisco company called HomeShare, which contracts with major landlords in expensive cities to create additional bedrooms and match roommates.
Cacho now lives in a new luxury building named the Griffith on Los Feliz Road in Glendale. The 220-unit development from Dallas-based Mill Creek Residential provides parking, in-unit washers and dryers and much more. There's a gym, pool and even a skydeck with foosball and a kegerator.
Cacho pays $990 a month for his partitioned space in a two-bedroom unit he shares with two roommates found through HomeShare.
It's not cheap, but neither are other options. The smallest unit advertised on the Griffith's website is a one-bedroom for $2,565.
Last Tuesday, in the surrounding neighborhood, there were no units listed on Zillow below $1,000. The nearest was a $950-a-month studio five miles away in Hollywood. It was close to the 101 Freeway and provided no parking and no private bathroom. The showers and toilets are located down the hall, shared with others.
If Cacho wanted to share a larger apartment, there were seven three-bedroom units in the area that would come out to less than $1,000 each if split evenly. The buildings had parking, but were older, without the bells and whistles. "The amenities," Cacho said, "that was the tipping point for me."
Cacho, who recently started repairing electronics on the side to help pay down his student debt, could have saved even more if he had found two people on his own to rent a two-bedroom at the Griffith, maybe sleeping on a couch or buying a partition himself. That's because HomeShare charges a fee that's embedded in the monthly rent.
HomeShare founder and Chief Executive Jeff Pang declined to disclose the company's fee but called it small and worth it. That's because it's often difficult to find roommates, especially for people new to a city who need to find a place in a hurry.
HomeShare asks potential residents about their personality, cleaning habits and more. It plugs answers into a "proprietary algorithm" that spits out ideal matches. "We basically treat it as a big math problem," Pang said.
If relationships turn sour, even during the lease, Pang said, HomeShare will transfer residents to another unit for free, absent any fee the landlord may charge.
Other co-living firms carve up entire buildings to add additional bedrooms. Starcity, another San Francisco company, recently partnered with Worthe Real Estate Group to cut up a Venice building that Starcity said Snap Inc. formerly used for corporate housing.
Rent there, less than 500 feet from the sand, starts at $2,050 and includes furniture, concert tickets, utilities and services such as cleaning of common spaces. For those on more of a budget, RoomDividersNow sells partitions for as low as $80.
In East Hollywood, Echo Park and nearby neighborhoods, a firm called Up(st)art has taken over houses in places where most studios — even in 1920s buildings — rent for more than $1,000.
Jeremiah Adler, the company's founder and chief executive, said his firm signs multiyear leases with property owners, at rates usually 10% to 15% above market. He then adds bunk beds or stacked, enclosed "sleeping pods" that rent for between $695 and $775 a month.
Adler said his company operates as a club, which allows him to rent beds only to artists and other creative types. Included in the rent are acting and dance classes, as well as the use of onsite recording and photo studios.
"This is the future," Adler said. "There are more people coming here, and the only way to solve the problem is people are going to have to start taking up less space."
Unlike Adler's company, HomeShare works with developers to divide individual units. The company has units in New York City, San Francisco, Silicon Valley, Seattle and the Los Angeles area — some of which HomeShare doesn't subdivide but only matches with roommates. It declined to disclose the total number of units, but it does have 11 at the Mill Creek building where Cacho lives.
Christine Franz, vice president of West Coast property management for Mill Creek, said Mill Creek doesn't receive a portion of HomeShare's fee, nor does it charge HomeShare residents extra in some other way — which is how the service operates with other landlords, Pang said.
Instead, Franz said HomeShare is attractive because it matches people with roommates and allows a broader pool of people to afford apartments, thus making it easier to fill vacant units.
"This provides us another avenue for a market we haven't really tapped into," she said.
According to Pang, there's an added benefit: Once a unit is rented through HomeShare, it stays that way longer than it might through a traditional lease. That's because if one person leaves at the end of the lease, his company can just plug in a new tenant. In a traditional case, if someone bails, remaining tenants may just leave, creating a costly vacancy because they didn't want the hassle of finding a new roommate who would be a good fit.
Rick Palacios, director of research with John Burns Real Estate Consulting, said companies like HomeShare are especially attractive to landlords now because the rental market is slowing after years of rapid growth. That's particularly true on the high end, where most new construction is concentrated and there's a limited pool of people who can afford studios that run upward of $3,000 a month.
"Any developer you talk to, they are no longer as excited about top-notch luxury apartments in these gateway markets," said Palacios, who has not done work for HomeShare.
Franz said Mill Creek isn't having trouble renting its apartments. But in theory, if developers can fill more units with HomeShare, they'd have less of an incentive to lower rents or offer the sort of concessions that have been on the rise, such as a month's free rent.
Pang doubted landlords could reduce rent to HomeShare levels. Builders still want to make money and often have loans that cover high land and construction costs.
"We are able to better utilize supply and take what is already out there and enable more people to enjoy it and more people to access it," he said.
Staff writer Ryan Menezes contributed to this report.
Follow me @khouriandrew on Twitter
---
Must-read stories from the L.A. Times
Get the day's top news with our Today's Headlines newsletter, sent every weekday morning.
You may occasionally receive promotional content from the Los Angeles Times.