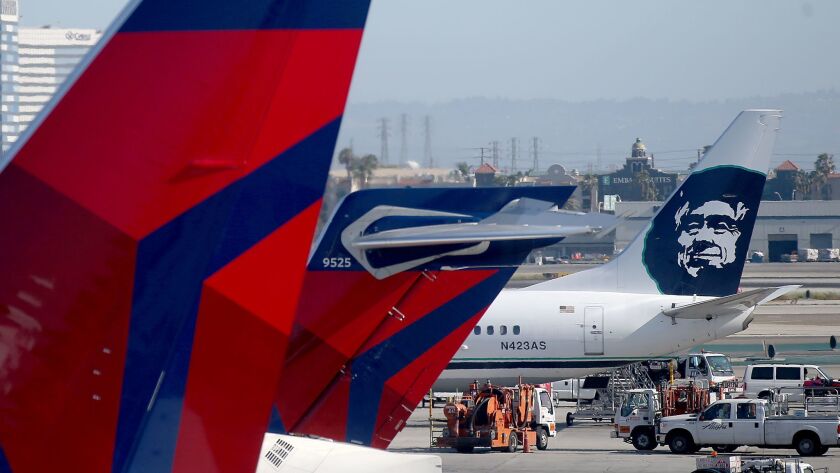 The United States racked up another sterling year for airline safety: Zero people died in crashes of commercial jets on U.S. soil in 2017, for the fourth year in a row.
Worldwide, there were 10 fatal airliner accidents and 44 fatalities — 25 passengers and 19 crew members, according to the Aviation Safety Network, a group that tracks accidents involving airliners, military transport planes and corporate jets. But that was down from 16 accidents and 303 fatalities in 2016. The number of deaths caused by airline accidents has steadily declined for several years, the group said, and on average, for every 7 million flights worldwide, there is one fatality.

President Trump sought to claim credit for the good year. "Since taking office I have been very strict on Commercial Aviation," he tweeted Tuesday morning.
Since taking office I have been very strict on Commercial Aviation. Good news - it was just reported that there were Zero deaths in 2017, the best and safest year on record!

— Donald J. Trump (@realDonaldTrump) January 2, 2018
But the streak long predates Trump's administration. The last commercial jet accident on U.S. soil that resulted in any passenger fatalities was in 2013, when an Asiana Airlines plane went down in San Francisco, said Harro Ranter, head of the Aviation Safety Network.
And the last time a crash by a U.S. airline resulted in any passenger deaths was in 2009, when a Colgan Air flight crashed en route to Buffalo, N.Y., said aviation expert Barry Schiff.
The Federal Aviation Administration has had the same chief since 2013. Trump did select the current chairman of the National Transportation Safety Board, but he had been serving on that board since 2006.
Flying is safer now than ever before because of measures taken by international safety organizations such as the Flight Safety Foundation and the United Nations' International Civil Aviation Organization, Ranter said.
For example, the UN's aviation organization has audited aviation authorities such as the U.S. Federal Aviation Administration to see how well they have implemented international standards and recommended practices, Ranter said.
"It gives [them] a clear insight into how and where they should do better," he said.
There have also been significant advancements in engineering and manufacturing in the last 40 years. Aviation safety consultant Robert Ditchey said that in the 1980s, engine failures were common and an airplane engine might have flown for 3,000 hours before needing to be rebuilt. Now, he said, it's about 10 times that.
When an accident does happen on a major flight, Ditchey said, it usually isn't triggered by one problem alone but rather by a combination of reasons; for example, design issues, maintenance issues and pilot errors.
The Aviation Safety Network based its data on all fatal commercial aircraft accidents worldwide, which includes passenger and cargo flights on planes that carry 14 or more passengers.
The safety network data doesn't include less-regulated aircraft, such as privately owned, military and government planes.
Last June, 122 people died in the crash of a Myanmar Air Force plane. Those fatalities weren't counted in the data, but according to the safety network, 2017 still had the fewest fatalities in modern aviation history even when all fatalities from military flight accidents are counted.
alejandra.reyesvelarde@latimes.com
Twitter: @r_valejandra
---