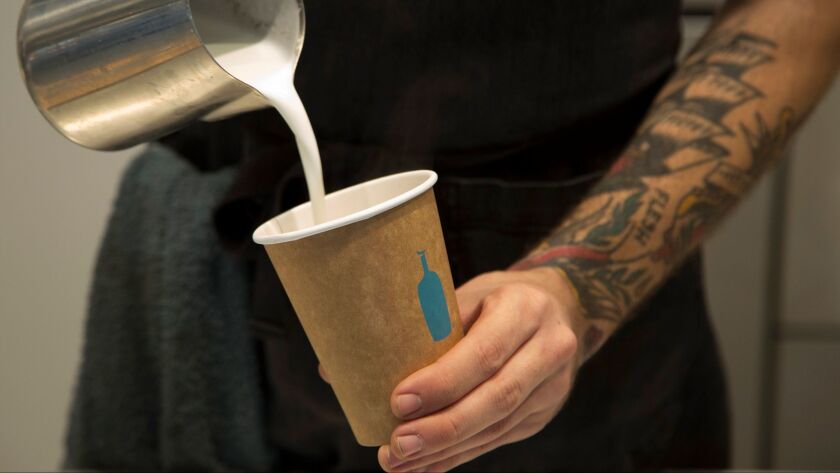 Blue Bottle Coffee, the Oakland-based coffee roaster and retailer known for its high-end specialty coffee, is now part of Swiss food giant Nestle.
Nestle and Blue Bottle announced the acquisition — a majority stake for Nestle — on their respective websites Thursday.
Blue Bottle will continue to operate as a stand-alone entity, Nestle said, and the current management and employees will keep a minority stake and run the business. Founder James Freeman is to stay on as chief product officer, and Bryan Meehan is to keep his chief executive role.
For Nestle, the deal marks an entry into the world of "third-wave" coffee, driven by independent, specialty roasters and fueled by dedicated coffee lovers. It's also a chance for Nestle to expand its presence in North America, building on its Nescafe and Nespresso coffee brands.
"This move underlines Nestle's focus on investing in high-growth categories and acting on consumer trends," Nestle CEO Mark Schneider said in a statement. "Blue Bottle Coffee's passion for quality coffee and mission-based outlook make for a highly successful brand. Their path to scale is clearly defined and benefits from increasing consumer appreciation for delicious and sustainable coffee."
Blue Bottle's Meehan and Freeman said in a company blog post that their decision to sell to Nestle was a "complex" one, "involving many discussions, considerations, questions."
"The concept of 'Nestle' as a figment, or symbol, was one thing — Eiffel's dictum 'there is an attraction in the colossal' comes to mind," they said. "But standing on the banks of Lake Geneva, meeting one worldly, genuine person after another was a different thing altogether. The colossus of our imaginings crumbled. We found kinship."
"Nestle wants to help us realize our dream of bringing Blue Bottle Coffee to more people," they said. "Sure, it's a business deal. But more importantly, to us, this deal brings with it an attendant recognition and belief in our accomplishments."
Financial details of the deal were not disclosed.
Sciacca writes for the Contra Costa Times/McClatchy.
---