California Medicaid expansion enrolled hundreds of thousands of ineligible people, federal report finds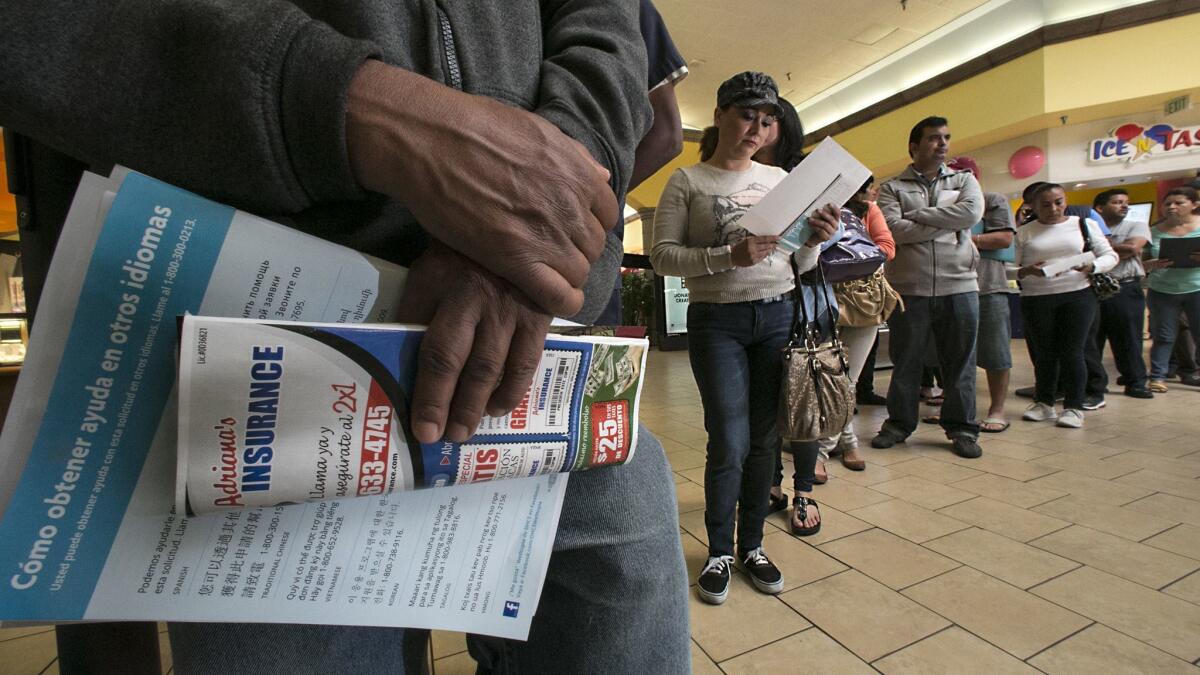 Kaiser Health News
California signed up an estimated 450,000 people under Medicaid expansion who may not have been eligible for coverage, according to a report by the U.S. Health and Human Services Department's chief watchdog.
In a Feb. 21 report, the HHS inspector general estimated that California spent $738.2 million on 366,078 expansion beneficiaries who were ineligible. It spent an additional $416.5 million for 79,055 expansion enrollees who were "potentially" ineligible, auditors found.
Auditors said nearly 90% of the $1.15 billion in questionable payments involved federal money, while the rest came from the state's Medicaid program, known as Medi-Cal. They examined a six-month period from Oct. 1, 2014, to March 31, 2015, when Medicaid payments of $6.2 billion were made related to 1.9 million newly eligible enrollees.
There were limitations to the California review, however. The audit extrapolated from a sample of 150 beneficiaries. The authors reported a 90% confidence level in their results — whereas 95% would be more common. That meant that the number of those ineligible could have been as low as 260,000 or as high as 630,000.
"If HHS has a strong reason to believe that California is systematically making enrollment errors, it would be helpful to show that in a more robust analysis," said Ben Ippolito, a healthcare economist at the American Enterprise Institute, a conservative think tank. "The federal government should ensure that states are being good stewards of federal money."
Nonetheless, the audit highlighted weaknesses in California's Medicaid program, the largest in the nation with 13.4 million enrollees and an annual budget topping $100 billion, counting federal and state money. Medicaid covers 1 in 3 Californians.
The inspector general found deficiencies in the state's computer system for verifying eligibility and discovered errors by caseworkers. The Medicaid payments cited in the report covered people in the state's fee-for-service system, managed-care plans, drug treatment programs and those receiving mental health services.
California's Department of Health Care Services, which runs Medi-Cal, said in a statement that it agreed with nearly all of the auditors' recommendations and that the agency "has taken steps to address all of the findings."
In a written response to the inspector general, California officials said several computer upgrades were made after the audit period and before publication of the report that should improve the accuracy of eligibility decisions.
Among the 150 expansion enrollees analyzed in detail, 75%, or 112, were deemed eligible for the Medicaid program in California. Auditors discovered a variety of problems with the other 38 enrollees.
During the audit period, 12 enrollees in the sample group had incomes above 138% of the federal poverty line, making them ineligible financially for public assistance, according to the report.
In other instances, beneficiaries were already enrolled in Medicare — the federal health insurance for people 65 and older or who have severe disabilities — and did not qualify for Medi-Cal. One woman indicated she didn't want Medi-Cal but was enrolled anyway.
In 2014, the state struggled to clear a massive backlog of Medi-Cal applications, which reached about 900,000 at one point. Many people complained about being mistakenly rejected for coverage, or their applications were lost in the state or county computer systems.
California was one of 31 states to expand Medicaid under the 2010 Affordable Care Act. The health law established a higher federal reimbursement for these newly eligible patients, primarily low-income adults without children. After expansion started in 2014, the HHS inspector general's office began reviewing whether states were determining eligibility correctly and spending taxpayer dollars appropriately.
In a similar audit released in January, the inspector general estimated that New York spent $26.2 million in federal Medicaid money on 47,271 expansion enrollees who were ineligible for coverage. (The sample size there was 130 enrollees.) Overall, New York had far fewer expansion enrollees and related spending than California.
"It is inevitable that in a big rollout of new eligibility for any public program there are going to be glitches in implementation," said Kathy Hempstead, a health policy expert and senior advisor at the Robert Wood Johnson Foundation. "The inspector general wants to make sure that states are being sufficiently careful."
The California audit didn't request a specific repayment from the state, but the findings were sent to the U.S. Centers for Medicare & Medicaid Services for review. CMS officials didn't respond to a request for comment.
Donald White, a spokesman for the inspector general's office, said the agency stood by the report's findings and declined to comment further.
Terhune is a senior correspondent for Kaiser Health News, an editorially independent publication of the Kaiser Family Foundation.