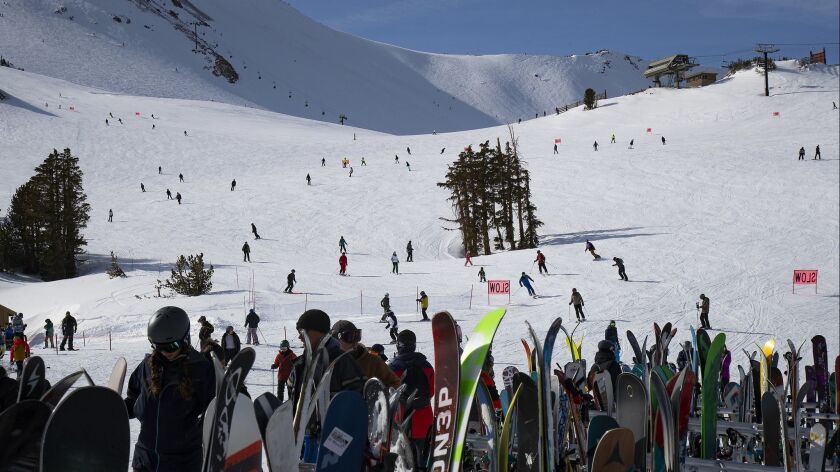 Winter storms blanketed California peaks with so much snow that some ski resort operators started calling the first month of the year "Janu-bury."
Now they're hoping those alluring mounds of fresh powder will make it easier for visitors to tolerate significantly higher prices on the slopes.
"The natural snowfall is like a million-dollar billboard," said Kevin Somes, vice president and general manager of Snow Valley Mountain Resort in the San Bernardino Mountains. "You can't buy advertising like that. When everyone sees the snow, they want to head up."
When they get there, skiers and snowboarders will find that daily lift tickets cost an average of 12% more, while the online price is up 15% on average compared with last season, according to an analysis by Liftopia, a website that sells lift tickets and passes for ski resorts throughout North America.
The latest price surge is bigger than those of the last few years, said Evan Reece, co-founder and chief executive of Liftopia.
"This was an outsized increase," he said.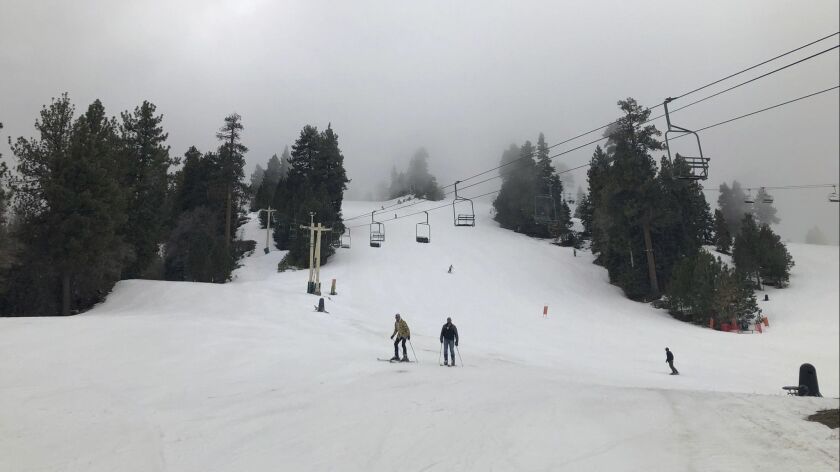 Ski industry experts and resort operators offer several reasons for the price hike, including rising operating expenses and the continuing consolidation in the ski industry.
"We develop prices in the summer and we anticipate expenses, such as electricity," said Somes, noting that his resort invested $6 million to open a high-speed lift last season.
At Snow Valley, daily lift ticket prices have increased by about $4 this year, with tickets for adults selling online for up to $79. Like at other resorts, the ticket prices at Snow Valley fluctuate based on the day of the week and the level of demand.
At the Big Bear Mountain and Snow Summit resorts in the San Bernardino Mountains, daily online ticket prices range from $49 to $115. The highest ticket price last season was $109 a day.
Ticket price increases come almost two years after a Colorado partnership named Alterra Mountain Co. acquired Mammoth Mountain, the state's most popular ski resort; June Mountain in the Sierra Nevada; and Southern California's Big Bear Mountain and Snow Summit resorts.
Reece said he believes the mega ski company, which owns 14 resorts in the United States and Canada, might be pushing daily lift ticket prices higher to encourage skiers to buy its seasonal pass.
"They may be highlighting the value of their pass," he said.
Lauren Burke, a spokeswoman for Mammoth Mountain, dismissed the suggestion, saying daily lift tickets at her resort increased only about 5% compared with last year.
A daily lift ticket purchased at the resort is now selling for as much as $179, but Burke said skiers can get discounts by ordering tickets online or buying multiple-day tickets.
"Our lift ticket pricing increase this season is not unusual, year over year," she said.
Season passes have also increased in price.
The California resorts that were acquired by Alterra previously sold the Cali4nia Pass, a season pass that offered unlimited skiing at Mammoth Mountain, June Mountain, Bear Mountain and Snow Summit. That pass sold at the beginning of the season last year for $749.
Those resorts now sell the Ikon season pass, which offers unlimited access to all 14 Alterra ski resorts. It went for $899 at the beginning of the season.
Squaw Valley Alpine Meadows, a resort near Lake Tahoe operated by Alterra, also converted to the new Ikon season pass, replacing a season pass that sold last year for $869 — $30 less expensive than the Ikon pass.
At Squaw Valley Alpine Meadows, daily lift tickets offered at the ticket window are priced at up to $179, about the same price as last year, resort spokeswoman Liesl Hepburn said.
The success of the current season will depend on whether the state's mountains get plenty of snow before the upcoming Presidents Day weekend and spring break, but not so much snow that the roads are impassable.
A final tally of skier visits to California resorts won't be completed until the season ends in the spring, but resort operators say early skier numbers are trending up over last year, despite the higher prices.
"Generally, everything has been really positive," said Michael Reitzell, president of the California Ski Industry Assn., a trade group for the 32 ski resorts in California and Nevada.
Ski resorts in California and Nevada had 6.03 million visitors during the 2017-18 season, down 14% from the previous season, when the state enjoyed record snow levels.
So far, California has received about 124% of snowfall for a normal year, according to the state Department of Water Resources.
The lodge at Mammoth Mountain received a total of about 22 feet of snow as of early February, surpassing the total snowfall for the entire season last year. More snow is expected in the coming week.
"As always, snowfall is a key driver of visitation, and in turn we're pacing ahead of last year's skier visit numbers as of early February," Burke said.
Although skiers grouse about the higher prices, some say the mounds of powdery white make the price hikes less painful.
"The price has been spiking rather crazy the past couple of years," said Rini Sugianto, a climber and photographer from Orange County who skies Mammoth Mountain often. "Now you have to dig around the internet to find good deals."
Instead of buying daily passes, Sugianto said she decided it made more sense this year to buy Alterra's Ikon pass. The huge snowfall made the decision easier, she said.
"It saves me so much money, especially since the conditions are great this year," she said.
To read more about the travel and tourism industries, follow @hugomartin on Twitter.
---