Developer Rick Caruso goes small with new Pacific Palisades shopping district
The heart of Pacific Palisades was choked with dozens of workers in hardhats Friday as they hurried to put the finishing touches on Palisades Village, the newest project by shopping center mogul Rick Caruso.
The workers washed storefront windows, set down sod in the village's park area and laid brick along its walkways in preparation of Saturday's opening of the $200-million complex in the tony seaside community.
Palisades Village represents not only a redevelopment of the commercial center in Pacific Palisades, it's also a departure for Caruso, the billionaire developer known for his elaborate retail-restaurant-residential complexes, including the Grove in Los Angeles and the Americana at Brand in Glendale.
The village reflects Caruso's decision — heavily influenced by the local community — that in the case of the Pacific Palisades area, at least, the retail experience should be radically different from those at his other marquee centers: smaller, more intimate, more tied to the local community and with mostly boutique-size specialty stores instead of the larger retail mainstays of shopping malls such as Gap and Nordstrom.
"This is definitely an evolution in our thinking from the standpoint of having the retailers be smaller in size, the restaurants be smaller in size," Caruso said as he sat inside Blue Ribbon Sushi, one of the project's eateries. "I don't think every project should look alike. They need to be detailed to fit the local community."
The redevelopment is a 125,000-square-foot complex covering 3 acres where Swarthmore Avenue meets Sunset Boulevard. By contrast, the Grove and the Americana at Brand each spread across 16 acres.
Palisades Village will open with 22 stores, 10 restaurants and cafes, a park, underground and valet parking, a community center, a bike-share program and a reopening of the Bay Theatre as part of the Cinepolis Luxury Cinemas family. There's room for 13 additional stores or restaurants.
The underground parking has 560 stalls, and there are 25 chargers for electric-powered vehicles. The site also includes eight apartments and office space.
Caruso designed the Pacific Palisades complex and "curated" the retail roster after spending hours listening to hundreds of residents' concerns and desires.
The Village's architecture and relatively small footprint — none of the stores is more than two stories tall — also are designed to blend into the surrounding neighborhoods. The exterior design and materials on each of the project's stores is different to give the feeling that the place evolved over time rather than opened on a given Saturday after a celebrity-studded ribbon-cutting gala Thursday night.
In turn, the village's success will depend in large part on local support because it's a relatively remote location in the Los Angeles area just north of Santa Monica. Caruso figures the complex will generally draw on a population of 200,000 from Pacific Palisades and nearby towns.
"It's not designed to be like the Grove [where] I think we have something like 111 ZIP Codes that we pull from," Caruso said. "This is about localism."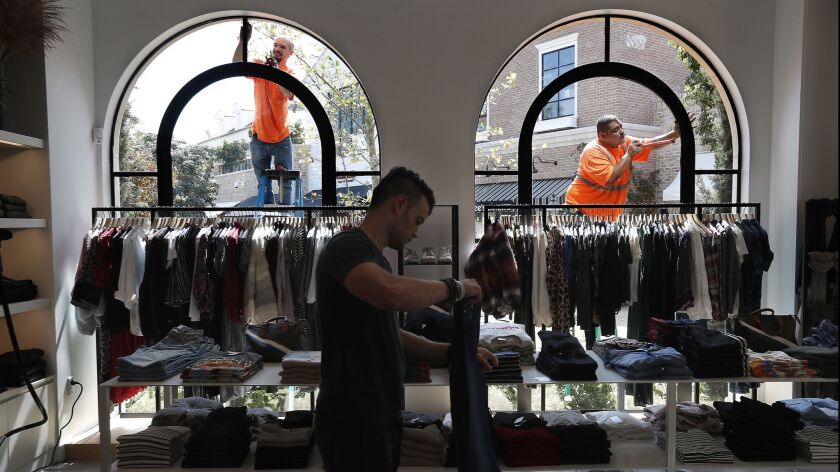 The Village's stores include a market called Vintage Grocers and internet giant Amazon.com's second bricks-and-mortar bookstore in Los Angeles. (The other is in the Westfield Century City shopping center). The Amazon store enjoys a prime location at the corner of Sunset and Swarthmore.
The food offerings include an ice-cream store, a bakery, a coffee-and-donut shop and a restaurant called Hank's, named after Caruso's late father. There also are apparel, jewelry and home-decor stores, a Sephora makeup store and a See's Candies.
Although Pacific Palisades is an upscale community with its share of famous residents — actor Billy Crystal and his wife Janice are honorary co-mayors — the town's small commercial center had withered by the time Caruso, 59, bought his 3 acres in 2014.
As he drove through the area over the years, "I saw the gradual decline," Caruso said. "It blew my mind. The thing that enticed me so much was [the idea] to do something very different than we had done."
Although the Palisades Village is dependent on local support, there are other notable retail complexes in west Los Angeles. They include the 3rd Street Promenade in Santa Monica, Westfield Century City and the recently renovated Beverly Center that's near Caruso's The Grove.
Caruso sees Palisades Village as a distinct option to those centers, one that has the quaint flavor of an established resort town with different price points among its stores and restaurants. Caruso's firm said it's akin to a "walkable town center."
Caruso, with a net worth Forbes estimates at $4 billion, said Palisades Village is not expected to be a one-time departure from his practice of building larger shopping centers.
"I would love to duplicate the scale and the size of this," he said. "I'd love to find another opportunity to build in another town like the Palisades, to create a downtown like we're able to do here. We're already thinking about that.
"But I also would love to re-create the Grove or the Americana," Caruso said. "They've been very successful."
Twitter: @PeltzLATimes
---
Your guide to our clean energy future
Get our Boiling Point newsletter for the latest on the power sector, water wars and more — and what they mean for California.
You may occasionally receive promotional content from the Los Angeles Times.