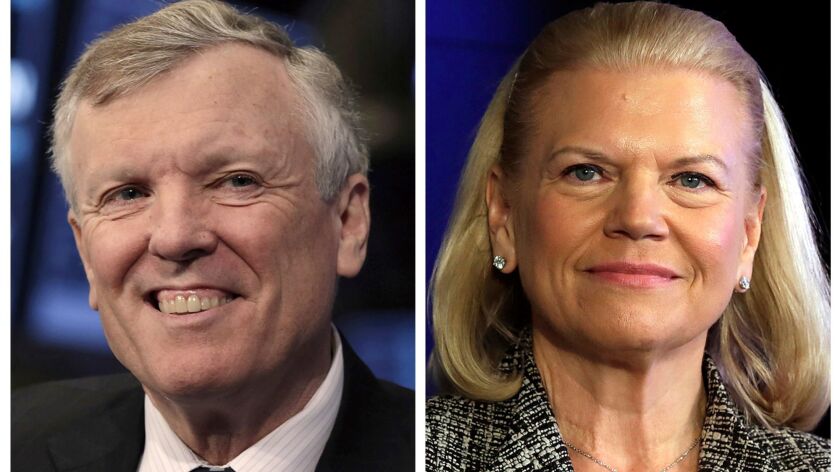 The typical big-company chief executive raked in $11.5 million last year in salary, stock and other compensation, according to a study by executive data firm Equilar for the Associated Press. That's an 8.5% raise from a year earlier, the biggest in three years.
The bump reflects how well stocks have done under these CEOs' watch. Boards of directors increasingly require that CEOs push their stock price higher to collect their maximum possible payout, and the Standard & Poor's 500 index returned 12% last year.
Over the last five years, median CEO pay in the survey has jumped 19.6%, not accounting for inflation. That's nearly double the 10.9% rise in the typical weekly paycheck for full-time employees across the country.
Top of the charts
The top-paid CEO last year was Thomas Rutledge of Charter Communications Inc., at $98 million. The vast majority of that came from stock and option awards included as part of a new five-year employment agreement, and Charter's stock will need to more than double for Rutledge to collect the full amount.
Read more: Charter CEO Tom Rutledge's compensation package soars »
No. 2 on the compensation list last year was Leslie Moonves of CBS Corp., who earned $68.6 million.
Read more: CBS chief Leslie Moonves got a nearly $70-million pay package »
No. 3 was Walt Disney's Robert Iger, who made $41 million.
Read more: Disney CEO Robert Iger's compensation dropped slightly »
The media business is full of big paychecks, where actors and other employees far from the executive suites can make millions of dollars, and the industry's CEOs have traditionally pulled down some of the country's biggest packages.
Nay on pay
CEO pay did fall for one group of companies last year: those where investors complained the loudest about executive pay. Compensation dropped for nine of the 10 companies scoring the lowest on "Say on Pay" votes, where shareholders give thumbs up or down on top executives' earnings.
At Exelon, for example, the majority of voting shares were against how much executives made in 2015, particularly when the stock lost 22% that year. After the vote, Exelon made several changes, including capping how much executives can receive in incentive payments if the stock loses money over the year.
Auto supplier BorgWarner had last year's second-lowest passing rate in the survey on "Say on Pay," with 60% of voting shares saying no or abstaining. The company made changes to its compensation program and cut a 2016 incentive award by $2.4 million to $950,000 for CEO James Verrier. His total compensation dropped 29% to $12.3 million last year.
Women make bigger bucks, but they still have smaller representation
The median pay for a female CEO was $13.1 million last year, up 9% from 2015. That's more than the $11.4 million that the typical male CEO made, though the 9% raise was the same.
Read more: Female CEOs' salaries rise, but the number of women in top jobs has barely budged »
But the number of women in the top CEO roles has barely budged. Just 6% of the CEOs in the survey were women, a slight increase from about 5% in 2015 and 2014.
The highest-paid woman last year was Virginia Rometty of IBM Corp., with $32.3 million, bumping Yahoo Inc.'s Marissa Mayer from the top spot.
Read more: Yahoo discloses $187-million exit pay package for Marissa Mayer »
Healthcare again helps lead the way
Pay checks have remained healthy for executives in the healthcare industry. A year after earning the highest compensation of any industry, healthcare remained close to the top in 2016.
The typical healthcare CEO made $12.9 million, a touch below the $13.2 million made by their counterparts in industrial goods.
The least highly paid CEOs last year came from the utility industry, with median pay of $9.7 million.
How the numbers were calculated
Equilar examined the regulatory filings detailing the pay packages of 346 executives. They included all companies in the S&P 500 that filed proxy statements with federal regulators between Jan. 1 and May 1, 2017. To avoid the distortions caused by sign-on bonuses, the sample includes only CEOs in place for at least two years.
To calculate CEO pay, Equilar adds salary, bonus, stock option awards and other pay components that include benefits and perks.
ALSO
Ford ousts CEO as auto industry faces biggest transformation ever
Is the real estate market about to crash? No way, says this CEO — and here's why
U.S. workers — especially millennial women — aren't taking all their earned vacation
---