Trump's rumored pick for CFPB chief is a Mick Mulvaney deputy with little financial policy expertise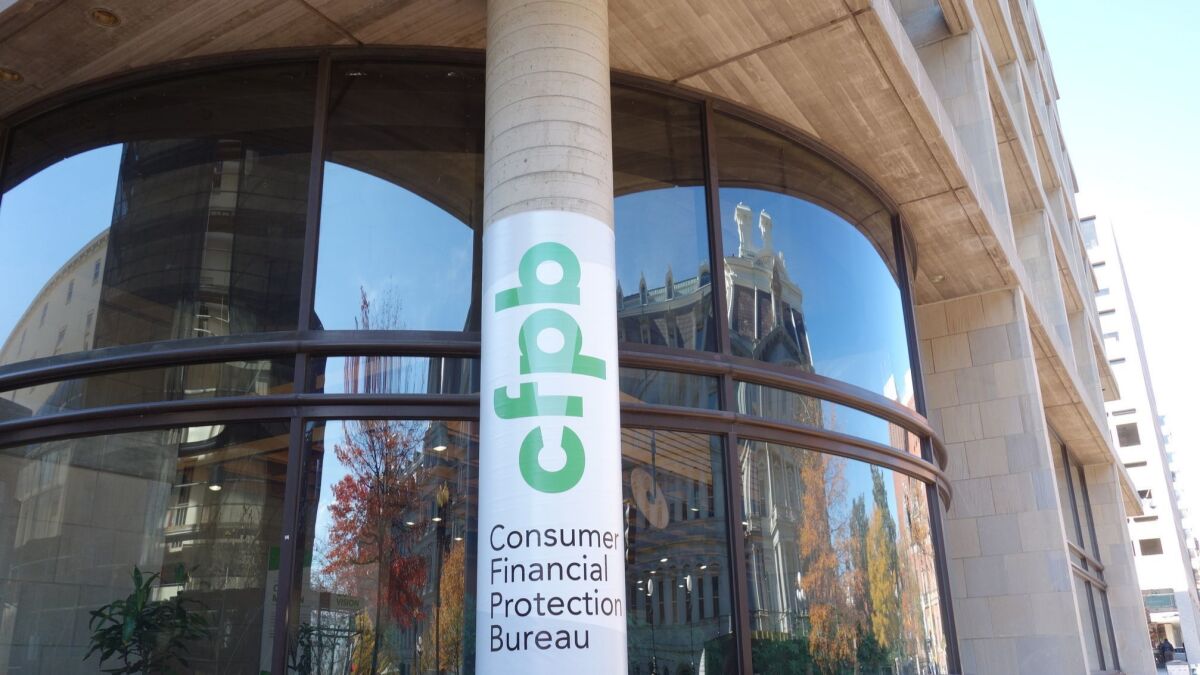 Bloomberg
A little-known Office of Management and Budget official is President Trump's leading candidate to become permanent director of the Consumer Financial Protection Bureau, according to four people with knowledge of the matter.
If approved by the Senate, Kathy Kraninger would succeed her boss, White House Budget Director Mick Mulvaney, who has been leading the consumer bureau part time since November. The confirmation process could take months, and Mulvaney has said he expects to be at the bureau until the end of the year.
Kraninger, an associate director at the Office of Management and Budget, previously worked for the Department of Homeland Security and the Senate Appropriations Committee. She would inherit an agency that has been roiled by a shift to Republican leadership under Mulvaney from its roots as a scourge of financial firms under Obama administration appointee Richard Cordray, a Democrat who is now running for governor of Ohio.
The potential selection of Kraninger, which could be announced next week, is likely to raise concerns among Democrats, especially because of the lack of financial policy expertise in her background.
Although the White House refused to confirm her likely nomination, it has emphasized that the administration was seeking somebody with prior government management experience, including on budget issues.
"We have no personnel announcements at this time," Raj Shah, a White House spokesman, said Friday. The Office of Management and Budget didn't immediately respond to an email seeking comment.
Mulvaney has been praised by GOP lawmakers for reining in an agency they saw as unaccountable. Liberals led by Sen. Elizabeth Warren (D-Mass.) have accused him of dismantling the bureau and putting consumers at risk.
As acting director, Mulvaney has conducted a top-to-bottom review of the agency's enforcement, supervisory and rule-making functions. He has frozen data collection in the name of security, dropped enforcement cases and directed staff to slash next year's budget. He also has begun referring to the agency by its formal name, the Bureau of Consumer Financial Protection — a move consumer advocates worry is part of a broader strategy to undermine the agency's mandate by making it sound more bureaucratic and deemphasizing the word "consumer."
The White House has been working for months to determine who will lead one of the most politically divisive agencies in Washington. The agency has been the focus of partisan fights since it was created by the Dodd-Frank Act in the wake of last decade's financial crisis.
Kraninger is a 2007 graduate of Georgetown University Law Center, according to her LinkedIn profile. As part of her work at the Office of Management and Budget, she has worked with Treasury Department Counselor Craig Phillips on Trump's review of the U.S. Postal Service, the Washington Post reported last month.
One of the biggest challenges she would face is managing the agency's more than 1,600 employees, many of whom have grown increasingly worried about keeping their jobs. Adding to uncertainty about the agency's future, Mulvaney has directed his top advisors to find ways to significantly cut next year's budget. Steps being considered include relocating staff to places like Dallas, reorganizing staff and eliminating some departments.
Many employees were loyal to Cordray and disapprove of Mulvaney's approach. In an interview last month, Mulvaney complained about media leaks and other ways some employees were trying to upend his work.
"We've got a little group of malcontents," Mulvaney said. "Face it, there's a group of people who are here who just don't like me."
Dexheimer, Schmidt and Jacobs write for Bloomberg.