China market swoon continues as Shanghai index declines 1.3%; Asian markets mixed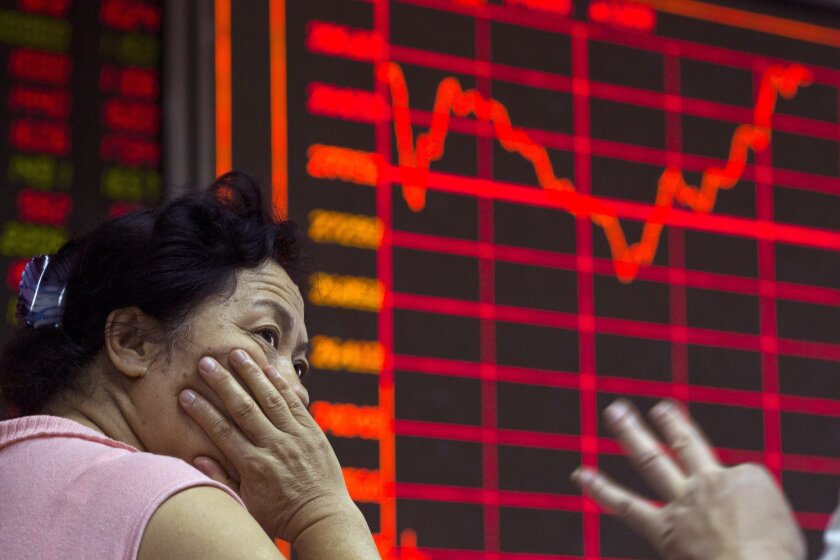 Reporting from Beijing
China's Shanghai Composite dropped 1.3% on Wednesday after a volatile day of trading, bringing the benchmark index down to 2,927.29, its lowest point since December 2014.
Chinese stocks have fallen about 16% over the last week, rattling markets worldwide as investors raise concerns about the Chinese leadership's ability to prop up the country's ailing economy. The Shenzhen Composite also fell 3.1% to 1,695.76 on Wednesday, while ChiNext, a Shenzhen-based exchange that hosts fast-growing enterprises, ended down 5.1%.
China plays an increasingly central role in global trade -- the country accounts for at least 15% of global output -- and panic about the volatility of its markets has cut trillions of dollars from exchanges around the world, in both developed and emerging economies.
On Tuesday, China's central bank cut its key lending rate by 0.25 percentage points to 4.6% in an effort to end the rout. Yet investors in other Asian markets dumped shares on Wednesday afternoon over concerns that the stimulus measure was too little, too late.
On Wednesday, Hong Kong's Hang Seng index lost 1.5%, while exchanges in New Zealand, Taiwan and Southeast Asia also saw modest losses. South Korea's Kospi index closed 2.6% higher, and Japan's Nikkei index rose 3.2% after six days of declines.
SIGN UP for the free California Inc. business newsletter >>
U.S. stocks rallied Tuesday and then fell sharply just before the closing bell; the Dow Jones industrial average fell 204.91 points, or 1.3%, extending Wall Street's losing streak to six days. However, Dow futures surged early Wednesday, pointing to a strong upside open.
"The seemingly endless issues confronting global markets remind us too much of the good old arcade game of Whack-A-Mole. Even as one problem retreats, another one seems to be lurking around and ready to spring up," Wellian Wiranto, an economist at Singapore's OCBC bank, said in a research note, according to Reuters.
"For one, renewed volatility in China and oil's price slump have resurfaced to demand attention. Meanwhile, though the potential for Fed's [interest rate] lift-off has receded somewhat, it remains a matter of time before it pops up again."
The Shanghai exchange endured a roller coaster trading day on Wednesday, gaining as much as 4.29% and losing as much as 3.85% throughout the day.
The exchange had fallen by 8.5% on Monday and 7.6% on Tuesday, after an independent survey Friday revealed that China's factory activity in August hit a 77-month low.
In a sign that the plunge has rattled Chinese authorities, the country's heavily censored media has either ignored or downplayed the tumult. On Tuesday, the Communist Party mouthpiece People's Daily and the state broadcaster China Central Television's prime-time national news broadcast did not even mention the two consecutive days of heavy losses.
"Beijing has emphasized since last year that the real economy has entered a 'new normal', a period of lower growth and deeper reforms," the state-run New China News Agency said in a Wednesday editorial. "Meanwhile, it is still growing fast at an enviable rate. Problems do exist, but worrying about a probable crisis is certainly overdone."
MORE ON FINANCIAL MARKETS:
U.S. stocks, after surging to start the day, end with a thud
Global stock sell-off is a big test of U.S. economy's resiliency
Big losses on Wall Street leave investors wondering what's next
---
Be your money's boss! Learn how to make a budget and take control of your finances with this eight-week newsletter course.
You may occasionally receive promotional content from the Los Angeles Times.