Cigna-Express Scripts deal gets approval from U.S. antitrust enforcers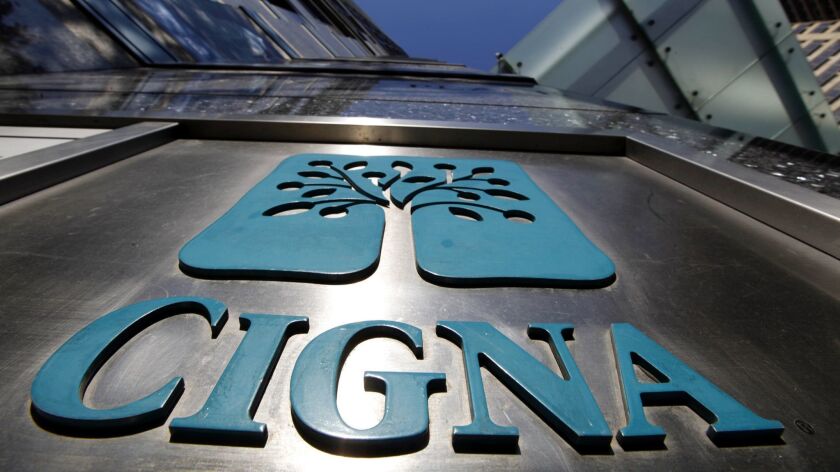 Antitrust enforcers signed off on Cigna Corp.'s $54-billion takeover of pharmacy-benefit manager Express Scripts Holding Co., clearing one of two healthcare deals that stand to reshape the industry.
Approval by the Justice Department smooths the way for the deal to wrap up by the end of the year, the companies said Monday in a joint statement. While some state regulators have yet to sign off, the U.S. review was one of the last major steps for the agreement the companies struck in March.
Express Scripts shares climbed 3.7% to $95.23. Cigna shares rose 1.4% to $197.84.
Insurers, pharmacy-benefit managers and others in the healthcare supply chain have been making deals to streamline expenses and gain scale in an industry threatened by rising costs for medical services and new competition from the technology sector.
Cigna's deal for Express Scripts came on the heels of CVS Health Corp.'s approximately $68-billion deal to buy insurer Aetna Inc., which is still under review. That combination would unite the U.S. drugstore giant with the third-biggest health insurer. CVS also manages drug-benefit plans for employers and insurers, a business that could help steer Aetna's customers into CVS drugstores when they fill prescriptions.
Ana Gupte, an analyst at Leerink Partners, said approval of the Express Scripts deal is a positive sign for CVS and Aetna. That's because it indicates the Justice Department probably isn't concerned about consolidation of insurers and pharmacy-benefit managers, which aren't direct competitors.
Bloomberg reported this month that CVS and Aetna were in talks with the Justice Department about divesting Medicare prescription-drug plans to resolve the government's concerns that the deal would harm competition.
The Justice Department didn't put any conditions on the Cigna-Express Scripts deal, the companies said in a joint statement. The Justice Department declined to comment.
"We are pleased that the Department of Justice has cleared our transaction and that we are another step closer to completing our merger and delivering greater affordability, choice and predictability to our customers and clients as a combined company," Cigna Chief Executive David Cordani said in a statement.
---
Must-read stories from the L.A. Times
Get the day's top news with our Today's Headlines newsletter, sent every weekday morning.
You may occasionally receive promotional content from the Los Angeles Times.