L.A. Convention Center books 30 major gatherings for 2016, a 30% jump from last year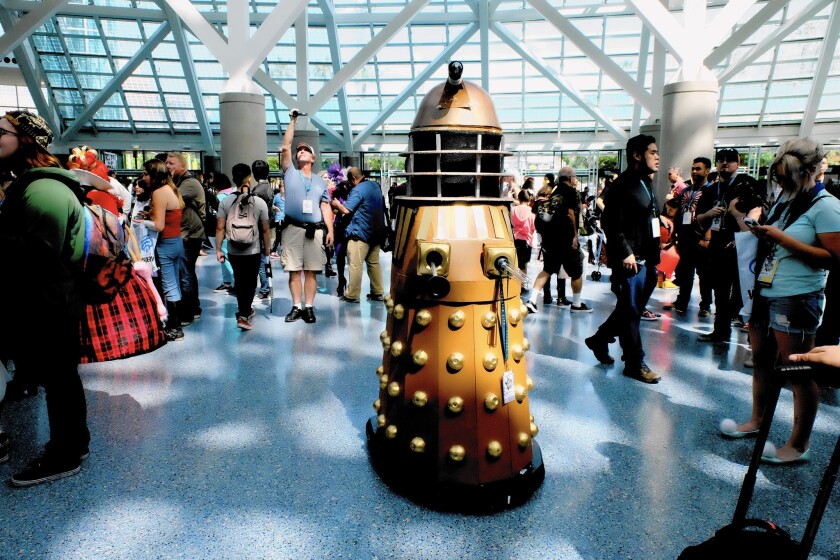 The Los Angeles Convention Center has booked 30 major conventions for 2016, a 30% increase over last year and a new record for big multi-day gatherings at the city facility.
The conventions this year include a celebration of comic books and movies, a gathering of experts on allergies and a conference of builders of environmentally friendly structures. The new events are expected to boost the center's annual attendance 22% this year, convention representatives said.
The surge in convention bookings comes two years after the city turned over management of the convention center to a division of AEG, the entertainment group that owns and operates the adjacent Staples Center and L.A. Live. The 30 big conventions are expected to generate $7.5 million in rental fees, up from about $5.5 million in 2015.
In addition to the 30 multi-day conventions that require booking several hotels, the convention holds nearly 300 other events, including smaller consumer shows, meetings and special events.
AEG officials attribute the increase in bookings to improved efforts to work with the Los Angeles Tourism and Convention Board, which books the multi-day events. AEG books most of the smaller events.
"This partnership continues to evolve as the teams work in tandem to develop business for the convention center while driving revenue to the city of Los Angeles," said Brad Gessner, general manager for the convention center.
Los Angeles County has been breaking tourism records for five years in a row, with a record 45.5 million visitors estimated for 2015.
Convention center officials could not estimate the spending that will be generated by the 30 multi-day conventions this year, but one of those gatherings, WonderCon — the festival of comics, movies and pop culture that was held in March — drew about 55,000 visitors and generated about $36 million in spending, according to AEG officials.
Overall bookings, attendance and spending may increase in future years because city officials are considering proposals to upgrade and expand the 870,000-square-foot convention facility to 1.3 million square feet, including 60,000 square feet of ballroom space. A modernization plan, according to tourism officials, should make it easier to attract the kind of large conventions that typically go to cities such as Anaheim or Las Vegas.
Twitter: @hugomartin
---
Must-read stories from the L.A. Times
Get the day's top news with our Today's Headlines newsletter, sent every weekday morning.
You may occasionally receive promotional content from the Los Angeles Times.