Five banks plead guilty to market manipulation, fined $5.7 billion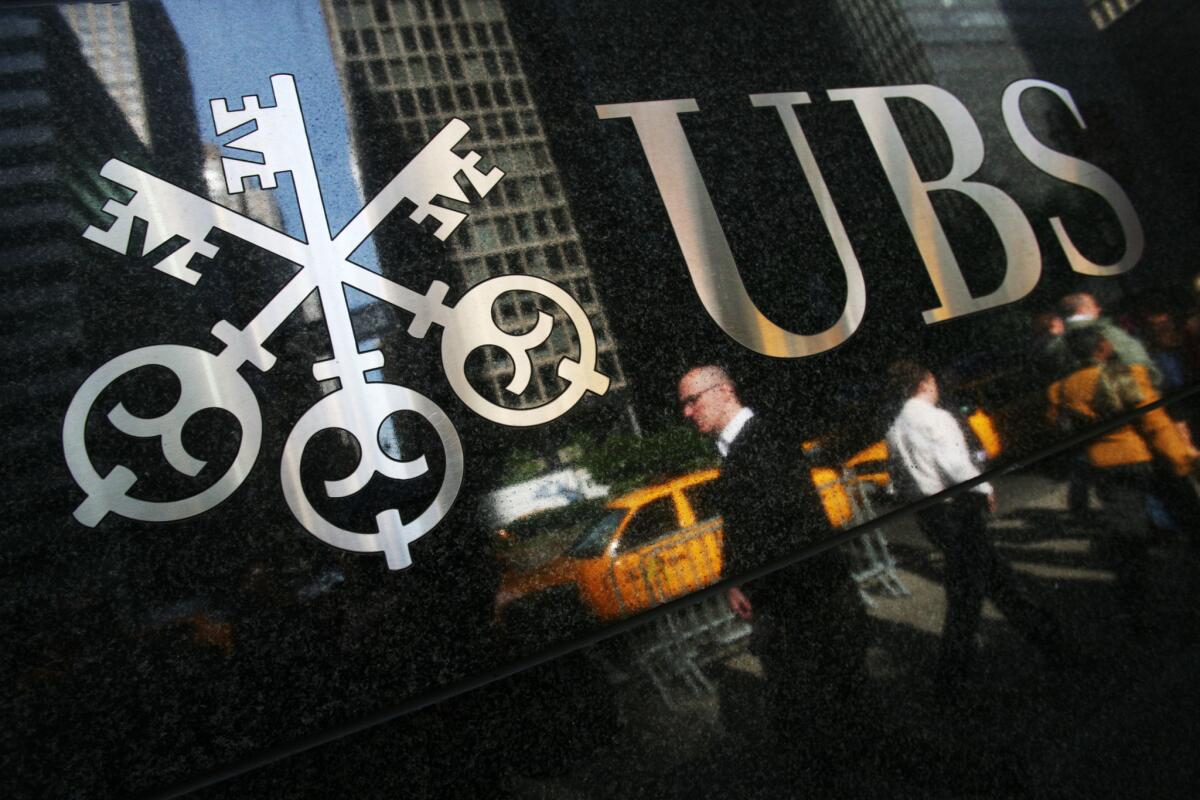 Citicorp, JP Morgan Chase & Co., and three other global banking giants have agreed to plead guilty to U.S. felony charges for rigging foreign currency exchange rates and pay a total of nearly $5.7 billion in fines as part of settlements announced Wednesday by U.S. and European officials.
The banks, which also include Barclays, the Royal Bank of Scotland and UBS, "for years participated in a brazen display of collusion," said Atty. Gen. Loretta Lynch.
"The penalty all these banks will now pay is fitting considering the long-running and egregious nature of their anti-competitive conduct," she said at a Washington news conference.
"It is commensurate with the pervasive harm done. And it should deter competitors in the future from chasing profits without regard to fairness, to the law or to the public welfare," she said.
The banks agreed to what the Justice Department called three years of "corporate probation" that would include federal court supervision and regular reporting to authorities to determining that the firms had ended "all criminal activity."
The agreements do not prevent the Justice Department from prosecuting executives and other employees at the banks for the illegal activity.
The guilty pleas and fines revolve around rigging foreign currency exchange and, in the case of UBS, for violating the terms of a previous settlement involving manipulation of a key global interest rate known as Libor.
The actions are the latest major financial and reputational hits to major banks as regulators have cracked down on bad behavior since the 2008 financial crisis.
Citicorp, JPMorgan Chase, Barclays and the Royal Bank of Scotland pleaded guilty to manipulating the price of U.S. dollars and euros traded on the foreign currency exchange spot market from December 2007 to January 2013, the Justice Department said.
Traders at the firms, who described themselves as members of "The Cartel," used electronic chat rooms and code words to manipulate exchange rates "in an effort to increase their profits," the Justice Department said.
"The banks pleading guilty today are not ordinary market participants. They are 'market makers,' representing 25% or more of dollar–euro exchange rate transactions each year," said Asst. Atty. Gen. Bill Baer.
"As such, they were uniquely positioned to manipulate the market," he said. "And that is what they did."
The four bank holding companies each agreed to plead guilty to one felony count of conspiring to fix prices and rig bids for foreign currency exchange.
Fines were proportional to each bank's involvement in the conspiracy, which violated antitrust laws, the Justice Department said.
The fines are: $925 million for Citicorp; $650 million for Barclays; $550 million for JPMorgan Chase; and $395 million for Royal Bank of Scotland.
The Citicorp penalty is the largest single antitrust fine in history, Lynch said. And the combined $2.5 billion to be paid by those four banks is the largest set of antitrust fines the Justice Department has ever levied, she said.
But the penalties didn't end there.
Barclays also agreed to pay an additional $60 million criminal penalty for violating terms of a June 2012 agreement resolving the Justice Department's investigation into the bank's involvement in manipulating Libor, also known as the London interbank offer rate, a global interest rate benchmark.
UBS also settled a Libor investigation with the Justice Department in 2012, signing a non-prosecution agreement that required the bank to avoid future violations. Lynch said Wednesday that UBS had participated in the foreign exchange manipulation, which was a violation of that earlier agreement.
UBS agreed to pay a $203 million fine and plead guilty to a single count of wire fraud in connection with the investigation, Lynch said.
It was the first time in recent history that the Justice Department found a company in violation of a non-prosecution agreement over the firm's objections, she said.
"UBS promised … not to commit additional crimes, but it did," Lynch said. "The Department of Justice, under my watch, will not hesitate to file criminal charges for financial institutions that re-offend."
UBS Chairman Axel A. Weber and Group Chief Executive Sergio P. Ermotti said in a joint statement that they had "made significant investments to strengthen our control framework and compliance programs.
"The conduct of a small number of employees was unacceptable and we have taken appropriate disciplinary actions," they said.
In addition, the Federal Reserve said Wednesday it was imposing a total of more than $1.6 billion on the five banks for the foreign exchange manipulation. Barclays also will pay a total of about $1.3 billion to settled related claims with regulators from the Commodity Futures Trading Commission, the New York State Department of Financial Services and the United Kingdom's Financial Conduct Authority.
On top of earlier settlements in the U.S. and abroad, the five banks have paid nearly $9 billion in fines and other penalties stemming from the foreign exchange market manipulation, the Justice Department said.