Dozens arrested nationwide in rallies for higher minimum wage
Fast-food workers are joined by supporters Thursday as they walk into a downtown Los Angeles McDonald's in a peaceful demonstration demanding higher wages. Ten protesters were arrested later after sitting in the middle of Broadway.
(Mark Boster / Los Angeles Times)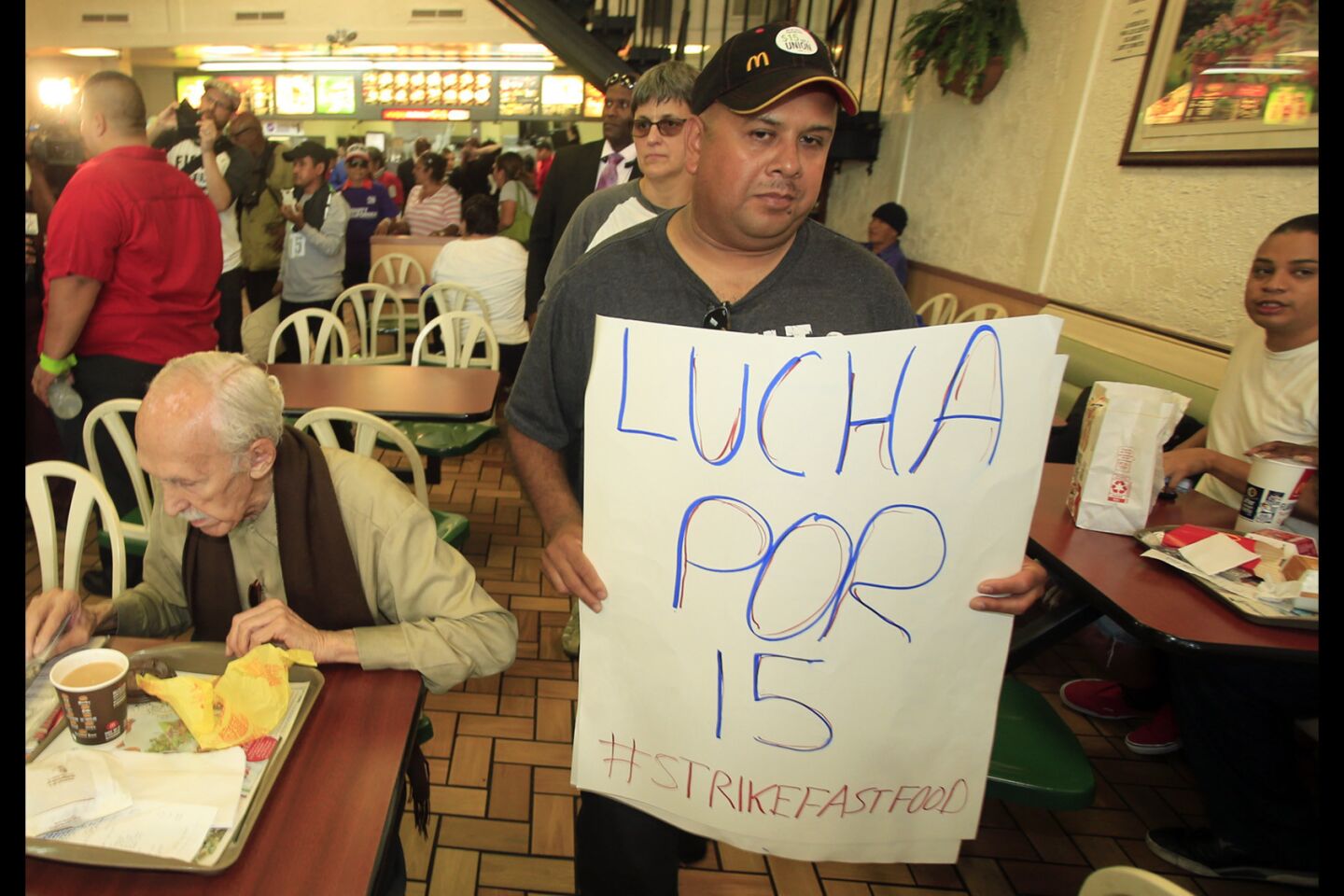 Customers in a Los Angeles McDonald's seem unfazed Thursday by protesting fast-food workers and supporters asking for higher wages.
(Mark Boster / Los Angeles Times)
Fast-food workers and community supporters sit in front of a downtown Los Angeles McDonald's on Thursday.
(Mark Boster / Los Angeles Times)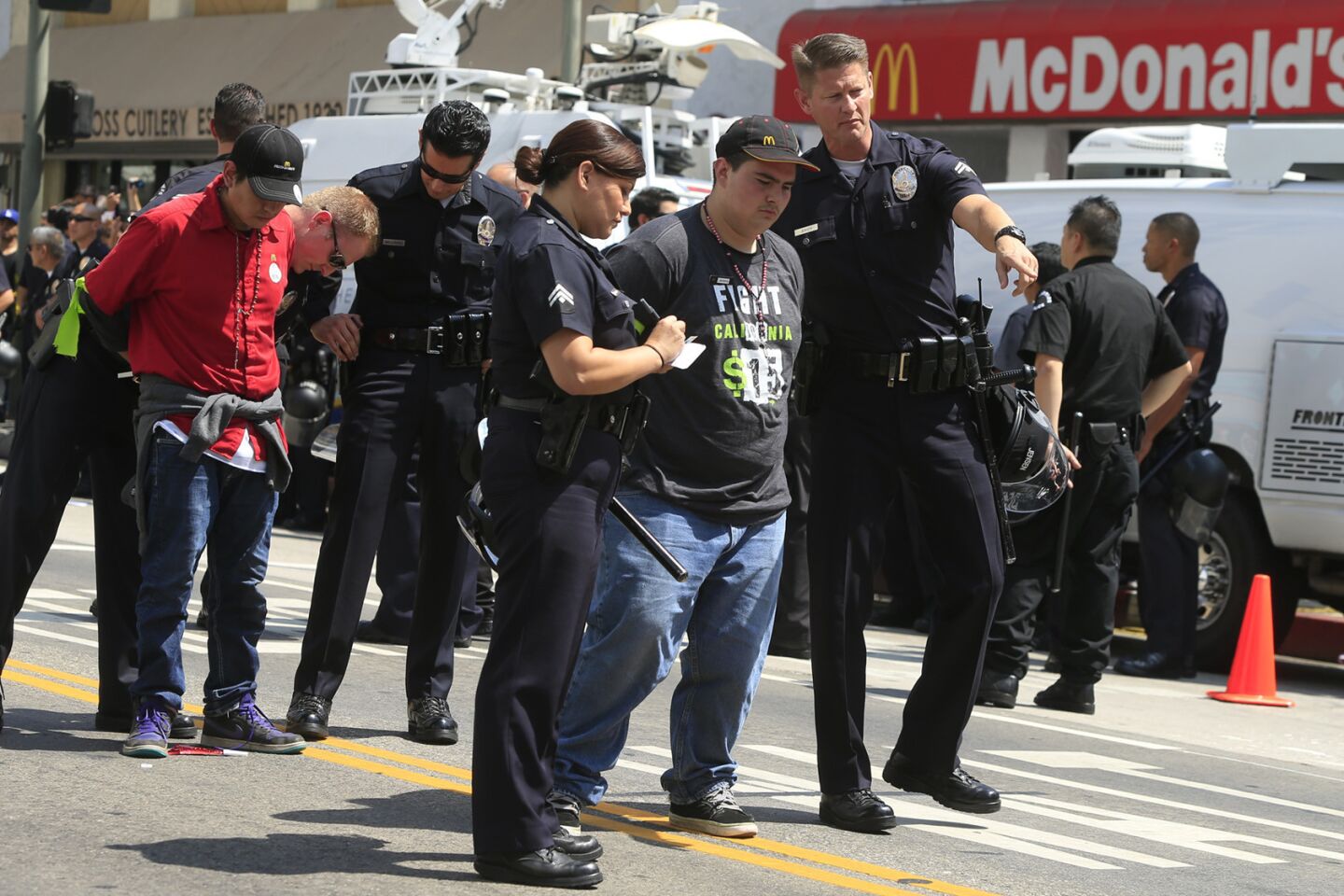 Ten protesters are arrested after sitting down on Broadway in L.A.
(Mark Boster / Los Angeles Times)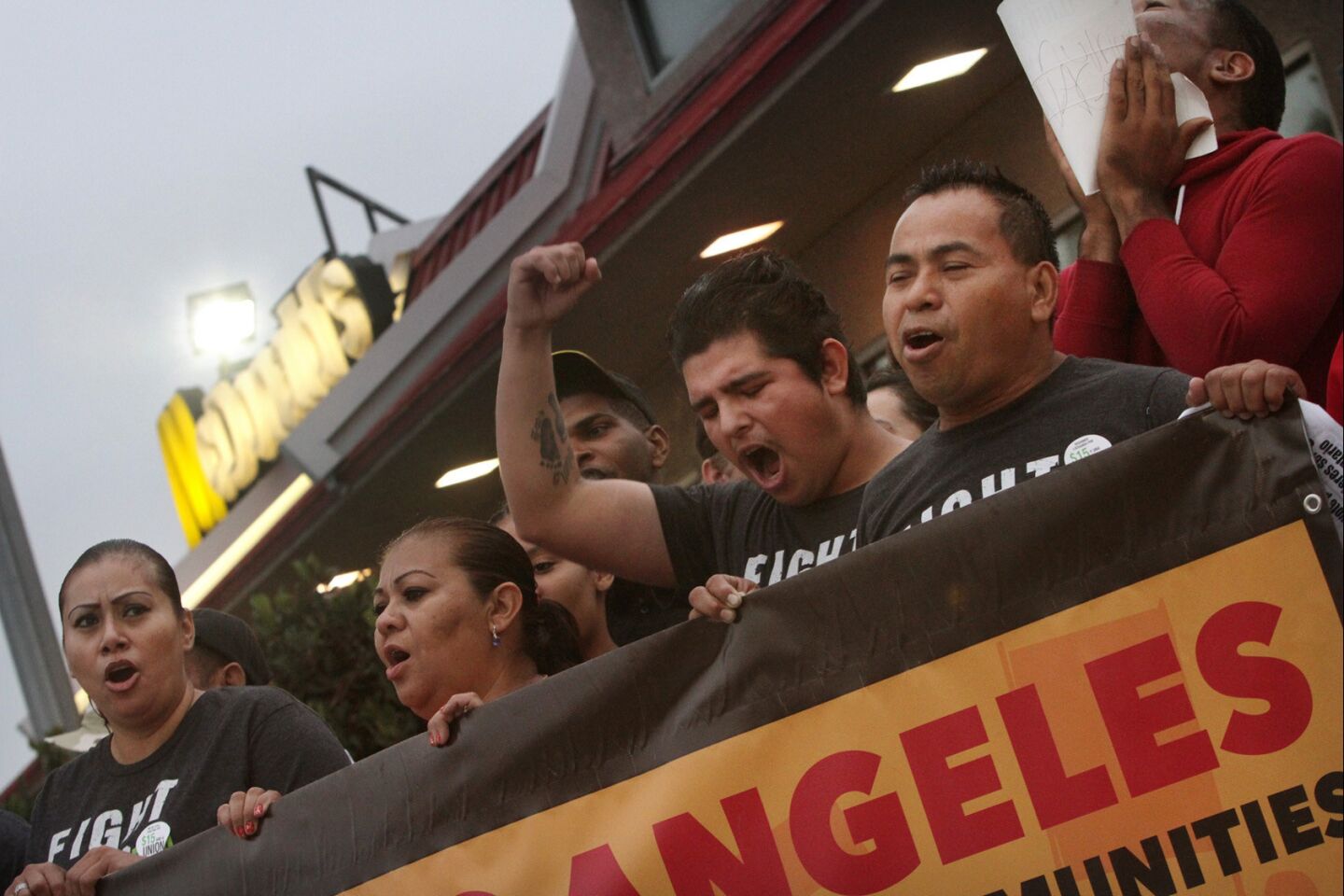 Fast-food workers rally outside a South L.A. McDonald's on Thursday as part of efforts to raise wages to $15 an hour and the right to form unions.
(Bob Chamberlin / Los Angeles Times)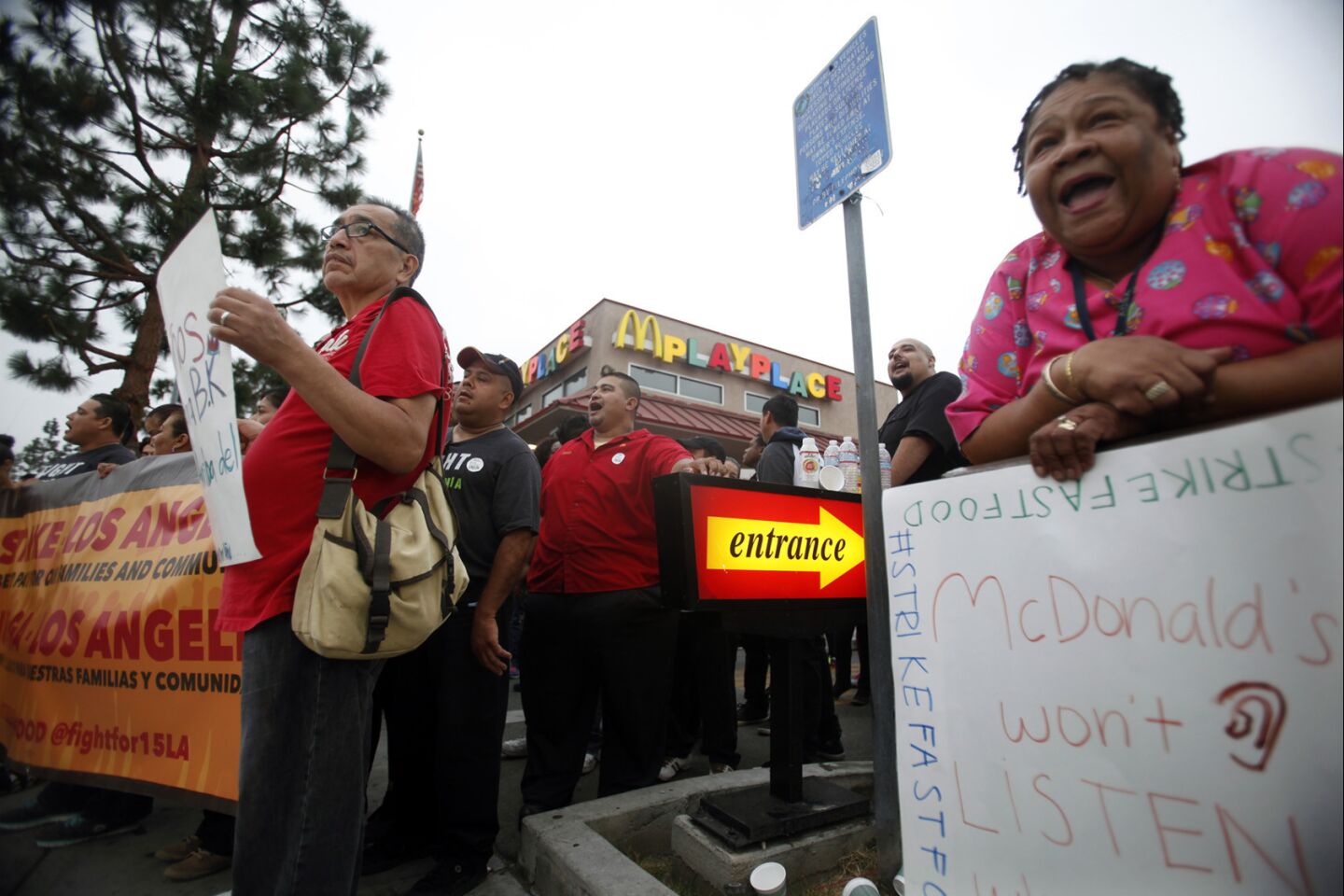 On Thursday, workers and protesters block a driveway to the McDonald's at 1071 W. Martin Luther King Blvd., Los Angeles, in protest of low wages.
(Bob Chamberlin / Los Angeles Times)
Dozens of fast-food workers from Los Angeles to Manhattan were arrested as they escalated a fight for better pay Thursday with strikes, rallies and acts of civil disobedience.
Police arrested 10 people after the protesters linked arms and sat down in front of a McDonald's in downtown Los Angeles. The sit-in capped a midday march through the urban core by hundreds of workers and their supporters.
In San Diego, 11 marchers were arrested for blocking an intersection in the blue-collar neighborhood of City Heights. Protesters were arrested in several other cities, including New York, Chicago, Las Vegas and Detroit.
Rallies and sit-ins erupted outside fast-food restaurants in more than 100 cities across the country. Organizers backed by local activist groups and the Service Employees International Union have tried to spotlight low wages by staging protests and walkouts in several one-day demonstrations over the last year.
The fast-food industry has accused the union of orchestrating an expensive campaign to bolster its dwindling membership. A sharp hike in wages, they warn, could force restaurants to bump up their prices and thin their workforce.
In downtown Los Angeles, protesters seeking wages of $15 an hour staged a lunchtime march before converging in front of a McDonald's on Broadway. To the sounds of a beating drum, they cycled through chants such as "We want 15 and a union!" and "Si se puede!" — Spanish for "Yes we can."
After police warned the crowd to stop blocking traffic lanes, nine fast-food workers and a minister remained seated. They were arrested and led away, their hands bound with plastic zip-ties behind their backs.
Before dawn, more than 100 workers congregated at a McDonald's in L.A.'s Exposition Park. The protesters held up signs and chanted slogans like "Get up! Get down! Fast-food workers run this town!" near a scrum of media trucks.
Many went inside the store for about 10 minutes as workers stood stone-faced behind the cash registers.
Fanny Velazquez, 36, said she was participating in the protest to fight for better wages to support her family. A single mother with three children, ages 11, 14 and 16, she said she struggles to live on $9.34 an hour.
The South Los Angeles resident has been working at McDonald's for eight years doing a variety of jobs, usually working 20 hours a week, she said. But lately, Velazquez said, the company has often cut her hours to 15 a week. She qualifies for welfare and food assistance.
"It's difficult, it's not enough to pay my bills," she said.
In San Diego, several hundred fast-food workers and their supporters marched past McDonald's, Burger King and Jack in the Box restaurants. The protesters are "fighting for what we believe is right," said the Rev. Lee Hill of the United Church of Christ.
The San Diego protest comes as business leaders there are attempting to qualify a measure for the ballot to overturn the City Council's recent decision to raise the local minimum wage to $11.50 by 2017.
In New York, a crowd of about 300 converged outside a McDonald's near Times Square at the height of morning rush hour, briefly blocking West 42nd Street. Police arrested about two dozen of the protesters. In the Chicago area, 50 were handcuffed and taken into custody in two separate events.
McDonald's said in a statement that it respected "everyone's rights to peacefully protest" and supported "paying our valued employees fair wages."
The fast-food chain said the minimum wage discussion affects the entire country, not just one company, and should be considered within a broader context of issues, including the effects of the Affordable Care Act.
"We believe that any minimum wage increase should be implemented over time so that the impact on owners of small and medium-sized businesses — like the ones who own and operate the majority of our restaurants — is manageable," the company said.
McDonald's and Burger King both said they don't determine wages for their franchisees, which make up a large percentage of their restaurants.
Drastically hiking the minimum wage would fundamentally change the dining experience for many people, said Jot Condie, chief executive of the California Restaurant Assn.
He said higher wages would squeeze out young employees who frequently get their first job experience in restaurants. He also predicted higher menu prices and reduced hours for many food workers.
"It's easy to go out there and chant and picket with signs," Condie said. "But the impacts are far-reaching and there are winners and losers here, and probably more losers."
Although some economists have argued that modest wage increases wouldn't hurt employment levels, there is sharp division on the effect of a more dramatic jump to $15 an hour. Some contend that such a quick hike would push food companies to rely more on automation, ultimately eliminating jobs. Others say higher wages would reduce government spending by slashing workers' reliance on welfare and food stamps.
Edgar Gonzalez, 22, of Inglewood is hopeful that the protests will help ensure a better future for his family. He and his girlfriend work at McDonald's — she is a manager and he works in maintenance. Together, they can barely afford to cover all their expenses, especially with a 4-month-old daughter, he said.
"Sometimes we find whatever change there is to buy formula, wipes, diapers," Gonzalez said. They often make the choice between paying rent and buying healthful food, he said.
Marqueece Harris-Dawson, president of Community Coalition, a South L.A. advocacy group that participated in the protest, said workers want a living wage and a fair share in the fast-food industry's profits.
"Workers of different stripes have been pressing to raise the conversation about the low end of the wage scale," he said.
The fight for better pay has gained steam this year as rallies, sit-ins and strikes have raised awareness of the issue.
In June, Seattle leaders voted to raise the city's minimum wage to $15 an hour, the highest minimum of any metropolis in the country. The Los Angeles Unified School District signed a contract in July to raise its minimum wage to $15 an hour by 2016, which will boost the earnings of its lowest-paid employees, including custodians and cafeteria workers.
Los Angeles Mayor Eric Garcetti is pushing for a $13.25 minimum wage for all workers in L.A. by 2017. California's current minimum wage is $9 an hour.
President Obama touched on the fast-food movement during a speech in Milwaukee on Labor Day.
"All across the country right now there's a national movement going on made up of fast-food workers organizing to lift wages so they can provide for their families with pride and dignity," he said Monday. "There is no denying a simple truth. America deserves a raise."
Hours after the morning protest in Manhattan, marchers gathered again on the busy corner of 8th Avenue and 56th Street, where several were swiftly arrested and taken away in a police van after they lay down on the pavement and blocked traffic.
Naquashia LeGrand, a KFC employee in Brooklyn, said she works 12 hours a week and earns $8 an hour. In three years on the job she has gotten one raise, she said, from $7.25 an hour, the previous state minimum wage, to the current minimum of $8.
"Full-time or part-time, we deserve a livable wage," said LeGrand, who added that she would love to work more hours. "I'm here today, honestly, to better the future for the next generation."
Twitter: @ByShanLi, @tinasusman
Li reported from Los Angeles and Susman from New York. Reporters Tony Perry in San Diego and Alejandra Cancino in Chicago contributed to this report.