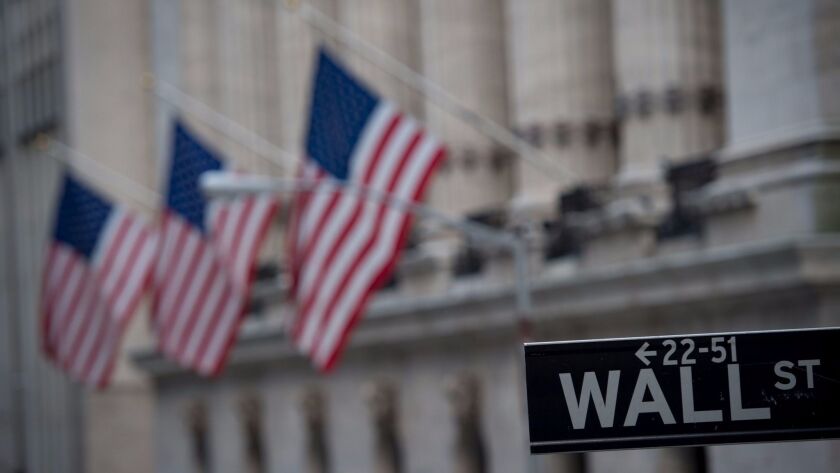 U.S. stocks made the tiniest of gains Friday as media companies and sellers of beauty products and food ticked higher. Major indexes added to their winning streak and record highs.
Stocks spent the day flipping back and forth between small gains and losses. Beauty products maker Ulta rose. Media companies including Comcast and Disney also advanced while video game and drug companies slipped.
The market has been steady in recent months, and with investors looking forward to the Memorial Day holiday Monday, trading was light.
It was the seventh gain in a row for the Standard & Poor's 500 index and Nasdaq composite following their biggest loss this year.
"Investors have been conditioned over multiple years to buy the dip any time there's a market pullback," said Jason Draho, the head of American tactical asset allocation for UBS Wealth Management. He said that's one reason stocks have been so steady lately.
The S&P 500 index edged up 0.75 of a point to 2,145.82. The Dow Jones industrial average slipped 2.67 points to 21,080.28. The Nasdaq composite rose 4.94 points, or 0.1%, to 6,210.19. The Russell 2000 index of small-company stocks fell 1.14 points, or 0.1%, to 1,382.24.
Some of the market's biggest moves were based on company earnings, and many of those came from consumer-focused companies.
Ulta Beauty climbed 3.1% to $302.40 after a strong first-quarter report. Its competitor Coty climbed as well.
Costco Wholesale rose 1.8% to $177.86 after the warehouse club had a strong quarter as sales and member payments both increased.
Uggs maker Deckers Outdoor jumped 18.8% to $67.21 after it posted earnings that were stronger than expected.
GameStop slid 5.9% to $22.22 after the company posted stronger-than-expected first-quarter results but disappointing sales of new software and wireless devices
Video game publishers also fell. Activision Blizzard declined 1.6% to $58.28, Electronic Arts slid 1.5% to $112.13, and Take-Two Interactive Software fell 1.9% to $77.07.
The VIX, an index that is called Wall Street's "fear gauge" because it measures how much volatility investors expect, fell for the seventh day in a row. After a huge jump Wednesday of last week, the 27-year-old index is trading near all-time lows. It sank to 9.81 on Friday. The only time it was lower was late December 1993.
The Commerce Department said the U.S. economy grew at a 1.2% rate in the first quarter, which was still weak but better than it originally estimated. Draho, of UBS Wealth Management, said that when the economy is steady, the market usually is too.
The U.S. economy and stock market have both been moving up for eight years. Draho said that as a bull market gets older, stocks don't move in the same direction as often. When one stock or one sector rises and another falls, that makes the overall market flatter and less volatile.
Crude oil prices bounced back from a sharp drop the day before. Benchmark U.S. crude rose 90 cents, or 1.8%, to $49.80 a barrel. Brent crude, the international standard, advanced 69 cents, or 1.3%, to $52.15 a barrel.
On Thursday, a group of 24 nations including the OPEC countries agreed to a nine-month extension of a cut in oil production. But energy companies, which have lagged behind the overall market dramatically this year, hardly budged. The S&P 500's energy company index is down 12% in 2017 while the broader S&P 500 is up almost 8%.
Wholesale gasoline rose 3 cents to $1.64 a gallon. Heating oil rose 1 cent to $1.56 a gallon. Natural gas rose 5 cents to $3.24 per 1,000 cubic feet.
The dollar fell to 111.19 yen, from 111.80 yen. The euro fell to $1.1176, from $1.1205.
As the dollar weakened, gold rose $11.70 to $1,268.10 an ounce and silver rose 13 cents to $17.32 an ounce. Copper fell 3 cents to $2.57 a pound.
Bond prices were little changed. The yield on the 10-year Treasury note stayed at 2.25%.
Germany's DAX lost 0.2%, the FTSE 100 in Britain rose 0.4%, and the French CAC 40 fell a fraction of a percentage point. Japan's benchmark Nikkei 225 index shed 0.6%, but the South Korean Kospi climbed 0.5%. Hong Kong's Hang Seng was nearly unchanged.
---
UPDATES:
2:30 p.m.: This article was updated with closing prices, context and analyst comment.
11:15 a.m.: This article was updated with market prices and context.
This article was originally published at 7 a.m.
---