Tech giants lead rally as stocks near records; Amazon surges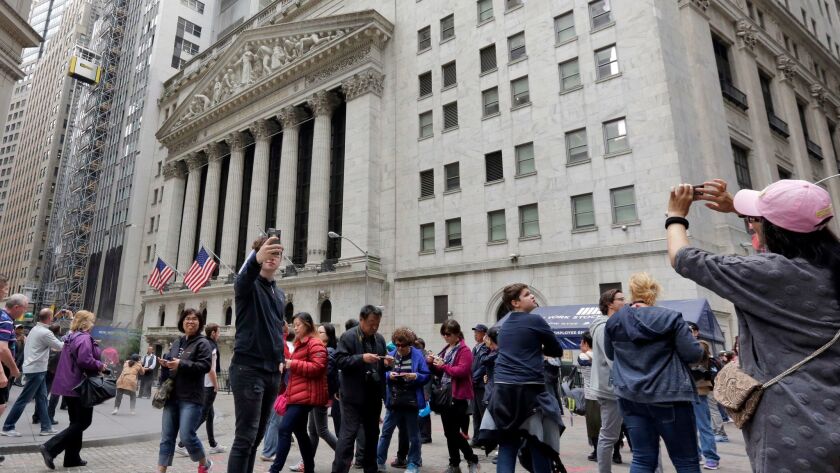 Some of the biggest companies in the world had their best day in years Friday as Microsoft and Alphabet soared following strong third-quarter reports, as did online retail giant Amazon. U.S. stocks set more records as their winning streak extended to a seventh week.
Intel made its biggest gains in three years, while Microsoft had its biggest jump in two years and Alphabet, Google's parent company, made its largest move in more than a year after each company's results were better than Wall Street expected. Amazon jumped 13%, its biggest move in two and a half years, after it got a big boost from its latest "Prime Day" promotion and the purchase of the Whole Foods grocery store chain.
Other stocks were mixed: Retailers fell after J.C. Penney Co. cut its annual forecasts. Drugstores, drugmakers, healthcare suppliers and pharmaceutical distributors and retailers fell.
The Standard & Poor's 500 index rose 20.67 points, or 0.8%, to 2,581.07. The Dow Jones industrial average made a comparatively modest gain of 33.33 points, or 0.1%, to 23,434.19 as drugmaker Merck and oil company Chevron skidded after their third-quarter reports. The Nasdaq composite made its biggest gain since November as it soared 144.49 points, or 2.2%, to 6,701.26. The Russell 2000 index of smaller-company stocks picked up 10.86 points, or 0.7%, to 1,508.32.
The S&P 500 and Nasdaq finished at all-time highs. The S&P 500 also rose for the seventh consecutive week, something that hadn't happened since late 2014.
Alphabet climbed $42.25, or 4.3%, to $1,033.67, and Microsoft soared $5.05, or 6.4%, to $83.81. Intel, the world's biggest chipmaker, jumped $3.05, or 7.4%, to $44.40 after a positive fourth-quarter estimate.
Elsewhere, Facebook rose $7.25, or 4.2%, to $177.88, its largest gain August 2015. Apple advanced $5.64, or 3.6%, to $163.05.
Amazon posted strong results and gave an optimistic outlook for the holiday season. Its stock jumped $128.52, or 13.2%, to $1,100.95.
Apple, Alphabet, Microsoft, Amazon and Facebook are the five most valuable companies on the S&P 500, and with investors clamoring to send them higher, Wall Street didn't pay quite as much attention to some strong economic data. The Commerce Department estimated that the U.S. economy grew 3% between July and September, despite major hurricanes. That was better than analysts had anticipated.
Aside from those giant companies, stocks were mixed. J.C. Penney Co. fell to an all-time low after it cut its profit forecast, saying it's been lowering prices to try clearing out unsold goods. Its stock lost 54 cents, or 14.8%, to $3.12. Other retailers like Macy's and Foot Locker tumbled as well.
Toy maker Mattel plunged after the company posted a huge third-quarter loss and said it will slash spending and stop paying quarterly dividends. The stock lost $1.37, or 8.9%, to $14.
Drugstores and prescription drug distributors fell for a second day following reports that Amazon is receiving state licenses allowing it to do business as a prescription drug wholesaler. Walgreens Boots Alliance lost $2.63, or 3.9%, to $64.48 and pharmaceutical distributor McKesson lost $7.92, or 5.5%, to $135.62.
Benchmark U.S. crude reached a six-month high as it jumped $1.26, or 2.4%, to $53.90 a barrel in New York. Brent crude, used to price international oils, rose $1.14, or 1.9%, to a two-year high of $60.44 a barrel in London.
Wholesale gasoline rose 2 cents to $1.77 a gallon. Heating oil gained 2 cents to $1.84 a gallon. Natural gas tumbled 14 cents, or 4.8%, to $2.75 per 1,000 cubic feet.
Bond prices jumped. The yield on the 10-year Treasury note fell to 2.41% from 2.46%, a seven-month high.
Gold rose $2.20 to $1,271.80 an ounce. Silver slid 6 cents to $16.75 an ounce. Copper lost 7 cents to $3.10 a pound.
The dollar fell to 113.81 yen from 114 yen. The euro slid to $1.1599 from $1.1657.
Germany's DAX climbed 0.6% and the CAC 40 of France gained 0.7%. In Britain, the FTSE 100 rose 0.2%. The Spanish Ibex sank 1.5% after Catalonia's regional parliament voted to secede from Spain, adding new tensions to the disagreement between the region and the central government in Madrid. Catalonia, which includes Barcelona, accounts for a fifth of the Spanish economy and Spain is deeply set against allowing it to become independent.
The Nikkei 225 of Japan jumped 1.2% and South Korea's Kospi advanced 0.6%. Hong Kong's Hang Seng index surged 0.8%.
---
UPDATES:
2:45 p.m.: This article was updated after markets closed.
This article was originally published at 6:55 a.m.
---
Must-read stories from the L.A. Times
Get the day's top news with our Today's Headlines newsletter, sent every weekday morning.
You may occasionally receive promotional content from the Los Angeles Times.