Retail stocks rise and bank stocks fall; indexes barely budge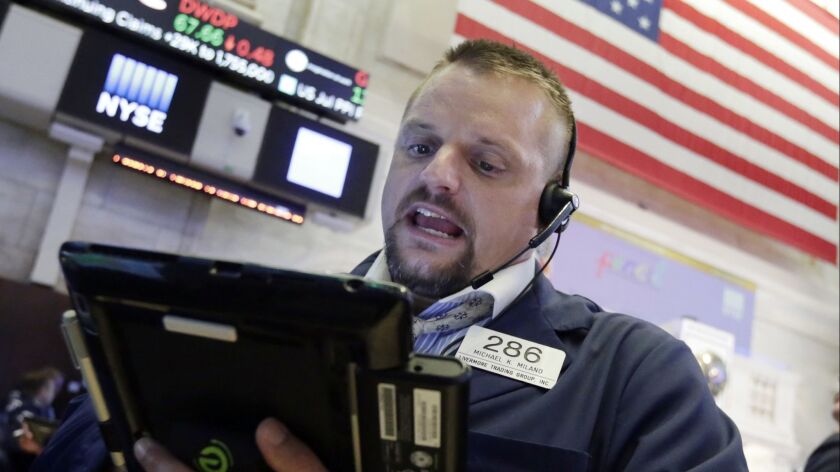 Major U.S. indexes stood stock-still for the third consecutive day Thursday as gains for retailers were canceled out by losses for banks and other companies.
Energy companies again headed lower after a sharp drop in oil prices the day before. Amazon and media company Viacom led consumer-focused companies higher. The Nasdaq composite inched up, notching its eighth gain in a row.
Banks fell along with interest rates after the Labor Department reported that wholesale prices were little changed in July. That's a sign that inflation pressures weakened slightly, which could encourage the Federal Reserve to go slower in its process of raising interest rates.
Trading this week has been light, and investors seem to have set aside their worries about trade tensions. The Standard & Poor's 500 index made a solid gain Monday but has hardly budged since then. The VIX, a measure of how much economic volatility investors expect, has fallen to its lowest level since early January.
"It's not that risk has gone away," said JJ Kinahan, chief market strategist for TD Ameritrade. "Quantifiable risk is not there right now."
The S&P 500 index fell in the final minutes of trading, ending with a loss of 4.12 points, or 0.1%, at 2,853.58. The Dow Jones industrial average slipped 74.52 points, or 0.3%, to 25,509.23. The Nasdaq composite edged up 3.46 points to 7,891.78. The Russell 2000, an index of smaller companies, rose 4.01 points, or 0.2%, to 1,690.89.
The Labor Department said wholesale prices were unchanged in July. Gas and food prices both slipped, and soybean prices tumbled, likely reflecting a buildup in stockpiles after China imposed tariffs on them in retaliation for U.S. duties.
Bond prices jumped. The yield on the 10-year Treasury note fell to 2.93% from 2.97%. That hurt banks, as lower interest rates make long-term loans such as mortgages less profitable for the lenders.
Several companies traded on merger news, but most of the news was about deals that fell apart. Rite Aid sank 11.5% to $1.54 after it called off its sale to grocery chain Albertsons following opposition from advisory firms and one of Rite Aid's biggest shareholders.
Walgreens tried to buy Rite Aid last year but settled for buying about half of its stores after regulators opposed a full sale. Rite Aid has been struggling with high debt and tough competition.
Tribune Media rose 2.9% to $34.60 and Sinclair Broadcasting rose 2.6% to $27.80 after Tribune withdrew from its planned sale to Sinclair and said it would sue Sinclair for breach of contract. Both stocks plunged in mid-July when the Federal Communications Commission expressed major concerns about the deal.
Electric car maker Tesla tumbled 4.8% to $352.45. The stock had surged 11% on Tuesday, mostly because Chief Executive Elon Musk tweeted that he was considering taking Tesla private.
The Wall Street Journal has reported that the Securities and Exchange Commission has opened an inquiry into the wording and the method of Musk's announcement, while Bloomberg News reported that the SEC started an inquiry even before the tweet.
Tesla has given up most of Tuesday's gain, suggesting investors are dubious about the potential deal.
Business information provider Dun & Bradstreet agreed to be bought by a group of investors for $145 a share, or about $5.4 billion. The stock leaped 15.8% to $142.21.
The S&P 500 is on track for its sixth weekly gain in a row as an unusually strong round of corporate earnings winds down. Retailers including Macy's and Walmart are scheduled to report their results next week, and Kinahan, of TD Ameritrade, said stocks could resume their climb if those companies say shoppers are still spending freely.
Online reviews company Yelp soared 26.7% to $48.33 after it raised its revenue forecast and said advertising revenue surged in the second quarter.
Video streaming company Roku leaped 21.3% to $57.32 after it took a smaller loss than analysts expected while its revenue surpassed expectations.
Travel site Booking Holdings slid 5% to $1,942.39 after a weak profit forecast.
Generic drugmaker Perrigo sank 10.6% to $70.03 after it cut its forecasts because of weak results from its prescription business and said it plans to split that unit into a separate company.
Crude prices stabilized after Wednesday's 3% drop. Benchmark U.S. crude oil slipped 0.2% to $66.81 a barrel in New York. Brent crude, the standard for international oil prices, fell 0.3% to $72.07 a barrel in London.
Wholesale gasoline fell 1% to $2 a gallon. Heating oil fell 0.2% to $2.11 a gallon. Natural gas rose 0.2% to $2.96 per 1,000 cubic feet.
The dollar inched up to 111.04 yen from 110.96 yen. The euro fell to $1.1542 from $1.1619.
Gold fell 0.1% to $1,219.90 an ounce. Silver rose 0.2% to $15.46 an ounce. Copper rose 0.5% to $2.77 a pound.
---
UPDATES:
3 p.m.: This article was updated with closing prices, context and analyst comment.
This article was originally published at 8:35 a.m.
---
Must-read stories from the L.A. Times
Get the day's top news with our Today's Headlines newsletter, sent every weekday morning.
You may occasionally receive promotional content from the Los Angeles Times.