Tech shares drag down stock indexes as Congress scrutinizes social media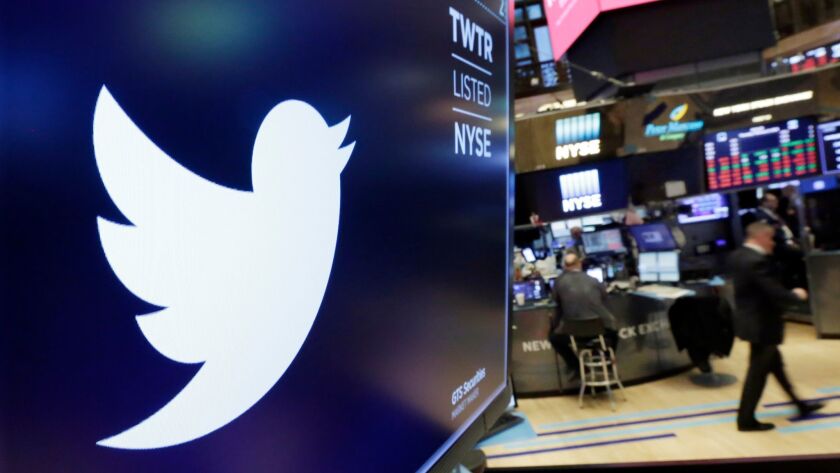 Technology companies dropped Wednesday as Facebook and Twitter executives testified before Congress. Consumer-focused companies such as Amazon and Netflix also slumped.
Facebook Chief Operating Officer Sheryl Sandberg and Twitter Chief Executive Jack Dorsey told a Senate panel they are working to stop manipulation of their services by foreign countries. Legislators criticized Alphabet, Google's parent company, for refusing to send its CEO to the hearing.
In a separate hearing, House Republicans accused Twitter of bias against conservatives, an allegation not backed up by evidence.
The United States and Canada resumed negotiations to try to keep Canada in an updated North American trade pact that also includes Mexico. Canada's trade envoy sounded positive after three hours of talks, and investors are confident Canada will be included in the final deal.
Technology companies such as Microsoft and consumer-focused companies, most notably Amazon, have done far better than the broader stock market for years, and throughout that time they have quickly recovered from nearly every brief decline.
But Julian Emanuel, chief equity and derivative strategist for BTIG, said that Wednesday's hearing came at a time when investors have more concerns about those stocks than in recent years: Facebook, Twitter and Netflix each plunged about 20% in July after they reported weak user growth, and they have yet to recover.
"The reflex reaction to buy these names on every dip, which has been the case the last few years, has broken," he said. "That kind of damage takes a bit of time to heal itself."
The Standard & Poor's 500 index fell 8.12 points, or 0.3%, to 2,888.60. The tech-heavy Nasdaq composite tumbled 96.07 points, or 1.2%, to 7,995.17. The Russell 2000 index of smaller-company stocks fell 5.73 points, or 0.3%, to 1,727.65.
The Dow Jones industrial average edged up 22.51 points, or 0.1%, to 25,974.99 as the weaker dollar sent industrial companies, including 3M and Caterpillar, sharply higher.
Twitter sank 6.1% to $32.73. Facebook fell 2.3% to $167.18. Video chat company Snap slid 4.5% to $10.11.
Many of the market's largest companies and the year's most successful stocks lost ground. Microsoft dropped 2.9% to $108.49. Alphabet fell 1% to $1,199.10. Amazon slid 2.2% to $1,994.82. Netflix sank 6.2% to $341.18.
Traditionally defensive companies did better. Utility Southern Co. rose 1.8% to $44.66. PepsiCo climbed 1.9% to $113.12. Utilities have fared worse than the broader S&P 500 this year, while household-goods stocks have fallen.
The dollar rose to 111.51 yen from 111.48 yen. The euro rose to $1.1623 from $1.1581. The ICE US Dollar index slipped, which helped exporters, including industrial and materials companies. The weaker dollar also pushed up metals prices.
Bitcoin and other cryptocurrencies took a hit after a report that Goldman Sachs Group is pulling back on near-term plans to set up a crypto trading desk.
Halliburton fell 6% to $37.13 after CEO Jeffrey Miller said the company is seeing a decrease in North American drilling activity because of customers' tight budgets, and the decline is worse than it previously expected. He said that problem and others will trim Halliburton's third-quarter earnings by 8 to 10 cents a share.
Benchmark U.S. crude slid 1.6% to $68.72 a barrel in New York. Brent crude, used to price international oils, fell 1.2% to $77.27 a barrel in London.
Wholesale gasoline fell 1.5% to $1.96 a gallon. Heating oil fell 0.9% to $2.23 a gallon. Natural gas fell 1% to $2.80 per 1,000 cubic feet.
Luggage and accessories retailer Vera Bradley jumped 14.8% to $16.40 after it posted strong second-quarter results and raised its profit forecast for the year. It said fewer items were marked down, which improved its profit margins.
Furniture and housewares maker RH sank 13.1% to $131.51 after its second-quarter sales fell short of analysts' projections.
U.S. shares of Chinese internet retailer JD.com dropped 10.6% to $26.30 after a Minneapolis police report showed company founder and CEO Richard Liu was arrested over a felony rape accusation.
The stock fell 6% on Tuesday, the first trading day after Liu's arrest was reported. JD.com said Sunday that police found no misconduct, and the company also said Liu has returned to China. The stock is now trading at its lowest price since January 2017.
Bond prices held steady. The yield on the 10-year Treasury note remained at 2.90%.
Gold rose 0.2% to $1,201.30 an ounce. Silver rose 0.3% to $14.22 an ounce. Copper rose 0.3% to $2.61 a pound.
Bloomberg was used in compiling this report.
---
UPDATES:
2:30 p.m.: This article was updated with closing prices, context and analyst comment.
This article was originally published at 7:25 a.m.
---
Must-read stories from the L.A. Times
Get the day's top news with our Today's Headlines newsletter, sent every weekday morning.
You may occasionally receive promotional content from the Los Angeles Times.