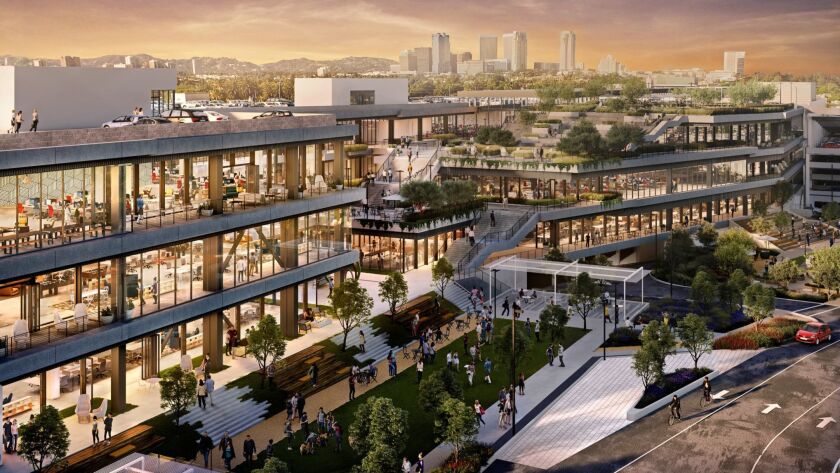 The Los Angeles County office market has been on the upswing since 2013 and showed no sign of slipping in the first quarter as rents moved up and vacancy declined.
Technology and media content companies again led the leasing pack, while law firms also resumed growth after years of shrinking their office footprints, real estate brokerage CBRE said.
"The Los Angeles office market is still in growth mode," said Petra Durnin, the brokerage's director of research for the region.
There is a "space grab" going on among large tech companies and entertainment content providers, she said, driven by two needs: to secure offices to grow into and to make sure no one else gets to use it.
"You grab as much space as you can to hedge against future growth," Durnin said.
Perhaps the biggest example of that trend in the first quarter came in January when Google agreed to lease 584,000 square feet in the former Westside Pavilion shopping mall in West Los Angeles, which will be renovated into a stylish office complex called One Westside. Another large lease was HBO's agreement to take 240,000 square feet in Ivy Station, a mixed-use complex under construction in Culver City.
Expansion among law offices totaled 45,000 square feet, most of it downtown, Durnin said. The total is on the paltry side, but downtown law firms have been contracting for many years as they made more efficient use of space getting rid of file rooms, libraries and corner offices, Durnin said.
"The legal sector quietly reversed course and started expanding again," primarily due to growth in intellectual property practices, she said.
Overall office vacancy in Los Angeles County was 14.4%, down from 14.9% a year ago but up slightly from 14.1% in the fourth quarter because of new construction.
Average asking rents for Class A space were $3.69 a square foot, compared with $3.49 a year earlier and $3.63 in the fourth quarter.
---