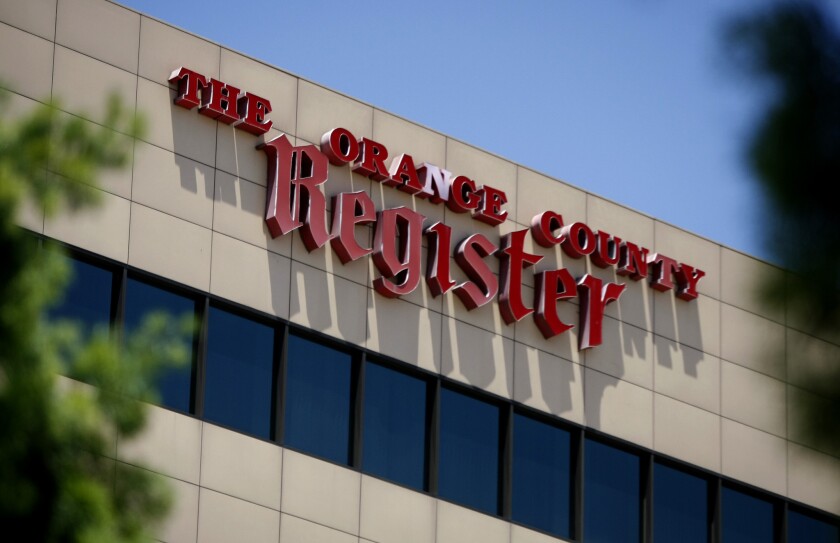 Bankrupt newspaper publisher Freedom Communications confirmed Friday that a group of inside investors, including developer Mike Harrah, has submitted a bid for the company's assets.
That sets up a three-way competition for Freedom, the owner of the Orange County Register and Riverside Press-Enterprise. The other confirmed bidders are Los Angeles Times owner Tribune Publishing and Los Angeles Daily News owner Digital First Media.
Friday is the deadline to submit bids for Freedom's assets ahead of a bankruptcy auction scheduled for Wednesday. U.S. Bankruptcy Court Judge Mark S. Wallace must approve the winning bidder or bidders at a March 21 hearing. The sale is expected to close by the end of the month.
In a note to Freedom employees, Freedom Chief Executive Richard Mirman highlighted Harrah's involvement. The real estate developer told The Times late last month that he was unsure whether he would participate in a bid.
"We are honored to have Mike as part of the team as we work toward preserving local ownership of the Orange County Register and the Press-Enterprise." Mirman said.
The insider group also includes Eric Spitz, who partnered with investor Aaron Kushner to buy the Register in 2012.
Harrah did not return calls seeking comment Friday. None of the bidders has disclosed terms of their offers. A big unanswered question is whether any of the bidders will take on Freedom's pension plan.
Both Harrah and an attorney for Tribune Publishing have raised questions about the value of investments held by the pension plan.
Tribune Publishing has requested a court proceeding that could help bidders get answers about the plan's assets. A bid that takes on the pension plan could prove significantly more valuable to Freedom's creditors. If no buyer is willing, the federal Pension Benefit Guaranty Corp. would take it on with a $155-million claim against Freedom's estate, according to court filings. The pension guarantor has not disclosed how it reached that figure.
In Bankruptcy Court filings, Mirman said he expected bidding for Freedom's assets to start at about $40 million, but it's not clear if any of the bids come close to that figure.
Digital First and Tribune submitted early bids, hoping to be named the so-called stalking-horse bidder. That gives protections -- including a payout if another buyer wins at auction -- and sets the opening price in an auction.
"I think you can fairly assume the bids were underwhelming, so they said we're better off going into the auction buck-naked as opposed to declaring a stalking horse," said Lloyd Greif, chief executive of downtown L.A. investment bank Greif & Co.
Ron Hasse, president and publisher of Digital First's Los Angeles News Group, said his company wants both the Register and Press-Enterprise.
"Our historical actions have always been to preserve the local mastheads and focus on local and independent journalism," Hasse said.
Digital First's Southern California holdings also include the Torrance Daily Breeze, Long Beach Press-Telegram and other daily papers in the region.
Tribune's plan to bid for Freedom started under now former Chief Executive Jack Griffin, who hoped to acquire Freedom's papers and fill a geographic gap between Tribune's two other Southern California papers: The Times and the San Diego Union-Tribune.
Griffin last month brought Chicago entrepreneur and investor Michael Ferro into the company to beef up its balance sheet. Just weeks later, Ferro ousted Griffin and replaced him with his longtime associate Justin Dearborn. Dearborn said Tribune Publishing is still pursuing Freedom but noted that, "There is a price where we would walk away."
---