Gannett ends six-month effort to buy L.A. Times owner Tronc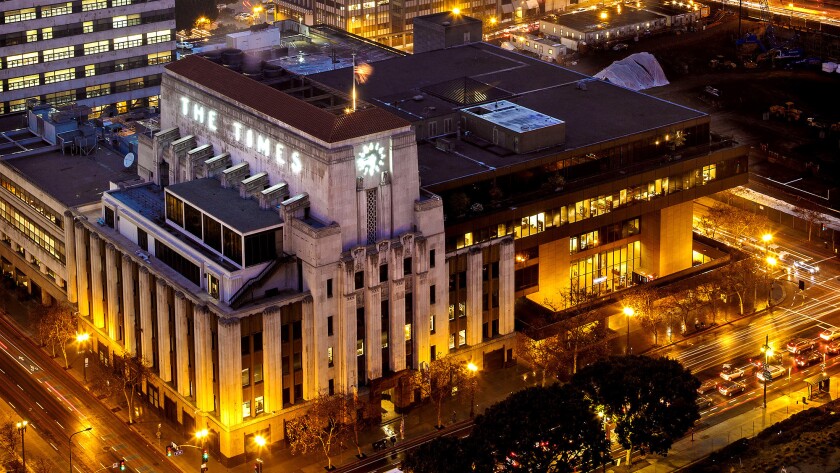 Gannett Co. on Tuesday abruptly ended its six-month effort to acquire Tronc, the owner of the Los Angeles Times, Chicago Tribune, Orlando Sentinel, Baltimore Sun and several other newspapers.
The deal would have extended the footprint of Gannett, the nation's largest newspaper company, and marked a major consolidation in an industry beleaguered by technological challenges and declining revenues. But it was complicated by a last-minute withdrawal of support last week by bankers expected to finance the transaction.
Tronc CEO Justin Dearborn told securities analysts Tuesday afternoon that the two companies had reached agreement on a price in mid-September and "had an executable merger agreement as of last week." He said Tronc management was prepared to present the deal to the company's board and "expected it to be approved." He implied that Gannett's reasons for scuttling the deal involved more than merely the withdrawal of some bankers.
"A number of issues … led to their board deciding not to pursue it," he said.
Tronc shares fell in Nasdaq trading Tuesday to close at $10.54, a decline of 12.4%. The stock had been trading at $17 a share as recently as last week, before reports that the financing for Gannett's bid was in jeopardy.
Gannett shares initially rose on the New York Stock Exchange on Tuesday, but they closed at $7.59, down 2.3%. Gannett investors had been wary of the viability of the Tronc deal, however, especially after Gannett announced disappointing quarterly financial results last week. Gannett shares are down more than 50% in the last six months.
Gannett announced its withdrawal in a terse, 27-word statement shortly before the start of the trading day, in which it "confirmed that the company has been engaged in discussions with Tronc Inc. regarding a potential transaction and has determined not to pursue an acquisition of Tronc."
Tronc acknowledged Gannett's withdrawal in a lengthier statement blaming the collapse of the deal on the "unexpected delay" in financing encountered by Gannett. The statement acknowledged that Tronc had "serious doubts about Gannett's ability to finance a transaction" but disclosed that the companies had reached agreement on a purchase price in mid-September and were working to finalize an agreement.
"It is unfortunate that Gannett's lenders made their decision to terminate their role in the transaction without the benefit of Tronc's third-quarter financials or any future projections," the company said.
After the market's close Tuesday, Tronc, which was formerly Tribune Publishing, reported a net loss of $10.5 million, or 29 cents per share, on revenue of $378.2 million for the third quarter ended Sept. 25. That compares with a loss of $8.6 million, or 33 cents per share, on revenue of $405.7 million in the same quarter a year ago.
The company said the 2016 quarterly results were affected by a $7-million non-cash charge related to a tax settlement by Tribune Media, from which Tronc was spun off in 2014, and a $17 million pre-tax in restructuring and transaction costs.
Talks between Gannett and Tronc were difficult and at times acrimonious. Gannett first tried to acquire the former Tribune newspapers in April with an offer of $12.25 a share, or about $400 million. The overture was rejected by Michael Ferro, Tronc's largest shareholder and non-executive chairman, who accused Gannett of trying to "steal the company." Gannett later publicly improved its offer to $15 a share, or $475 million (excluding debt). In the latest stage of talks, the offer was reportedly raised to $18 or more.
Ultimately, Ferro agreed to accept Gannett's latest offer. Some major shareholders, including L.A. investment firm Oaktree Capital Management, had urged Ferro to sell months ago, at a lower price, and had threatened legal action.
The offer's collapse leaves questions about the future course of both companies. Ferro has tied Tronc's future in part to the infusion of new technologies, including some associated with Los Angeles entrepreneur Patrick Soon-Shiong, who became the company's second-largest shareholder and vice chairman in May.
Tuesday morning, Tronc said the transformation plan remained on track.
"Tronc continues to make progress in implementing the company's strategic plan to leverage technology and effectively monetize its world-class content," the company said. "The implementation of this plan will take time but the company remains on track in terms of delivering on its near-term financial goals and is confident in its ability to deliver improved performance and shareholder value."
It also marks a pause in Gannett's aggressive but potentially risky strategy of acquiring more newspapers even as print circulation and advertising revenue have declined throughout the industry over the last decade.
Gannett said in a statement Tuesday that it remains "fully committed to our strategy of expanding our local footprint and building the country's largest digital news network under the USA Today Network banner." Gannett's goal has been to get more revenue by offering advertisers greater nationwide reach, while also reducing costs by achieving economies of scale in printing, distribution and other areas.
Earlier this year, Gannett closed a deal to buy Journal Media Group, owner of the Milwaukee Journal Sentinel and more than a dozen other dailies. Gannett estimated that it will result in cost savings of $35 million. The company also acquired the Record of Bergen County, N.J., along with several New Jersey community weeklies.
The total circulation of Gannett's newspapers, which operate in 33 states and the territory of Guam, came to 6.5 million on weekdays and 8.5 million on Sunday in 2015, including USA Today, according to Gannett's 2015 annual report. The figures don't include those of Journal Media or the Record.
Gannett already was confronting challenges in digesting its earlier acquisitions. On Oct. 24, the company announced plans to reduce its workforce by 2%, or about 350 people, as part of an effort "to assertively manage our costs," according to an internal memo to staff from Chief Executive Bob Dickey published by Politico. That followed cutbacks of more than 200 workers announced in September at its newly acquired North Jersey Media Group, which includes the Record.
Acquisition of the Tronc newspapers would have represented a major step forward in Gannett's reach, especially with The Times, which reports weekday circulation of 449,000 and 790,000 on Sundays. The Times' website, latimes.com, reported 137 million monthly page views as of December 2015. Gannett's largest publication, USA Today, reports weekday circulation of 4 million.
The Chicago Tribune contributed to this report.
ALSO
Union-backed Lyft drivers object to $27-million settlement
Real estate investors bet on the next big thing for L.A.'s Arts District: Offices
Anthem is cutting out-of-network health coverage in a 'bait and switch,' lawsuit says
---
UPDATES:
5:30 p.m. This article was updated with details from Tronc's earnings call.
3:05 p.m.: This article was updated with stocks' closing prices.
10 a.m.: This article was updated with Times staff reporting.
6:50 a.m.: This article was updated with a comment from Tronc.
6:35 a.m.: This article was updated with Tronc's and Gannett's stock prices.
This article was originally published at 6:10 a.m.
---
Your guide to our clean energy future
Get our Boiling Point newsletter for the latest on the power sector, water wars and more — and what they mean for California.
You may occasionally receive promotional content from the Los Angeles Times.