Carlos Ghosn replaces legal team in Tokyo, just 3 months into case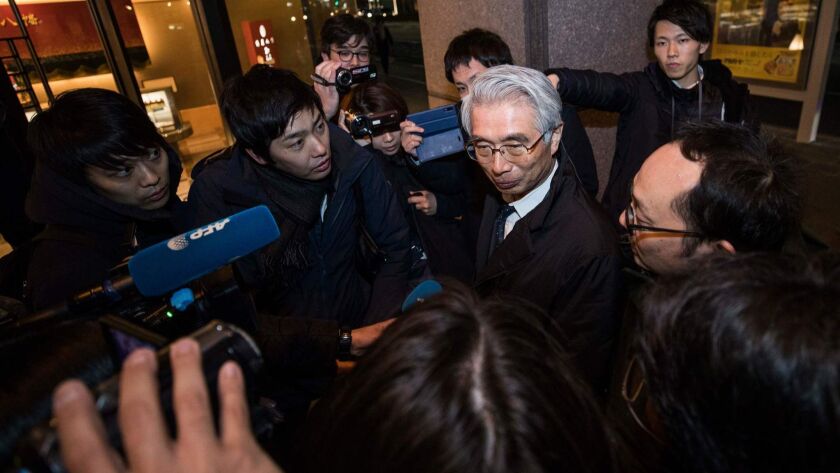 Bloomberg
Carlos Ghosn replaced his legal team in Tokyo as he prepares for a trial on the financial-misconduct allegations that have shocked the global car industry and kept the former Nissan chairman in jail for almost three months.
Ghosn said Wednesday he hired Junichiro Hironaka to be his new lawyer and help him with the "trial phase" of his case. The outgoing lawyers, including former local prosecutor Motonari Otsuru, said they notified the court they no longer will represent Ghosn.
The fallen executive is trying to step up his defense from behind bars after Otsuru's team failed several times to win bail for him since his Nov. 19 arrest. The scandal has already cost Ghosn his leadership positions at Nissan and partner Renault, and prosecutors say his alleged financial crimes could put him in prison for as many as 10 years. Ghosn has denied wrongdoing.
"As we begin the trial phase, I have decided to engage Hironaka-sensei as my legal counsel," Ghosn said in a statement. "I look forward to defending myself vigorously, and this represents the beginning of the process of not only establishing my innocence but also shedding light on the circumstances that led to my unjust detention."
Hironaka's career includes a successful defense of Atsuko Muraki, a former senior bureaucrat, against corruption charges. He also represented people forced to flee their homes in the Fukushima region after the 2011 nuclear disaster, according to the Asahi Shimbun newspaper.
Hironaka is a graduate of the University of Tokyo. Unlike Otsuru, he hasn't worked as a prosecutor, entering private practice after obtaining his law license in 1970, according to his law firm's website.
"Hironaka is the type of lawyer who will thoroughly fight the prosecutors' charge, and he's been able to win acquittals in many big cases," said Nobuo Gohara, a lawyer and former prosecutor in Japan who isn't connected to the case. "The chances of an acquittal are considerably higher."
The defense team also includes Hiroshi Kawatsu from the Kasumigaseki-Sogo Law Offices, Hironaka's representatives said.
Ghosn, indicted for allegedly understating his income at Nissan by tens of millions of dollars, is awaiting a trial that could be months away. Ghosn's aide and former Nissan representative director Greg Kelly, who was arrested the same day as the ex-chairman, is out on bail in Tokyo.
"I would like to thank Otsuru-sensei and his team for their tireless and diligent work and courage during the interrogation phase of my incarceration," Ghosn said, using a Japanese honorific title associated with lawyers. "Otsuru-sensei is a very capable and intelligent man and lawyer."
Ghosn has been accused of filing false statements to regulators regarding income from Nissan deferred until retirement — a total of about $80 million. He's also been charged with aggravated breach of trust for acts including temporarily transferring personal investment losses to Nissan in 2008.
The time behind bars has taken its toll on Ghosn. A citizen of three nations who jetted frequently among the alliance's global offices, he appeared in public for the first time on Jan. 8 looking gray and gaunt, and he was led into a courtroom in handcuffs and with a rope tied around his waist.
It's not uncommon in Japan for suspects to endure lengthy pretrial detentions. Suspects often are re-arrested on suspicion of new charges to keep them in custody while prosecutors attempt to build a case, and bail is the exception more than the rule.
Legal experts say this is all a strategy to extract a confession and make a trial easier. In Ghosn's case, the judge at a Jan. 8 hearing said his continued detention was due to flight risk and the danger of witness or evidence tampering.
---
Must-read stories from the L.A. Times
Get the day's top news with our Today's Headlines newsletter, sent every weekday morning.
You may occasionally receive promotional content from the Los Angeles Times.