Southland grocery workers ratify new labor contract, avoid strike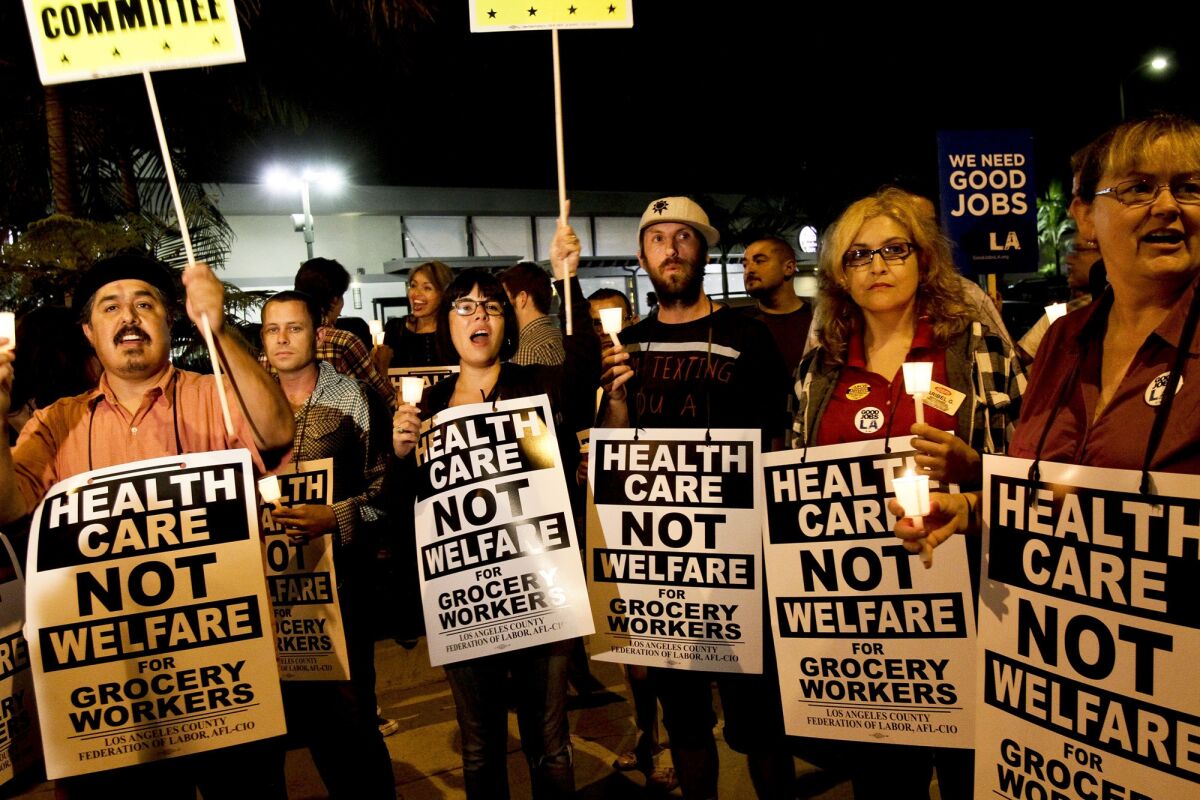 Southern California grocery workers ratified a new labor contract with grocery chains Vons, Ralphs and Albertsons, avoiding the possibility of a crippling strike.
Rick Icaza, president of the United Food and Commercial Workers Local 770, said the 60,000 grocery workers wrapped up voting Thursday on a two-year contract.
"We came out very well and that is why the membership overwhelmingly accepted it," he said.
The deal places a moratorium on increases in healthcare costs, protects against pension cutbacks and also boosts wages, Icaza said. Experienced workers -- called journeymen clerks -- will receive a raise of 30 cents an hour, while those working toward that status will get up to an additional $1.50 an hour.
Albertsons declined to comment. Vons and Ralphs did not return requests for comment.
The pending merger of the companies that own Vons and Albertsons prompted both sides to agree on a two-year contract instead of a more typical three or five-year one, Icaza said.
If the combined company closes stores, the union wants the flexibility to renegotiate sooner rather than later, he said.
Union officials recently met with California Atty. Gen. Kamala D. Harris to urge her to require that stores sold off after the merger go to union operators so healthcare and pensions are not impacted, Icaza said.
By agreeing on a new contract, both sides avoided the kind of drawn-out labor fight that hit Southern California in 2003. The 141-day strike and lockout, which began that fall, left many union members with big debts and reportedly cost the grocery stores an estimated $2 billion.
The grocery chains and the UFCW avoided a repeat strike in 2011 by reaching a three-year labor contract.
Sign up for the California Politics newsletter to get exclusive analysis from our reporters.
You may occasionally receive promotional content from the Los Angeles Times.