The Silver Lake Happy Foot Sad Foot sign is getting the boot
There's something about the revolving sign on Sunset Boulevard that pulls you in, this tacky talisman for Silver Lake that sticks in people's minds.
It's a before-and-after ad for Sunset Foot Clinic, with a cartoonish drawing of a mournful foot character clinging to crutches on one side and a limber, smiling foot on the other.
But this is no ordinary commercial signage.
Local legend says that if the turning panel shows you the "happy foot" as you approach, you will have a good day. But if your first glimpse is of "sad foot," you might want to turn around and go back to bed.
The sign, which has been there since about 1985, even prompted a nickname for the neighborhood around Sunset and Benton Way: "HaFo SaFo," for Happy Foot Sad Foot.
Now, the display's days are few. It will disappear when the clinic hotfoots it to a new location in September.
RELATED: There's actually a foot clinic -- and a doctor -- behind that famous sign »
Some people are already mourning its loss because it reminds them of an earlier era when Silver Lake was considered bohemian and attracted many creative types who couldn't afford to live in more prosperous parts of the city.
"The Happy Foot Sad Foot sign leaving is going to be sort of tragic because it's such a connection to a kooky, weirder time in the neighborhood," said artist Billy Kheel, who has created felt ornaments and two-sided pillows that mimic the sign.
"I keep the happy foot side toward me," Kheel said, "just because it's charged with this superstitious power."
The keeper of the totem for the last dozen years has been Thomas Lim, a podiatrist who grew up in the San Fernando Valley and studied at UCLA. After serving a residency in New York, he decided to hang out his shingle in Los Angeles and bought the practice on Sunset Boulevard where he is the main physician.
"That sign was a happy accident," Lim said. "I didn't realize how iconic it was."
Then patients started conversations about it, including one who announced that he would be leaving directly for Las Vegas after his appointment.
"I wasn't sure if I was going or not," the man told him, until he was emboldened by seeing the favorable side of the sign.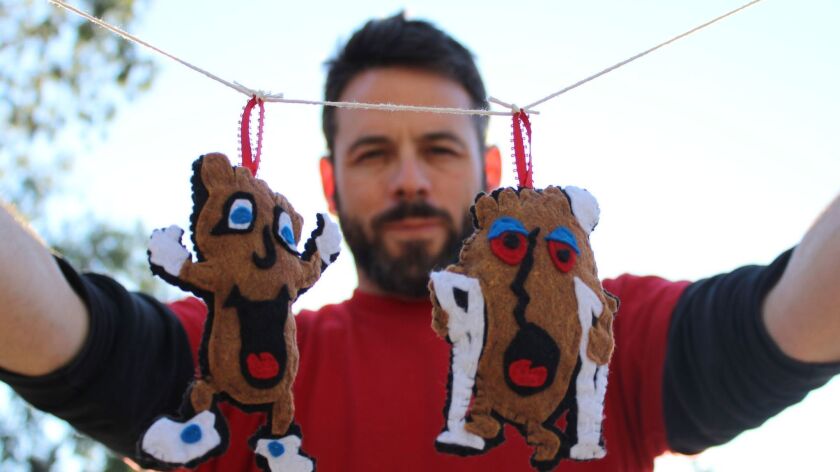 Other people walked in off the street to ask if they could buy T-shirts emblazoned with the goofy anthropomorphized feet. Lim doesn't sell merchandise, but has noticed other entrepreneurs hawking HaFo SaFo shirts, lapel pins and other footy items online. He doesn't mind.
"It's like Sriracha," he said, referring to the popular hot sauce that has never been trademarked by its creator Vietnamese immigrant David Tran. "Let it grow on its own."
Lim's lease on the Sunset Boulevard spot wasn't renewed, he said, so the practice will move about a mile and a half to the intersection of Virgil Avenue and Beverly Boulevard.
The city considers revolving signs distractions for drivers and no longer allows them to be erected (the existing sign was grandfathered into regulations) so Lim can't replicate the kitschy come-on in his new location.
He may miss out on attracting patients such as Carol Richards, who lives nearby and decided about a year ago, "I'm going to try the happy foot sad foot" for help with calluses, she said.
She likes Dr. Lim and also has affection for the revolving billboard that is so old that it lists a phone number without an area code.
"I love it because they don't make signs like that anymore," Richards said. "To me, it's comforting."
Former Silver Lake resident Angela Chvarak Jung finds the sign "a great symbol" of the community.
"It's almost like artwork," said Jung, who is herself an artist. "Like a cultural symbol that moved in the air."
She and her boyfriend dressed in costume as happy foot and sad foot for Halloween a few years ago "because we just loved it."
The panels of the beloved sign are too big to affix to his new office, Lim said, so he may donate them to a museum, if one will have them.
The revolving sign will soon advertise a new tenant that will take over the clinic space, said Dipak Patel, an owner of the property that is dominated by a Comfort Inn hotel.
"My son is opening a restaurant," Patel said.
His son, Avish Naran, is a chef trained in Napa Valley who described his restaurant concept as "refined Indian bar food" in a video he posted online.
Patel said the menu's items may include "pizza, ribs and pastas with an Indian twist."
"I'm happy for my son, but kind of sad the tenant is leaving also," Patel said.
The happy-sad motif will live on in the new restaurant's advertising.
The eatery has yet to be named, but its new advertising panels in the revolving sign will somehow reflect the theme that the corner of Sunset and Benton is known for, Patel said.
"We're trying to incorporate what was, for so many years, the happiness with the sadness."
Reporter Christi Carras contributed to this report.
---
Be your money's boss! Learn how to make a budget and take control of your finances with this eight-week newsletter course.
You may occasionally receive promotional content from the Los Angeles Times.