How I Made It: Making a connection in telecom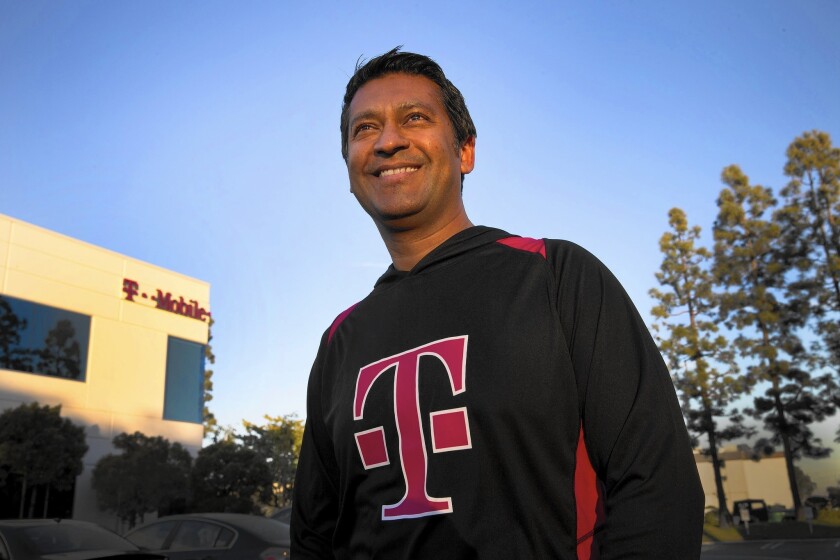 The gig: As senior vice president of the Southwest region for T-Mobile, Sam Sindha oversees a large area that includes Southern California, Bakersfield, Las Vegas, Arizona, El Paso and New Mexico. He directly manages about 4,400 employees and is responsible for all aspects of sales and operations across 515 T-Mobile stores.
Education: Attended El Camino College in Torrance, then received a bachelor's degree in business management from Cal State Long Beach.
American Dream: When he was 12, Sindha's parents and younger brother immigrated to the U.S., leaving him and his two sisters temporarily behind in India. "We stayed back for two and a half years so my dad and mom could get settled," he said. "It was a tough time, living without parents, but we had no choice."
Early experience: As a high schooler, Sindha pitched in around the motel that his parents managed in Harbor City, making beds, vacuuming and doing laundry. One of Sindha's earliest challenges was learning English as a 14-year-old. "I started in 9th grade and it was very difficult, going to school and not speaking English. As you can imagine, I got picked on." He recalled answering calls at his parents' motel just to hear customers speak English over the phone. Those experiences forced him to learn how to work hard and to deal with change and adversity, qualities that he said helped him succeed in his professional career.
Retail ranks: While a full-time college student, Sindha worked at Toys R Us and at CompUSA. He loved the retail environment, especially the frenzied atmosphere during the holidays. "I felt I had the art of managing all the chaos and moving the lines and keeping everyone calm," he said.
Moving on up: Sindha left Toys R Us to focus on his job at CompUSA. He worked his way up at the company over 17 years, holding about a dozen titles including cashier, retail store manager and general manager before becoming vice president for sales and operations, managing CompUSA's operations west of the Mississippi. The position required a move to Dallas.
Brush with death: In his early years with CompUSA, Sindha and the general manager were in the back of the store running the day's closeout reports. Suddenly, a man burst into the back and held a gun to their heads. "He told me to get on the floor," Sindha recalled. "Long story short, we were tied up in the bathroom with handcuffs. They cleaned out the store. Both of us were on the ground and we thought we were dead."
From computers to phones: After CompUSA was sold to a restructuring firm, Sindha took a market director position at T-Mobile in 2008 that was lower on the corporate ladder than the vice president title he had held with the electronics retailer. But he applied for the job because he was intrigued by the fast pace of the wireless industry and confident that he could move up the hierarchy at T-Mobile quickly. It also allowed him to move back to Southern California.
"I was willing to take the step back because this was the right move for my family," he said. "My family wasn't happy in Dallas."
Management philosophy: "I don't promise anything unless I know I can fulfill that particular promise. And I'm very transparent with my team. As long as you're clear with your team and your direction, your team will respect you." He said it's important to provide a career path for employees and to reward them when they do well.
Work hard, play hard: At T-Mobile's annual meeting in 2014, Sindha donned a hoodie and joined employees in a two-minute rehearsed Bollywood-inspired hip-hop dance. "Anything for employees, anything to get them excited, anything to motivate them," he said. "To this day, people still come up to me and say, 'Are you going to do that again?' "
Advice: "You need to be dedicated and you need to be passionate about what you do," he said. "And make sure you have a big-picture understanding of what you want to accomplish. It's not a one-day deal."
Personal: Sindha, 46, lives in Torrance with his wife, Anisa, and their four children, ages 9 to 16.
Twitter: @byandreachang
---
Your guide to our new economic reality.
Get our free business newsletter for insights and tips for getting by.
You may occasionally receive promotional content from the Los Angeles Times.