How I Made It: Workspace designer Charlotte Wiederholt's career began in a junkyard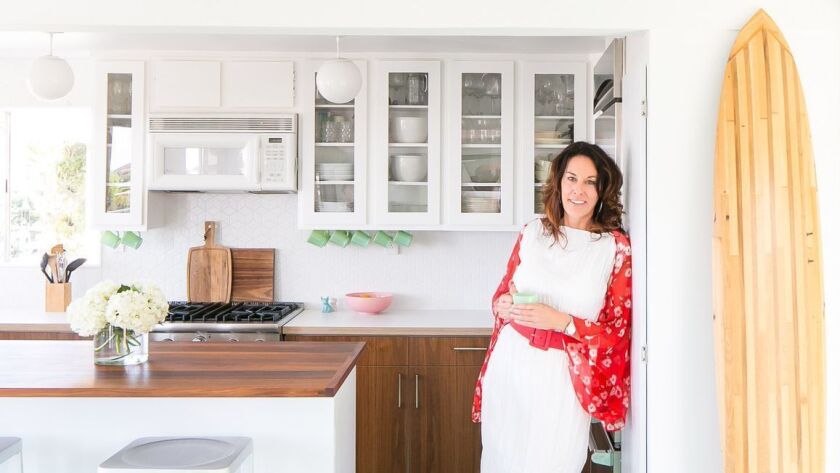 Charlotte Wiederholt has spent more than two decades creating sleek offices and the furniture that goes in them. Last year, Wiederholt, 47, was promoted to president of Tangram Studio, the custom furniture arm of Tangram Interiors, a commercial interior design firm. Wiederholt oversees a team of 25 industrial designers and engineers as part of Tangram's 350-employee company. Tangram, founded in 1963, is headquartered in Santa Fe Springs and has offices in downtown Los Angeles, Orange County, Fresno and Bakersfield.
One person's trash
Wiederholt grew up in Acton, Mass., tinkering with wood and metal scraps from the local garbage dump in a childproof woodworking shop in her family's basement. That basement is where Wiederholt was able to freely create using low-risk materials that were, in essence, trash.
"It wasn't like I went to the art store with my mom and I got a perfect set of paints and I was worried about something being perfect and exact and it cost money — it was always just like, you can do anything," Wiederholt said. "You could do whatever you want, and that's what I loved about it. Nobody had to love it or hate it. It was just free time to think."
Building confidence
In the early 1990s, Wiederholt spent her Saturdays turning metal scraps from a Scottsdale, Ariz., junkyard into furniture after her then-boyfriend gave her a welding kit. Wiederholt, who was studying industrial design and sculpture at Arizona State University, dropped off her first four pieces at a local gallery, but she was so nervous she didn't contact the vendor for two months out of fear he was going to tell her no one wanted them.
When she finally called, the gallery owner said her pieces sold in less than a month and he wanted more of Wiederholt's work. "The feeling of somebody buying something I made — that was the first time that I was like, 'Oh, my god. You took my trash and you want it,'" Wiederholt said.
Daily focus
Wiederholt joined Tangram in 1998 and served as creative director of Tangram Studio for 15 years, overseeing its industrial design, engineering and customer service teams before she was named president in 2018.
When reflecting on her career, Wiederholt thinks about riding her bike, which she does each morning while listening to Oprah Winfrey's "Super Soul Sunday" talk show. She likes the challenge of riding uphill, but she always stares down at the road in front of her, never at the top of the hill because it intimidates her.
"You have to do what's right in front of you, day to day. There are no cuts. If you're like, 'I have to get to $20 million or I have to have that number of employees,' to me, that becomes overwhelming," Wiederholt said. "I just stay focused on what we're doing now and how we're going to keep doing it until all of a sudden it becomes something."
Team culture
Every morning, Wiederholt asks each member of her team how they're doing and where they are on a given project. "My thinking is that everyone who touches this project is equally important and has equally as much ability to affect the result and the customer experience," Wiederholt said.
In Tangram Studio's workspace, a 20-foot, string-crafted representation of the word "yes" by industrial designer Jason Betty decorates a wall, mirroring what Wiederholt says is a significant part of Tangram's approach. "That power of being able to say 'yes' to somebody — that's part of who we are. I feel like you go somewhere and you hear so many nos," Wiederholt said. "It's so invigorating when someone says, 'Yeah, let's figure it out.'"
Wiederholt's studio team creates spaces that are unique to each client — a practice they hope to make more accessible to the average business looking to spruce up its office.
"I want this to become a common process so it isn't this unique thing but more like you're going to the store and you're buying boots," Wiederholt said. "Do I go the custom route where I would work with somebody and they're going to design these boots for me, or do I just need boots and I'm going to get these boots off the shelf?"
Home improvement
Wiederholt always has a personal creative project. Most often, that involves working on her beach cottage in Rancho Palos Verdes, imagining what she can do with each room by stripping it down to the studs.
"When I wake up at 3 a.m. and I'm worried about why we didn't get a project done, I always start mentally rebuilding in my head: If I took that wall down, I wonder if I could slide the bathroom over this way," Wiederholt said. "That always gets me off of worrying about things and into a good creative place."
Those creativity-driven tweaks to make spaces more comfortable are at the heart of Wiederholt's passion for design in her own home and for Tangram Studio's clients. "I love when you walk in and think, 'I did this because of this, and this makes me feel better, and I took this wall down because I now can see out to the windows and it creates happiness. That's really what it is," Wiederholt said.
---
Your guide to our new economic reality.
Get our free business newsletter for insights and tips for getting by.
You may occasionally receive promotional content from the Los Angeles Times.