A growing holiday pastime: returning those unwanted gifts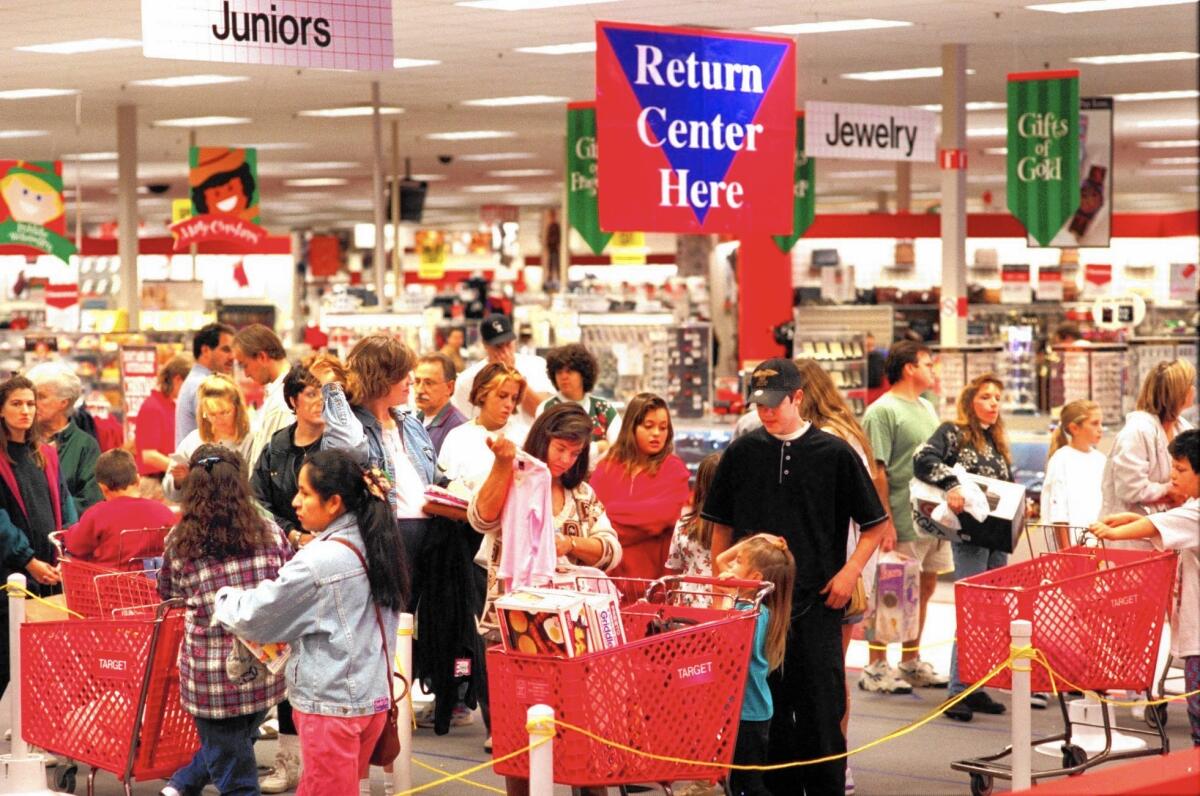 After all the carols are sung and eggnog consumed, Americans this weekend will be indulging in a more modern — and growing — holiday pastime: returning unwanted gifts.
Many shoppers, if they give it any thought, assume those ill-fitting sweaters and unloved blenders will go right back onto store shelves.
But returns, an increasing headache for retailers, are spawning a huge industry of middlemen, technology firms and discount sellers dedicated to figuring out what to do with all those goods. The weeks after Christmas are their busiest time.
Last year, $284 billion worth of merchandise was returned in the U.S., according to the Retail Equation. That's up 6.2% from $267 billion in 2013.
See more of our top stories on Facebook >>
The uptick can largely be attributed to the rise of online shopping, analysts said.
Though about 9% of retail sales overall are returned, up to a third of all online sales are sent back, according to Kurt Salmon, a retail consulting firm. Brick-and-mortar chains struggling to compete with e-commerce also have relaxed their return policies. For the average retailer, returns cost 4.4% in revenue lost to items that can't be resold or must be discounted, research firm IHL Group said in a report.
"It's a big issue, and getting bigger," said Foster Finley, managing partner at consulting firm AlixPartners. "As the volume of returns increases, people are going to be clever about figuring out ways to maximize the money."
Retailers have different standards for which returns can be restocked and sold again as new, or instead must find other sales channels.
Chains such as Gap and Neiman Marcus that have outlet stores can move returns and excess inventory to those discount shops. For others without that option, items that can't be resold are traditionally sent back to vendors or unloaded to liquidators, with products passing through many hands before ending up in pawn shops, flea markets and discount stores. Damaged or cheap goods not worth shipping often end up in landfills.
But retailers determined to squeeze every penny from their merchandise are getting more crafty.
Electronics chain Best Buy, which estimated in 2013 that 10% of its annual revenue is lost on returns, has devoted floor space in its stores to selling refurbished, damaged and open-box gadgets at discounted prices. The company also peddles these products on its website under "Best Buy Outlet."
Sharon McCollam, Best Buy's chief financial officer, has talked openly about how complicated fixing and selling returns can be.
One computer "may not have the original cord. So we've had to replace a cord," she told analysts during a conference call. "One might have a very small imperfection somewhere on the case."
Many retailers choose to partner with experts in returns — known as reverse logistics firms — or outsource the chore altogether.
Technology firm Optoro works with retailers providing the tools needed to better manage returns. After stores receive rejected items, salespeople punch in data about an item's condition and Optoro's software will automatically calculate how to get the most money from that product — sending it to the vendor, to a wholesaler, for scrap or back to the distribution center to get fixed.
The Lanham, Md., company helps retailers list refurbished products on multiple sites, including Amazon and Ebay. Before, only about 10% to 30% of an item's value could be recovered; now, retailers can get up to 70% by selling directly to frugal shoppers, said Tobin Moore, Optoro's chief executive.
"Goods used to ship five or six times," he said. "It took up to six months before they got through the chain to the end consumer."
Optoro works with 20 retailers, up from five in 2013, Moore said. Half have physical stores, the other are online-only retailers. Returns will only grow, he said, as retailers increasingly offer free returns for online orders.
Big chains such as Wal-Mart, Target and Home Depot often turn to B-Stock Solutions.
The Redwood City, Calif., company operates a kind of wholesale EBay for retailers that want to privately auction off their returns and excess inventory. Businesses that traffic in discounted goods will buy pallets or even truckloads of electronics or clothes, without knowing the exact condition of the products.
Eric Moriarty, B-Stock's head of client marketplaces, said returns have soared as the holiday season gets stretched longer by eager retailers that also offer generous return policies.
He pointed to Zappos, the online clothing and shoe shop owned by Amazon, which is known for its customer service.
"You buy five shoes and return four," he said. "If the shoes haven't been worn, it might" be restocked, "but it 100% depends" on the retailer's standards.
Those rejected products on the B-Stock site find a welcome home among wholesalers such as RJ's Discount Sales, based in Topeka, Kan.
RJ's Discount Sales buys truckloads of clothing, sports equipment and housewares for stores frequented by the budget-minded.
General manager Steve Steele said one Missouri shopkeeper likes to stock Wal-Mart clothing and housewares. His many Amish clients tend to buy sports equipment, tools, furniture and baby supplies.
"Anything to do with babies," he said. "They take truckloads of diapers."
Steele said 65% of his business comes from online returns, triple what it was two years ago. There is so much competition from people jumping into the return business, he said, that certain categories such as electronics are simply too expensive to buy now at auction.
Some entrepreneurs have gotten into the business after running retail outfits plagued with returns. Many are opting to open online stores that specialize in specific categories of returned products, such as children's clothing, or particular brands for shoppers looking for a bargain.
Last year, Scott Fitzgerald launched the Curb, which specializes in returned home goods and appliances. He sells both online and at one store in Tempe, Ariz.
Fitzgerald used to own two sporting goods stores where "returns were such an issue." He sensed opportunity, especially as returns zoomed with shoppers ordering multiples of products in various colors and sizes online.
His products come from retailers such as Sam's Club and Home Depot, with exacting standards for returns, he said. "If a seal has been broken it does not return to the floor," he said. "They don't want to deal with the customer service nightmare."
About 90% of what Fitzgerald buys is either in good condition or can be fixed. He employs a retired electrician to fix appliances such as vacuums, portable heaters and mini-fridges. Often, an item that can't be repaired can be stripped for parts.
The Curb expects to open two more stores next year. Fitzgerald said his company is busiest in the first three months of year, when half of all its inventory is purchased.
"Christmas is a huge time," he said. "There is truckload after truckload of holiday returns."
Twitter: @ByShanLi
ALSO
With drones a hot Christmas gift, a Bay Area park district warns of restrictions
How a California congresswoman brings Christmas cheer to Capitol Hill
Pushed out of church, parishioners mark Christmas Eve under the stars