Online coupon firm Honey taking over historic Coca-Cola plant in Arts District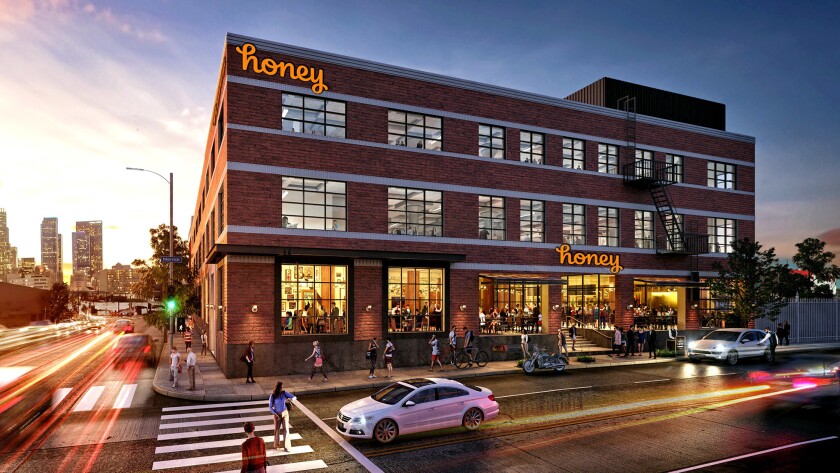 In one of Los Angeles' largest headquarters moves this year, the company behind online coupon tool Honey has leased a newly refurbished building in the Arts District that was built by Coca-Cola more than a century ago.
The fast-growing firm, which goes by the same name, has agreed to occupy all 130,000 square feet in the former syrup-making plant as it expands from its current offices in downtown's financial district.

For the record:
1:40 p.m. Aug. 1, 2018An earlier version of this story identified Corey Davidson as a property broker for Avison Young. He is a broker for Savills Studley.
While many tech companies in the region cluster on the Westside "Silicon Beach" communities of Santa Monica, Venice and Playa Vista, Honey executive Glen Allison said his firm pointedly chose to move to the Arts District, downtown's original warehouse and manufacturing zone.
The district's aging industrial buildings are establishing "a growing community that is very different from the rest of L.A.," said Allison, Honey's chief operating officer. "We can attract people from L.A.'s 88 different neighborhoods instead of just the beach crowd."
Many tenants also like structures originally used for manufacturing because they often have high ceilings, more natural lighting and different windows than are found in typical modern offices.
Financial terms of the 10-year lease with Los Angeles landlord Hudson Pacific Properties were not disclosed. Arts District landlords typically ask for about $4.66 a square foot monthly, well over the downtown average of $3.56 a foot, according to brokerage CBRE.
Honey was founded in 2012 in Pasadena and moved to Los Angeles about three years ago to be more centrally located, Allison said. It has about 175 employees now, many of whom are engineers and product managers.
Honey offers a free extension for Google Chrome, Firefox and Safari that aggregates discount codes for whichever shopping site a user visits. The extension works with thousands of online stores.
Allison expects the headquarters staff to grow to 275 by the time of the move in mid-2019. The refurbished building at 4th and Merrick streets could eventually hold more than 700 workers, with further expansions possible in other Arts District buildings.
"We are growing pretty quickly," he said.
Hudson Pacific, which owns three movie studios, is making a presence downtown after concentrating on building campus-style offices in Hollywood and the Westside catering to companies in entertainment and other creative fields.
The company also owns the former Maxwell House coffee-roasting factory built in 1924 in the Arts District and is renovating and expanding it for potential office tenants.
Chief Executive Victor Coleman said the district has matured to a point where it can draw tenants who might not have considered it in the past.
"A lot of young employees want to live in that area and take part" in its evolution, he said. "The media, entertainment and tech world really wants to be there."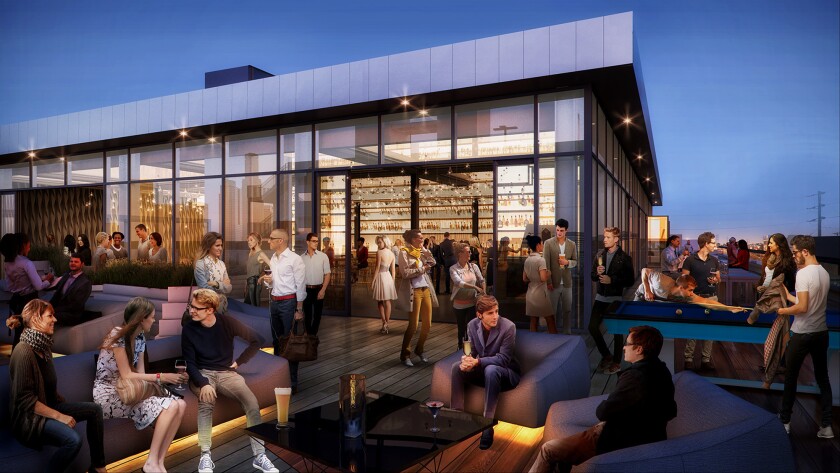 Hudson Pacific paid more than $49 million for the former Coca-Cola building in 2015, according to real estate data provider CoStar. It was last used as a toy warehouse, but became increasingly valuable as the Arts District became a desirable neighborhood for young businesses and residents in recent years.
The trend was solidified in 2016 when Warner Music Group announced it would move not far away to a former Ford automobile factory built in 1912 on Santa Fe Avenue that once produced Model T cars. Warner is expected to arrive in the Arts District this fall.
This year, Spotify agreed to occupy 115,000 square feet in a new office and retail complex in the Arts District called At Mateo. In doing so, the music-streaming giant passed over several large blocks of creative space on the Westside, according to CBRE.
Honey's big lease gives it bragging rights as having the largest footprint for a tech company committed to the Arts District, said property broker Corey Davidson of Savills Studley, who represented Honey in the transaction.
"In the last year, the Arts District has really started to come into the vision that has been suggested for it, with markets, restaurants and life in the streets," Davidson said.
Buildings such as the Ford factory and old Coca-Cola plant have nostalgic back stories that appeal to tenants, brokers note.
Honey's future location certainly comes with a past. Merrick Street is a brief extension of Traction Avenue, a former street car route connecting downtown's old industrial district to the city.
The former Coca-Cola building is a stone's throw from an enormous former Santa Fe railroad dock, now home to the Southern California Institute of Architecture.
In 1915, The Times reported that Coca-Cola Co. was constructing a "commodious" new home for its operations, replacing an older facility on San Pedro Street.
"This is to be the headquarters for the company's Pacific Coast business and for its export trade in the Hawaiian Islands and Old Mexico," The Times said.
Syrup made using Coca-Cola's secret recipe was produced at the plant and shipped out for bottling or fountain use. The plant was expanded in the 1930s and again in the 1960s. Coca-Cola sold the building in the 1990s.
Twitter: @rogervincent
---
Be your money's boss! Learn how to make a budget and take control of your finances with this eight-week newsletter course.
You may occasionally receive promotional content from the Los Angeles Times.