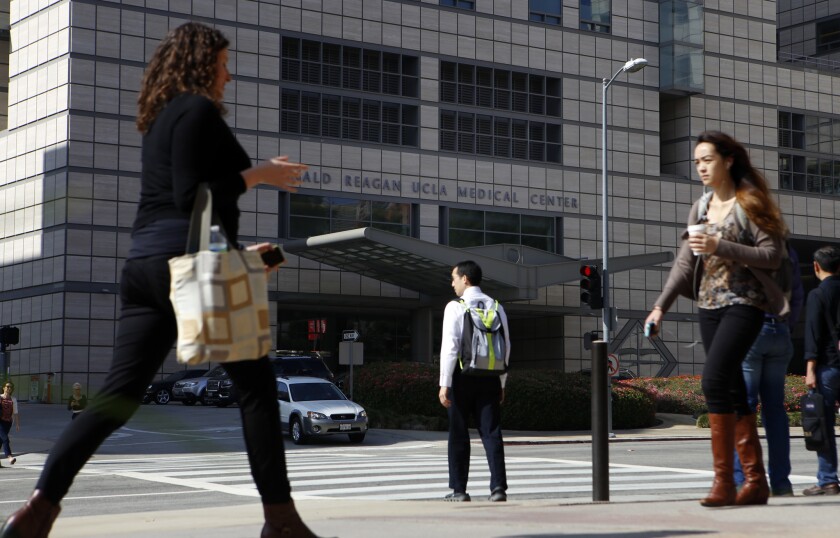 Scores of California hospitals with high rates of patient infections have not been inspected within the last five years, according to a petition filed Monday by Consumers Union.
California law requires hospitals to be inspected every three years, but the state has fallen so far behind that the period has stretched to at least five years for 131 hospitals, the group said.
Eighty of those hospitals have reported infection rates that are significantly higher than other facilities, it said.
Among those hospitals are Ronald Reagan UCLA Medical Center, Long Beach Memorial Medical Center and USC Norris Comprehensive Cancer Center.
"It's time to start looking at these hospitals that have significantly higher infection rates and do something that makes them accountable," said Lisa McGiffert, director of Consumers Union's Safe Patient Project.
The California public health department said Monday in a brief statement that it planned to respond to the petition within 30 days.
"Healthcare-associated infections are a serious public health issue," said Ali Bay, a spokeswoman for the health department, "and we share concerns about the impacts they have on patients."
She did not say why the state had fallen behind on inspecting hospitals.
Because of limited infection-reporting requirements, state officials don't know how many Californians are sickened by bacteria or other pathogens while in the hospital. They estimate that as many as 9,000 Californians die each year from hospital-acquired infections, although experts say that may be low.
Consumers Union, a national nonprofit group, looked at rates of handful of hospital-acquired infections that facilities must report under a 2008 law, including the superbugs Methicillin-resistant Staphylococcus aureus and Clostridium difficile.
Even though that data is not comprehensive, the group said, it has helped reveal which hospitals have continuing problems with controlling infections.
Consumers Union said inspectors should be using the data to focus in on hospitals with recurring lapses in patient safety. But the consumer group said state officials told it that they are not providing the infection rate information to inspectors, who can levy fines, because they don't want to anger the hospitals.
"State epidemiologists believe if they bring in the enforcers, the hospitals will no longer work with them and infections will increase," McGiffert said.
The state "is putting patients' lives at risk by blocking inspectors from finding out which hospitals report high infection rates," she said.
The consumer group said an outbreak linked to tainted medical scopes at UCLA, which began in late 2014, showed why it was crucial for the state to perform comprehensive inspections every three years.
The state had not been to UCLA Medical Center for the required inspection for at least four years before the outbreak, which killed three patients, according to the group's petition.
SIGN UP for the free California Inc. business newsletter »
After The Times reported on the outbreak, state inspectors visited the hospital in March 2015. They found numerous safety violations that went beyond the medical scopes and declared an "immediate jeopardy" — meaning that lives were at imminent risk.
The consumer group said that the state may have been able to save lives if it had conducted a thorough inspection every three years as required by law.
Tami Dennis, a UCLA spokeswoman, said the medical center has "comprehensive and rigorous infection-control programs reflecting a commitment to our highest priority — the well-being of our patients."
She said the university continues to work with county, state and federal health officials "to reduce infection rates and improve the clinical outcomes of our patients."
Stephanie Hall, chief medical officer at USC's Keck School of Medicine, said she believed that two types of infections were combined in the state numbers, which "unfairly implies" the cancer center had a high rate.
The cancer center asked the state to audit its practices in 2015, she said, which helped ensure measures to prevent infections were in place.
"We continue to see significant improvement in all infection measures at Norris and remain constantly vigilant," Hall said.
Long Beach Memorial said it could not immediately comment.
The petition asks the state to immediately investigate hospitals with significantly higher-than-average infection rates and impose penalties where violations have put patients at risk.
It also asks the state to comply with the law requiring more frequent inspections.
Under California law, the state must respond in writing to the petition or hold a public hearing.
Follow @melodypetersen on Twitter
MORE BUSINESS NEWS
How a mother's lawsuit helped get Snapchat to crack down on media companies
Unionization vote may resolve Telemundo's dispute with SAG-AFTRA
With 'La La Land,' which hauled in 14 Oscar nominations, Lionsgate's gamble is paying off big
---