Adventure bikes are the liveliest segment of a stale motorcycle market
KTM 1090 Adventure R
(KTM)
KTM 1090 Adventure R
(KTM)
KTM 1090 Adventure R
(KTM)
Yamaha Tracer 900 GT
(Yamaha)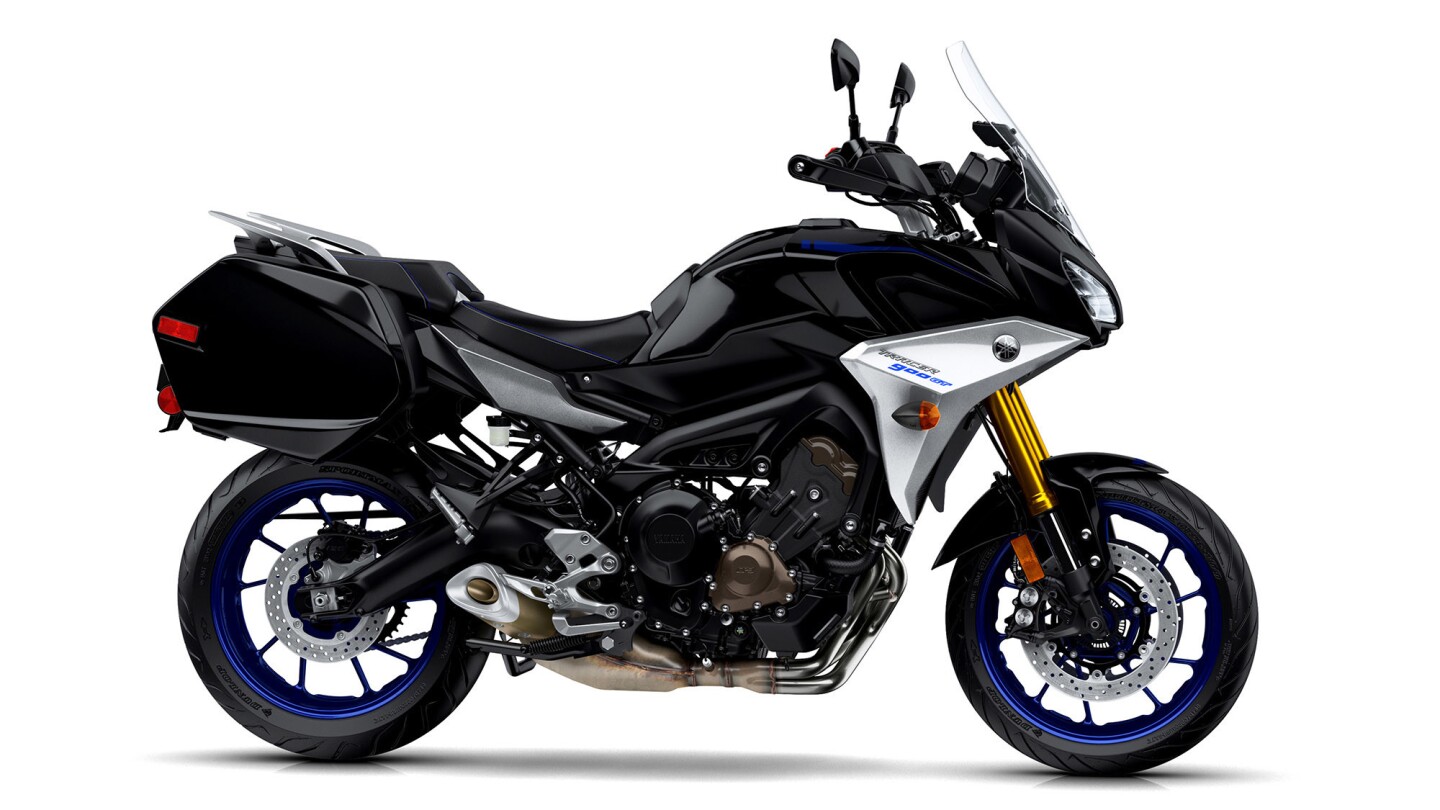 Yamaha Tracer 900 GT
(Yamaha)
Yamaha Tracer 900 GT
(Yamaha)
Honda Africa Twin
(Honda)
Honda Africa Twin
(Honda)
Honda Africa Twin
(Honda)
Adventure motorcycling, the kind designed to send riders to the far reaches of the Earth, even when they're only riding to Malibu, has for the last several years been the fastest-growing niche in a stale motorcycle sales market.
Bike builders, not surprisingly, have been going after these so-called ADV riders with all kinds of new products. From segment leaders BMW and KTM to stalwart second fiddles Honda, Yamaha, Kawasaki and Suzuki, almost every major manufacturer is competing.
Increasingly, the bike makers are carving the market into specialized niches, advertised with new marketing handles such as "adventure touring," "adventure sport" or "sport touring."
Here are three exceedingly able adventure-themed bikes that cover three segments of this dynamic field.
KTM 1090 Adventure R
The KTM 1090 Adventure R is the closest thing on the market to an all-roads-ready world traveler. With its knobby tires, long, fully adjustable WP-brand suspension, high ground clearance and wide handlebars, this bike is built for the dirt.
It performs splendidly in the rough stuff, eating up ruts and rocks, the high-revving LC8 engine easily lofting the front end to clear bigger obstacles.
The surprise was the 1090's behavior on pavement. On a long trip to Sequoia National Park and back, optional side cases packed with overnight supplies, the KTM cruised comfortably on the highway and cornered like a sport bike in the canyons. The soft clutch pull, responsive Brembo braking system and upright "adventure" riding posture made long miles melt away.
They'd have melted more comfortably with a better windscreen — this one is largely ineffective above 65 mph — and a more forgiving seat.
Some riders will quail at the seat height, too. At over 35 inches, with no adjustment possible, this is one tall bike. I found myself tippytoeing at intersections and scrambling for flat places to stop off-road, glad that the bike wasn't heavier than its advertised 456 pounds dry, meaning about 496 pounds fueled.
Some will quail at the price, too. The KTM 1090 Adventure R — the bike also comes in a larger-displacement 1290 version, as well as a non-R model more suited to the street — starts around $15,000.
Honda Africa Twin
Honda's Africa Twin weighs more than the KTM, and sits lower, costs less, and performs somewhat less ably in the dirt. But this is more of a classic dual sport, splitting its emphasis about halfway between off-road-ready and highway-happy.
Like the KTM, it rides on tall suspension and big, spoked wheels — 18 inches in the rear, 21 inches in the front. Even with the optional side bags loaded for a weekend in the mountains, the AT felt solid bumping along a dirt road and tackling some light single-track duty, though without knobby tires it would have been more challenged than the KTM by mud or deep sand.
But it features a more forgiving saddle and a better windscreen, so what it loses in the dirt, it gains on the street.
That softer saddle is also almost a full inch lower than the KTM's, and can be adjusted to drop to a lower setting of 33.5 inches.
The model I rode featured Honda's DCT technology, an "automatic" transmission that boosts the bike's total weight to 530 pounds but eliminates the need to use the clutch and gear-shift levers.
I didn't find this a big advantage, but after making an unplanned stop on a rocky uphill section, I was grateful that I didn't have to take my left foot off the ground to select a gear and get started again.
Honda's AT is easier on the wallet, as well. The base model starts at $13,499, with the DCT version going for $14,199.
Yamaha Tracer 900 GT
Yamaha's newly named Tracer 900 GT — built from the bones of the previous FJ-09 and MT-09 — is a "sport touring" or "asphalt adventure" bike. While it does not have the dirt cred of either the Africa Twin or the 1090 Adventure R, it is a superbly able adventure touring bike, ready to hit the highway and willing to scramble up a dirt or gravel road when required.
The Tracer 900 GT comes to market well below the other two, at a starting MSRP of $12,999. (The base model Tracer, without the GT on it, starts at $10,699.) Included in that price are several appealing standard features, many of them only available as factory options, costing extra, on the KTM and Honda.
The windscreen features one-hand adjustment. The KYB-brand suspension, though it doesn't offer the height or ground clearance of the Honda or the KTM, is fully adjustable and can be tuned for soft cruising or stiff sport riding.
The side cases come standard, as do the center stand, heated grips and cruise control.
The seat is adjustable, with positions at 33.5 and 34.3 inches. While Yamaha boasts improvements in seat design for the 2019 model, it may not be all-day comfortable for those who suffer as I do from MABBS, or middle-aged bony butt syndrome.
I also had concerns about the kickstand, which was hard to deploy and didn't always stay where I put it. The result? An embarrassing parking lot tip-over, when I thought the kickstand was down and the kickstand had other ideas. The bike wasn't damaged, but I looked and felt like an idiot.
The Tracer 900 GT's best feature may be its engine. The bike uses a three-cylinder power plant many years in the improving. It spins up fast and produces enough horsepower and torque to adequately compete with the 1,000cc Honda and the 1190cc KTM.
Over multiple riding days, some of them with a passenger behind me, I never felt the 847cc engine lacking in pulling power.
Being a liquid-cooled three-cylinder, it also produced very little engine heat. The same can be said of the Africa Twin, but not of the KTM, which tended to warm my legs considerably — and unpleasantly, when the ambient temperature was already high.
Not every rider is right for adventure riding, and not every adventure bike is right for every adventure. But the niche keeps growing. BMW now offers a 310cc version of its mighty R1200GS, at around $5,000. Honda has introduced a 250cc Rally, for a little more than the baby BMW, that can do a lot of what bigger bikes can do. Royal Enfield is importing its Himalayan adventure bike, for even less money.
Even Harley-Davidson is getting into the act, and promises to bring its Pan America adventure bike to market before 2020.
Ride on!
---
Your guide to our clean energy future
Get our Boiling Point newsletter for the latest on the power sector, water wars and more — and what they mean for California.
You may occasionally receive promotional content from the Los Angeles Times.