Uber victim stepped suddenly in front of self-driving car, police say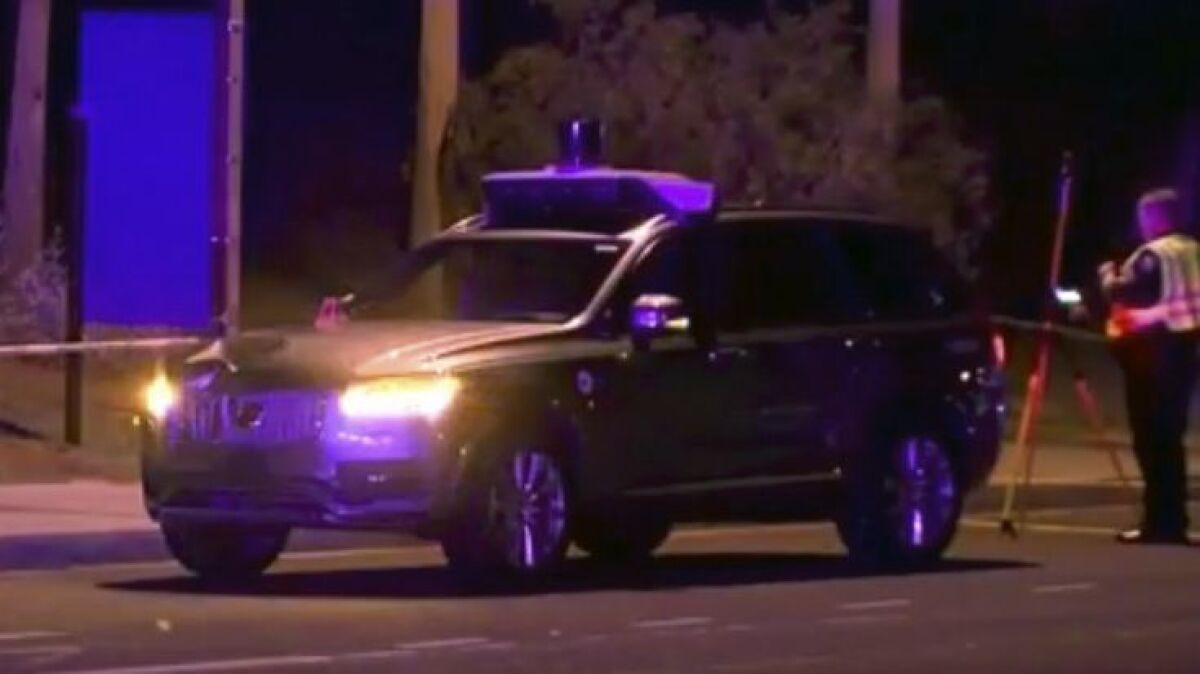 Police say a video from the Uber self-driving car that struck and killed a woman in Tempe, Ariz., on Sunday shows her moving in front of the car suddenly before it hit her, a factor that investigators are likely to focus on as they assess the performance of the technology in the first pedestrian fatality involving an autonomous vehicle.
The Uber had a forward-facing video recorder, which showed the woman was walking a bike at about 10 p.m. and moved into traffic from a dark center median. "It's very clear it would have been difficult to avoid this collision in any kind of mode," Tempe Police Chief Sylvia Moir told the San Francisco Chronicle.
"The driver said it was like a flash, the person walked out in front of them," Moir said, referring to the backup driver who was behind the wheel but not operating the vehicle. "His first alert to the collision was the sound of the collision."
An Uber self-driving car kills a pedestrian in Arizona. Will it slow deployment of the technology? »
The police chief's account raises new questions in the investigation, which holds importance to the future of the burgeoning autonomous vehicle industry. Uber Technologies Inc. halted autonomous vehicle tests in the wake of the accident, and officials in Boston asked that similar tests in that city be suspended too.
It's too soon to draw any conclusions from the preliminary information that has emerged, said Brian Walker Smith, a law professor at the University of South Carolina who has studied autonomous vehicle liability.
"It's possible that Uber's automated driving system did not detect the pedestrian, did not classify her as a pedestrian, or did not predict her departure from the median," Smith said in an email. "I don't know whether these steps occurred too late to prevent or lessen the collision or whether they never occurred at all, but the lack of braking or swerving whatsoever is alarming and suggests that the system never anticipated the collision."
Police later said in a statement that the department would defer to county prosecutors on whether to bring charges, but didn't dispute any of the information released by Moir.
No conclusions
In a news conference Monday, police Sgt. Roland Elcock said authorities had not come to any conclusions about who was at fault. Decisions on any possible charges will be made by the Maricopa County attorney's office. Neither the victim nor the backup driver showed any signs of impairment, Elcock said.
The driver, Rafael Vasquez, 44, served time in prison for armed robbery and other charges in the early 2000s, according to Arizona prison and Maricopa County Superior Court records. Uber declined to comment on Vasquez's criminal record.
The victim, Elaine Herzberg, 49, was walking her bike outside a crosswalk. The car was most likely going about 38 miles per hour, Moir said. The speed limit where the accident occurred is 35 mph, police spokeswoman Lily Duran said.
The department expects to give a further update later Tuesday but has no plans to release video footage while the investigation is underway.
In Boston, self-driving startup NuTonomy Inc. halted its tests after city officials requested a pause following the Arizona crash.
"We are working with City of Boston officials to ensure that our automated vehicle pilots continue to adhere to high standards of safety," a NuTonomy spokeswoman said in an emailed statement. "We have complied with the City of Boston's request to temporarily halt autonomous vehicle testing on public roads."
Pittsburgh has not suspended testing programs there, according to a spokesman for Mayor Bill Peduto.
Sensors on self-driving cars — which may include laser-based technology, radar and video — are designed to sense pedestrians and other obstructions, even in the dark.
The National Transportation Safety Board is opening an investigation into the death and is sending a team of four investigators to Tempe, just east of Phoenix. The Department of Transportation's National Highway Traffic Safety Administration dispatched a special investigation team.
The NTSB opens relatively few highway accident investigations each year, but it has been closely following incidents involving autonomous or partially autonomous vehicles. Last year it partially faulted Tesla Inc.'s semiautonomous Autopilot system for a fatal crash in Florida in 2016.
---
UPDATES:
2:10 p.m.: This article was updated with information about driverless-car testing in Boston and Pittsburgh and about the Arizona Uber driver's criminal record.
This article was originally published at 10:35 a.m.
---
Sign up for the California Politics newsletter to get exclusive analysis from our reporters.
You may occasionally receive promotional content from the Los Angeles Times.