Johnson & Johnson loses one baby powder cancer case and wins another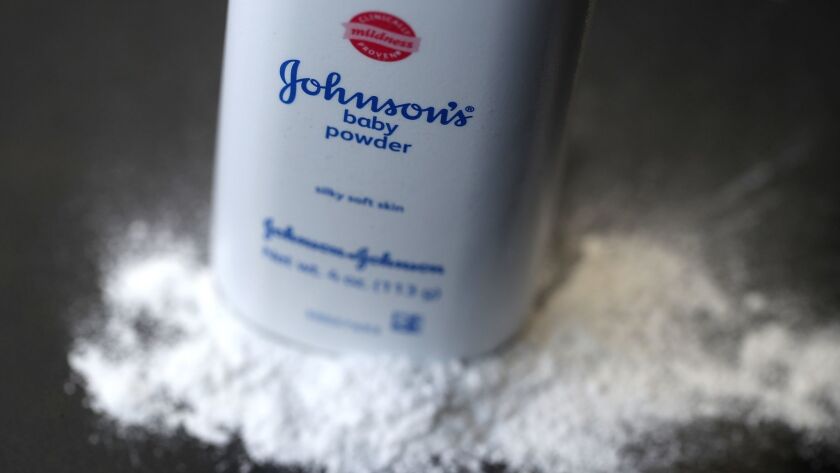 Bloomberg
Johnson & Johnson was ordered to pay at least $25 million to a woman who said she contracted a rare asbestos-related cancer through decades of daily use of its baby powder or its other talc product, Shower to Shower.
The New York verdict for plaintiff Donna Olson, 66, and her husband against Johnson & Johnson and its consumer-products unit only reflects the award of compensatory damages. Jurors will return next week to consider assessing punitive damages against the companies over their mishandling of the talc products.
J&J faces more than 14,000 claims that its powders caused ovarian cancer and mesothelioma, a rare cancer linked to asbestos exposure. The company denies that its products ever contained the carcinogen and argues that talc doesn't cause the life-threatening illnesses.
Olson has mesothelioma in her lungs, according to court filings.
Also on Tuesday, a South Carolina jury concluded that Johnson & Johnson was not liable for a woman's mesothelioma that she blamed on asbestos in the company's baby powder. J&J had the case removed to federal court last month, but a judge sent it back to state court for trial.
The company's record at trial has been mixed. It lost a $29-million jury award in a California mesothelioma case March 13 but won a New Jersey trial March 27, the same day it settled three cases. Johnson & Johnson also won in California on April 5. Another trial in California is ongoing.
Johnson & Johnson will appeal the New York verdict, said Kim Montagnino, a company spokeswoman. "This trial suffered significant legal and evidentiary errors — one of the most egregious being the demonstrably false testimony from the plaintiff's central expert," she said.
The company contends that William Longo, a scientist who has testified for many plaintiffs in talc cases, lied in earlier trials about where he obtained talc samples in which he found traces of asbestos. Judge Manuel Mendez in Manhattan allowed Longo to testify on Olson's behalf.
The New York verdict was the 10th win for talc plaintiffs since trials over cancer claims tied to Johnson & Johnson's talc-based powders began in 2016, according to data compiled by Bloomberg. Johnson & Johnson has won seven defense verdicts. Jurors deadlocked in three cases. The company settled four cases. Some of the plaintiffs' verdicts have been overturned; others are still on appeal.
Olson, a former Manhattan resident who now lives in Delaware, testified she used baby powder on herself from age 8 until after she was married in 1984. Olson said that the powder would create a cloud when she applied it and that she breathed in some of the talc particles, according to court filings.
Mendez ruled before trial that because Olson argued that Johnson & Johnson put "corporate profits and reputation over the health and safety of consumers," jurors could weigh awarding punishment damages if they ruled in her favor.
---
Must-read stories from the L.A. Times
Get the day's top news with our Today's Headlines newsletter, sent every weekday morning.
You may occasionally receive promotional content from the Los Angeles Times.