Newsletter: California Inc.: Apple stores used to be way cool. What happened?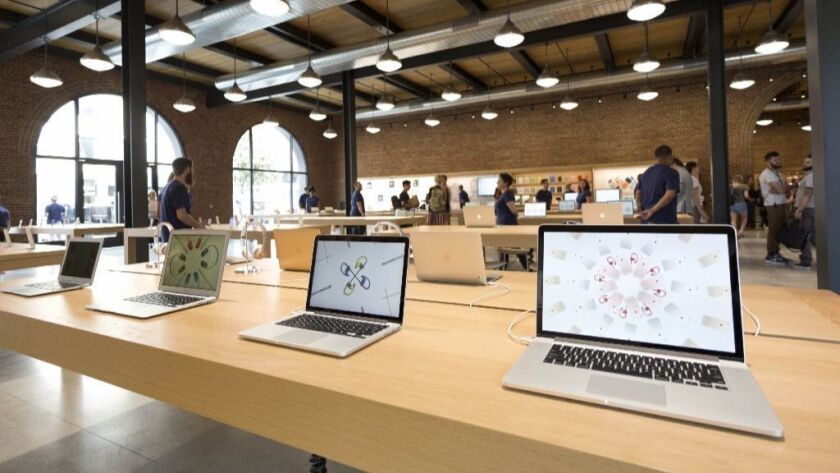 Welcome to California Inc., the weekly newsletter of the L.A. Times Business Section.
I'm Business columnist David Lazarus, and here's a rundown of upcoming stories this week and the highlights of last week.
Wall Street limped to the finish line Friday. Uber had a less-than-stellar debut in its initial public offering, dropping about 7.5%, even though the Dow managed to claw its way back into positive territory after some hopeful remarks from President Trump about trade talks with China.
LOOKING AHEAD
Retail sales: The latest look at retail sales comes out Wednesday. Sales surged in March at the fastest pace since late 2017, rising a seasonally adjusted 1.6% from February. That was the strongest increase since September 2017.
Jobless claims: Weekly jobless claims will be posted Thursday. Initial claims for state unemployment benefits fell by 2,000 to a seasonally adjusted 228,000 for the week ended May 4. Data for the prior week was unrevised.
Consumer sentiment: We'll see how consumers are feeling Friday when May's consumer sentiment index is released. The survey slipped to a preliminary 96.9 in April from 98.4 in March. Consumer sentiment is now slightly below year-ago levels.
Doggone fun: Book your room at the Continental Hotel. John Wick comes roaring back Friday for the third installment in the action-packed series starring Keanu Reeves. For decidedly mellower fare, consider "The Sun Is Also a Star," based on the bestselling book, and featuring Yara Shahidi and Charles Melton as young New Yorkers dealing with love and deportation.
THE AGENDA
Monday's Business section stops by the Apple store and asks how a once-great idea has become so uncool. Critics say that, mostly Apple stores have become an exercise in branding and no longer do a good job serving shoppers. Meanwhile, the quality of staff has slipped during an 18-year expansion in which Apple has opened more than 500 locations and hired 70,000 people.
STORY LINES
Here are some of the other stories that ran in the Times Business section in recent days that we're continuing to follow:
Trump tariffs:U.S. and Chinese officials ended trade talks in Washington without reaching an agreement. The two sides had sought to avert President Trump's deadline for ratcheting up punitive tariffs from 10% to 25% on $200 billion of Chinese goods, including components used in manufacturing but also many consumer products.
Slow lane: It was a long-awaited initial public offering that raised $8.1 billion, the ninth largest of all time, but Uber's IPO was still a dud. Shares were priced at $45 — the low end of their expected range — yet they fell 7.6% on their trading debut. Analysts said investors may have been put off by rival Lyft's disappointing IPO and Uber's money-losing ways.
Tax breaks: With Treasury Secretary Steve Mnuchin declining to provide President Trump's recent tax returns to House Democrats, the New York Times got hold of tax summaries showing Trump's businesses lost more than $1 billion between 1985 and 1994. Trump paid very little in federal income taxes during the period by exploiting generous tax breaks he has criticized Amazon for using.
Wild blue yonder: Amazon founder Jeff Bezos unveiled a mock-up of a lunar lander that he said could help build out infrastructure on the moon and lead to humanity's expansion into space. Bezos, whose Blue Origin startup is building rockets to ferry humans beyond the Earth's atmosphere, said the lander would be ready in time to meet Vice President Mike Pence's call to return U.S. astronauts to the moon within five years.
Time's Up: Disneyland has spent so much time hyping its $1-billion Star Wars: Galaxy's Edge attraction opening May 31, it has a problem on its hands: how to get visitors to leave. The plan is to require visitors to wear bracelets signifying specific four-hour windows, with the time limit gently enforced by employees posed as "Star Wars" characters. How about a tap on the shoulder from an Imperial Stormtrooper?
WHAT WE'RE READING
And some recent stories from other publications that caught our eye:
Cashing out: In light of Uber's IPO, the New York Times reveals what early employees of some tech startups do with their windfalls. "Once their wealth was assured, these tech workers quit the companies and fled California, which has the nation's highest state income tax, at more than 13%, to reside in lower-tax states like Texas and Florida, where there is no personal state income tax."
Avengers assemble: These are boom times for hackers, says the Wall Street Journal, as Silicon Valley firms seek white-hat pros for cybersecurity gigs. "The companies hope to attract talent with the right combination of attitude and know-how capable of testing and protecting troves of data stored on cloud systems and internet-connected devices."
Cycle of life: Fast Company says a new breed of e-bikes will help us as we grow old. "Between 1995 and 2009, the number of people aged 60 to 79 who bike increased by 320%, and the recent boom in electric bicycle technology is creating more opportunities for older Americans to consider biking as a mode of transportation."
Stirring the pot: Can you mess with online algorithms to make social-media platforms more unpredictable and interesting? Yes, says the Atlantic, but it takes work. "Every month or so," says an anthropologist who researches internet culture, "I selectively follow a bunch of accounts — sometimes to do with a specific country or demographic of people or culture — on Instagram, in a bid to change up my feed."
Failing upward: The New Yorker weighs in on President Trump's impressive business losses, as reported by the New York Times. "Even now, there are a lot of Americans who believe that the president is a savvy and successful businessman who knows what he is doing. The actual record ... reveals Trump to be a reckless conman who burned money and relied on his father, even as he was fashioning a myth that eventually took him all the way to the White House."
SPARE CHANGE
In honor of the president's singular business accomplishments, some songs about not having money. Creedence Clearwater Revival had some pertinent things to say on the topic. As did Loretta Lynn. And Clarence Carter. And Roger Miller. But maybe this one from Abba is most appropriate when discussing a certain someone's finances (or lack thereof).
For the latest money news, go to www.latimes.com/business. Mad props to Laurence Darmiento for helping put this thing together.
Until next time, I'll see you in the Business section.
---
Must-read stories from the L.A. Times
Get the day's top news with our Today's Headlines newsletter, sent every weekday morning.
You may occasionally receive promotional content from the Los Angeles Times.