Lyft hires Obama's Transportation secretary as it leans toward a 2019 IPO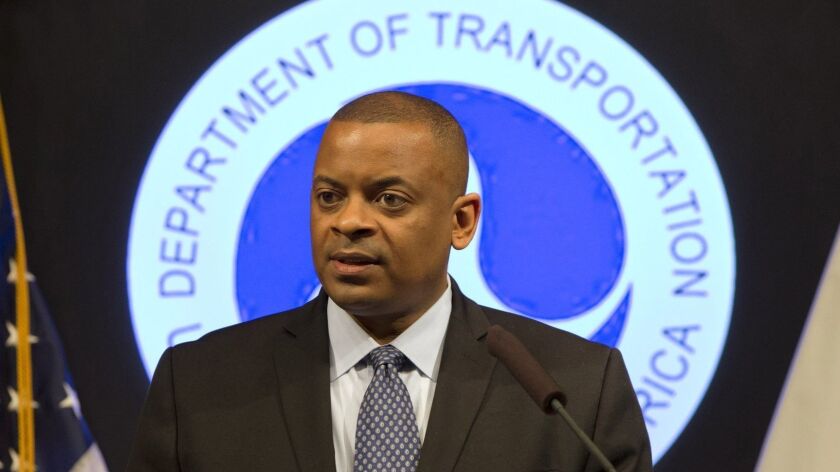 Anthony Foxx, who was U.S. Transportation secretary under then-President Obama, is joining Lyft Inc. to help the ride-hailing company navigate new regulatory roadblocks nationwide.
On Tuesday, Lyft named Foxx as chief policy officer and advisor to its founders. Foxx served under Obama throughout his second term. Before that, he was mayor of Charlotte, N.C.
The high-profile hire comes as Lyft faces new hurdles from local governments. The company, which has expanded its ride-hailing network to cover much of the United States, is laying the groundwork for electric-scooter rentals and self-driving cars.
The San Francisco company lost a bid in August to roll out scooters in its hometown. Lyft is acquiring bike rental company Motivate this year, putting it in charge of Citi Bike in New York and other similar rental programs in partnership with cities around the country.
Getting momentum behind these businesses would benefit Lyft's plans to go public.
People familiar with the matter said Lyft has asked banks to submit formal pitches to underwrite an initial public offering of stock next year.
Evaluating IPO bankers and issuing formal underwriter mandates are the next step in what could be the first of several listings by ride-hailing businesses. Lyft is targeting March or April for the offering, said the people, who asked not to be identified because the matter is supposed to be private. Larger rival Uber Technologies Inc. has said it too is aiming to list next year.
Being the first of the two ride-hailing giants to move toward an IPO may help in hiring bankers. Firms that underwrite the deal of one company can't also underwrite its direct competitors because of potential conflicts of interest. If Uber goes first, some firms may become unavailable to Lyft.
In most IPOs, investors considering whether to buy the shares compare the valuation, operations and financials with publicly traded peers. If Lyft does beat its peers to a listing, it will set expectations for other ride-hailing companies seeking to go public. Also, potential Lyft investors won't have the same level of detail to measure its performance against Uber, which is also based in San Francisco.
China's Didi Chuxing, the ride-hailing business backed by SoftBank Group Corp. and Apple Inc., and Singapore's Grab both continue to expand in Asia as privately held companies.
Lyft was valued at $15.1 billion in a private funding round announced in June.
Separately from Foxx's hiring, Dan Katz, who was chief of staff at the Transportation Department under Foxx, joined Lyft this month as senior director of public policy. He left Los Angeles transportation start-up Virgin Hyperloop One, where he was director of global public policy and North American projects. Virgin Hyperloop One has held discussions to build its futuristic, train-like system in several cities, but the projects in the most advanced stages of talks are all outside the United States, making U.S. policy a lesser priority at the company.
---
Your guide to our new economic reality.
Get our free business newsletter for insights and tips for getting by.
You may occasionally receive promotional content from the Los Angeles Times.