Stocks surge as trade-war fears ease; it's their best day in more than two years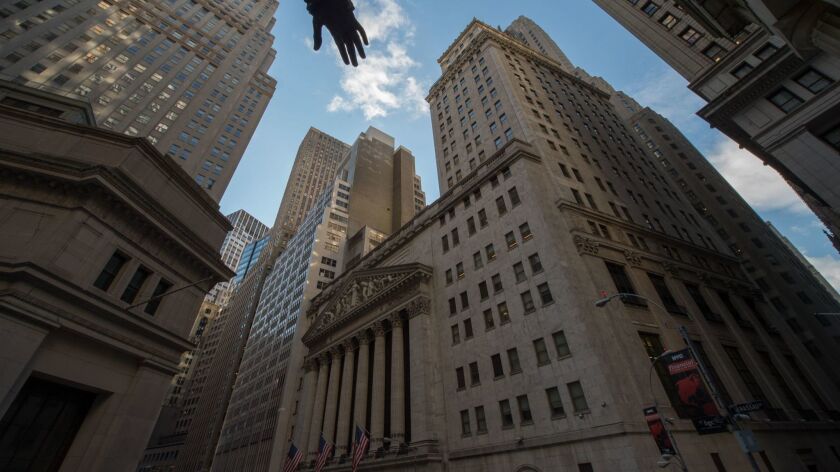 News that the U.S. and China are open to negotiating to avert a trade war put investors in a buying mood Monday, giving the market its best day in more than two years and erasing about half of its huge losses from last week.
Technology companies accounted for much of the broad rally, which powered the Dow Jones industrial average to a gain of nearly 670 points. Microsoft was the biggest gainer in the 30-company Dow and in the Standard & Poor's 500 index, climbing nearly 8%.
Banks also notched solid gains, benefiting from an uptick in bond yields. Retailers, consumer goods companies and healthcare stocks were among the big gainers.
The market rebound followed the worst week for U.S. stocks in two years. On Monday, investors traded last week's jitters for a more optimistic outlook on trade and an opportunity to buy.
"Certainly nothing's settled," said Rob Haworth, senior investment strategist at U.S. Bank Wealth Management. "Investors are still viewing this as a glass-half-full market and a constructive economy, so it's not surprising to see them buy on value here, buy on dips to try to rebuild their positions."
The S&P 500 rose 70.29 points, or 2.7%, to 2,658.55. The Dow Jones industrial average jumped 669.40 points, or 2.8%, to 24,202.60. The Dow lost more than 1,400 points last week and is still down slightly for the year.
The tech-heavy Nasdaq leaped 227.88 points, or 3.3%, to 7,220.54. The Russell 2000 index of smaller-company stocks climbed 33.63 points, or 2.2%, to 1,543.72.
All told, the Dow, S&P 500 and Nasdaq posted their best one-day gains since August 2015, regaining more than half the ground that the market lost Thursday and Friday.
Global stock markets fell sharply last week amid fears of a trade war after President Trump announced duties on $60 billion worth of Chinese goods in a dispute over technology policy. On Friday, Beijing released a list of $3 billion worth of U.S. goods targeted for possible retaliation over an earlier U.S. tariff hike on steel and aluminum imports. That prompted fears the spat might depress trade worldwide and set back the global economic recovery.
Those fears eased Monday, after China's government said it is open to negotiating with Washington. That announcement followed a news report indicating that U.S. officials have submitted a list of market-opening requests.
A foreign ministry spokeswoman, Hua Chunying, didn't confirm the report by the Wall Street Journal but said at a regular briefing, "Our door for dialogue and discussion is always open."
China has yet to say how it might respond to Trump's tariff proposals. That didn't appear to dampen investors' resurgent optimism Monday.
"This declaration of tariffs on the president's part was his typical opening salvo into a negotiation process," said Randy Frederick, vice president of trading and derivatives at Charles Schwab. "He's done these things in the past, and now it looks like the markets are telling us, 'Yep, that's what's happening.'"
Meanwhile, a top trade negotiator for South Korea said Monday that the nation has agreed to further open its auto market to the United States as the two countries prepare to amend their 6-year-old trade agreement.
Technology companies recouped some of the sector's big losses from last week. Microsoft rose 7.6% to $93.78.
Financial stocks surged as bond yields rose. Higher yields are good for banks because they drive up interest rates on mortgages and other loans, making those loans more profitable for lenders. Bank of America shares climbed 4.4% to $30.44.
The yield on the 10-year Treasury rose to 2.85% from 2.81%.
Lowe's climbed 6.6% to $89.30 after the home-improvement retailer said Chairman and Chief Executive Robert Niblock is retiring.
Facebook slid early in the session but bounced back, ending the day up 0.4% at $160.06. The slide was triggered by new questions about collecting phone numbers and text messages from Android devices. The Federal Trade Commission confirmed Monday that it is investigating the social media giant's privacy practices, including whether the company engaged in "unfair acts" that cause "substantial injury" to consumers.
Companies that pay big dividends, such as utilities, lagged behind the rest of the market.
Traders also had their eye on the latest corporate deal news.
Finish Line vaulted 31.1% to $13.83 after the sporting goods retailer agreed to be bought by JD Sports Fashion PLC.
USG Corp. jumped 19.5% to $40.03 after the building products company rejected an offer worth $42 per share from Knauf.
Benchmark U.S. crude fell 33 cents to settle at $65.55 a barrel on the New York Mercantile Exchange. Brent crude, used to price international oils, fell 33 cents to $70.12 in London. Heating oil was little changed at $2.02 a gallon. Wholesale gasoline fell 2 cents to $2.01 a gallon. Natural gas rose 3 cents to $2.62 per 1,000 cubic feet.
Gold rose $5.10 to $1,355 an ounce. Silver rose 10 cents to $16.68 an ounce. Copper fell 2 cents to $2.97 a pound.
The dollar rose to 105.22 yen from 104.82 yen. The euro strengthened to $1.2455 from $1.2367.
In Europe, Germany's DAX fell 0.8%, France's CAC-40 lost 0.6%, and Britain's FTSE 100 shed 0.5%. In Asia, Tokyo's Nikkei 225 and Hong Kong's Hang Seng both rose 0.7%. Seoul's Kospi gained 0.8%. India's Sensex rose 0.3%. Sydney's S&P-ASX 200 fell 0.5%.
---
UPDATES:
2:45 p.m.: This article was updated with closing prices and context.
1:35 p.m.: This article was updated with information about sectors, commodities and additional stocks.
1:05 p.m.: This article was updated with the close of markets, context and analyst comments.
12:40 p.m.: This article was updated with more recent market prices.
7:25 a.m.: This article was updated with market prices and context.
This article was originally published at 6:55 a.m.
---
Must-read stories from the L.A. Times
Get the day's top news with our Today's Headlines newsletter, sent every weekday morning.
You may occasionally receive promotional content from the Los Angeles Times.