Late buying drive erases much of an early loss for stocks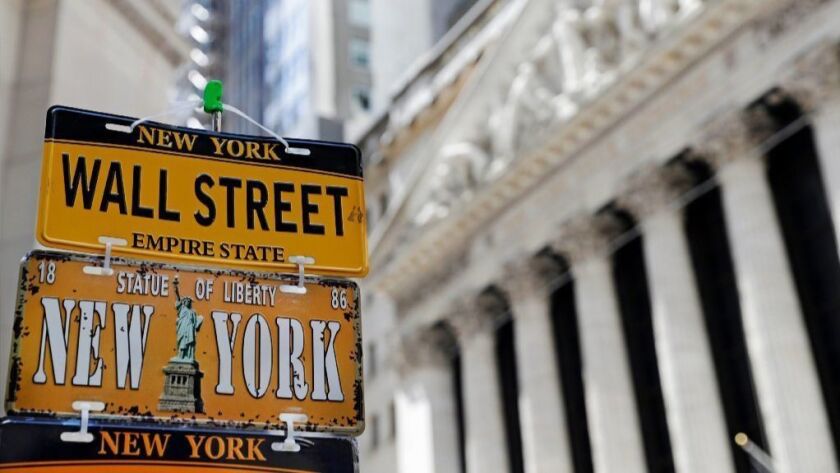 Losses for healthcare companies and banks left U.S. stocks lower Thursday, although a late push for technology and industrial companies helped the market avoid a steeper decline.
After a weak finish the day before, the Dow Jones industrial average dropped as much as 393 points Thursday morning. Thanks to another gain in Boeing, it ended slightly higher.
Companies including insurer AIG, prescription drug distributor Cardinal Health and music streaming service Spotify suffered big losses. Banks declined along with interest rates.
Electric car maker Tesla fell after it reported another big loss and Chief Executive Elon Musk mocked some questions from analysts during the company's conference call.
Microsoft and Cisco Systems helped technology companies to some modest gains. But investors haven't found much to get excited about the last couple of days as they worry about trade tensions and the possibility that growth in company profits has peaked.
"Investors went from being very optimistic to being more concerned about what could happen next," said Kate Warne, investment strategist at Edward Jones. "People are getting far ahead of themselves."
The S&P 500 index slid 5.94 points, or 0.2%, to 2,629.73. The Dow rose 5.17 points to 23,390.15. The Nasdaq composite lost 12.75 points, or 0.2%, to 7,088.15. The Russell 2000 index of smaller-company stocks fell 8.36 points, or 0.5%, to 1,546.56.
About three-fourths of S&P 500 companies had reported results as of Wednesday, according to CFRA Research, and their profits and revenues have consistently blown past Wall Street's expectations. But the market isn't acting like it: since April 12, the day before big banks started reporting their results, the S&P 500 is down 1.3%.
"Investors looked for any and all reasons to sell the results," wrote Lindsey Bell, investment strategist for CFRA Research. In a note to clients, Bell said that Caterpillar "crushed all hopes" that stocks would rise following earnings. The construction equipment maker said it doesn't expect to top its first-quarter profit for the rest of the year.
The possibility that earnings growth was at its peak didn't appear to be on investors' minds until the comments from Caterpillar executives last week. Rising costs are one challenge companies are facing, and that could be in focus again Friday after the government releases its report on job creation and wage growth.
Warne, of Edward Jones, said she still expects stocks to rise this year because of continued economic and profit growth. But she said it might take weeks or even months before that happens.
Banks fell in tandem with interest rates as bond prices climbed. The yield on the 10-year Treasury note fell to 2.95% from 2.97%. Lower bond yields mean banks can't make as much money from lending.
Cardinal Health, which distributes prescription drugs, also had a smaller-than-expected profit and slashed its forecast for the rest of the year. Cardinal said its Cordis cardiovascular products business ran into supply chain problems and also paid a higher expected tax rate. The stock gave up 21.4% to $50.80.
Medical device maker Hologic dropped 6.9% to $36.91 after it wrote down the value of its Cynosure business by about $732 million. It paid $1.57 billion to buy the company a little more than a year ago.
Tensions between the U.S. and China have also taken investors' attention away from earnings. Chinese and U.S. officials met face to face in Beijing on Thursday in an attempt to resolve a dispute over technology that has taken the world's two largest economies the closest they've ever come to a trade war. Analysts felt the two sides aren't likely to have a big breakthrough in the two-day meeting.
Tesla tumbled 5.6% to $284.45 after the electric car maker took another big loss as it struggles to produce its lower-cost Model 3 sedan. Some experts are wondering if Tesla will be able to pay all of its bills because of the repeated losses.
Musk appeared to make matters worse on the company's conference call, as he dismissed questions about the company's cash needs as "boring, boneheaded" and "not cool." After being asked about reservations for the Model 3, he said the subject matter was "killing me." JPMorgan Chase analyst Ryan Brinkman said the call was "truly bizarre."
Benchmark U.S. crude recovered from an early loss and rose 0.7% to $68.43 barrel in New York. That was its highest price since December 2014. Brent crude, the international standard, rose 0.4% to $73.62 a barrel in London.
Wholesale gasoline picked up 0.4% to $2.09 a gallon. Heating oil slipped 0.4% to $2.11 a gallon. Natural gas lost 1% to $2.73 per 1,000 cubic feet.
Gold rose 0.5% to $1,312.70 an ounce. Silver added 0.4% to $16.45 an ounce. Copper gained 0.4% to $3.08 a pound.
The dollar fell to 109.17 yen from 109.73 yen. The euro rose to $1.1993 from $1.1988.
Germany's DAX fell 0.9% and Frances CAC 40 shed 0.5% . The British FTSE 100 dipped 0.5% . Hong Kong's benchmark Hang Seng index dropped 1.3% and South Korea's Kospi dipped 0.7% . Japanese markets were closed for a holiday.
---
UPDATES:
1:55 p.m. This story was updated with the market close.
This article was originally published at 8:30 a.m.
---
Your guide to our clean energy future
Get our Boiling Point newsletter for the latest on the power sector, water wars and more — and what they mean for California.
You may occasionally receive promotional content from the Los Angeles Times.