Apple tops $1 trillion, leading gains for US stocks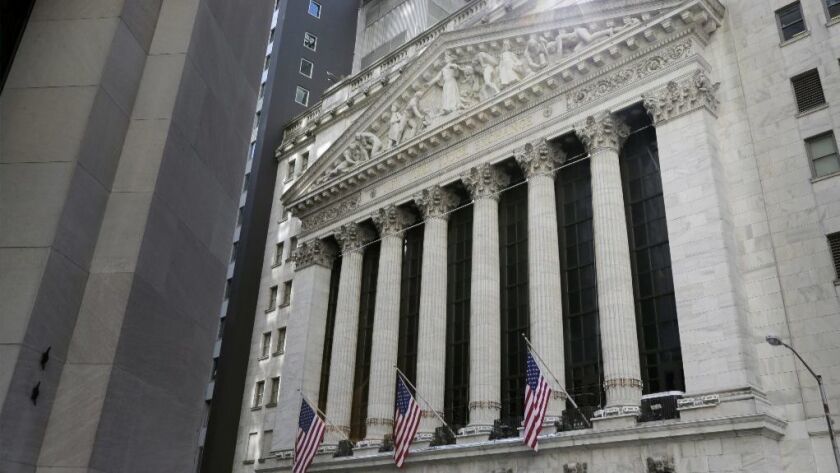 U.S. stocks climbed Thursday as Apple led a rally in technology companies and reached $1 trillion in value. Consumer products and health care companies rose as second-quarter results from corporate America continued to surpass investors' expectations.
Stocks in Asia and Europe fell after the White House said it will consider even higher tariffs on Chinese imports, escalating the trade conflict between the world's two biggest economic powers.
U.S. stocks opened lower as energy and basic materials companies slumped, but those early losses eased as the day went on. Solid results from companies including Clorox, drugmaker Regeneron and electric car maker Tesla sent the market higher.
Apple jumped again, and became the first publicly traded company to top $1 trillion in market value. The stock climbed 9 percent over Wednesday and Thursday, its biggest two-day move in more than four years, to hit the milestone.
GBH Insights analyst Daniel Ives said Apple's lofty price tag reflects its unique position as a technology company that sells popular products that work together and which people stick with.
"Once you buy one Apple device in a household, likely you're going to buy multiple, three, four, five devices," he said. "They've built a consumer product empire."
Apple's value rose almost $83 billion in the last two days. That's as much as construction equipment maker and Dow component Caterpillar is worth. Other big technology companies also rose Thursday, recovering some of the losses they had absorbed late last week and early this week. Facebook and Microsoft both climbed.
The S&P 500 index rose 13.86 points, or 0.5 percent, to 2,827.22. The Dow Jones Industrial Average slipped 7.66 points to 25,326.16. The Nasdaq composite jumped 95.40 points, or 1.2 percent, to 7,802.69. The Russell 2000 index of smaller-company stocks added 12.84 points, or 0.8 percent, to 1,682.10.
Apple got to the $1 trillion mark shortly before noon and finished with a gain of 2.9 percent at $207.39.
Despite its eye-popping market value, by some measurements Apple stock isn't very expensive. The stock trades at 17.8 times its expected earnings over the next year. That's about the same as the rest of the S&P 500 index, and Apple has bigger profit margins.
Saudi Arabia's state-owned oil company, known as Saudi Aramco, has taken steps to prepare for an initial public offering, and Saudi officials say the IPO will value the company at around $2 trillion. But it's not clear when that offering might happen and without it, it's difficult to value the company.
Tesla soared 16.2 percent to $349.54. The electric car maker said production of its lower-cost Model 3 sedan is growing and CEO Elon Musk said the company doesn't expect to need to raise more money from investors.
Clorox rallied 6.2 percent to $142.44 after its fiscal fourth-quarter profit and its forecast for the current year were both better than analysts expected.
As of Wednesday, more than 300 companies in the S&P 500 had reported their quarterly results. S&P Global Markets Intelligence says 82 percent of those companies have announced larger profits than analysts expected. Total S&P 500 earnings are expected to grow 24 percent from last year.
The Trump administration said it might put a 25 percent tax on $200 billion in imports from China. That is up from a 10 percent tax it proposed in June. The tariffs likely wouldn't go into effect until at least September, as the government will hold a hearing about the proposal later in August and will seek public comment until Sept. 5.
TripAdvisor sank 11.2 percent to $51.18 as the travel booking site reported weaker sales than analysts expected and said revenue from hotels decreased.
Wynn Resorts reported profit and sales that missed estimates following a decrease in income from its Macau operation. The stock dropped 6.5 percent to $149.54. That comes a day after Caesars Entertainment said it expects weak results in the current quarter because of fewer scheduled events and lower room rates in Las Vegas.
Bond prices edged higher. The yield on the 10-year Treasury note fell to 2.99 percent from 3 percent.
The DAX index in export-reliant Germany tumbled 1.5 percent and the CAC 40 in France lost 0.7 percent. Britain's FTSE 100 slid 1 percent after the Bank of England raised its main interest rate. Japan's Nikkei 225 index sank 1 percent and Hong Kong's Hang Seng dropped 2.2 percent. The Kospi in South Korea shed 1.6 percent.
Benchmark U.S. crude rose 1.9 percent to $68.96 a barrel in New York. Brent crude, used to price international oils, gained 1.5 percent to $73.45 a barrel in London.
---
Be your money's boss! Learn how to make a budget and take control of your finances with this eight-week newsletter course.
You may occasionally receive promotional content from the Los Angeles Times.