Tomato prices could spike as U.S. ends agreement with Mexico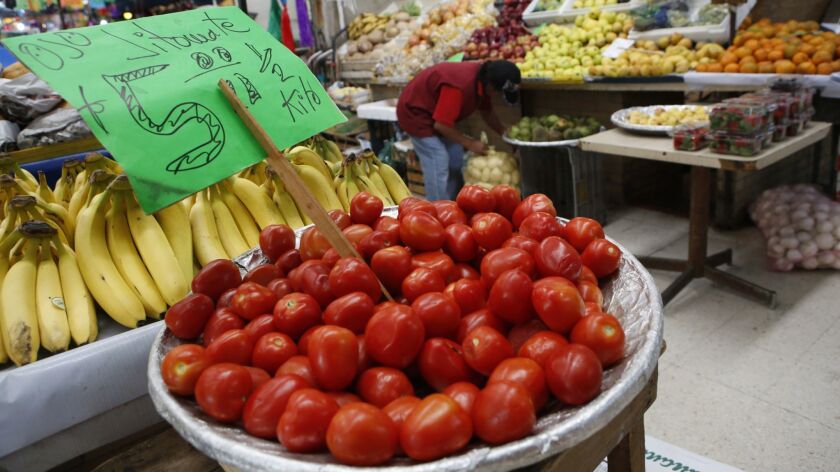 Bloomberg
Tomato prices could take off as the U.S. withdraws from a pact with its top supplier, Mexico.
The so-called Tomato Suspension Agreement expired on Tuesday, triggering duties of more than 17% on supplies crossing into the U.S. from Mexico. The decision was made in part to protect growers in Florida.
Tomato growers in the Latin American country now need to pay collateral to cover the cost of the duties before they are able to export to the U.S., Mexico's economy ministry said in a statement Tuesday. That could mean more than $350 million in extra costs for producers — fees many small and medium-size exporters probably will be unable to bear, the statement said.
"It's a win for our group," Michael Schadler, executive vice president of the trade association Florida Tomato Exchange, said by telephone. He said tomatoes from Mexico sold below the U.S. cost of production make it hard for Florida growers to compete.
Prices for tomato imports jumped when the move was announced by the U.S. Department of Commerce on Feb. 6, and will probably increase again to account for the duties, according to David Magana, a senior analyst at Rabobank International.
The tariffs could "impact prices in the U.S. in a matter of days," Magana said in an email Monday.
U.S. tomato retail prices could climb by 40% to as much as 85%, with the bigger gains likely coming in the October-June period, according to a study by Arizona State University. The study was commissioned by the Fresh Produce Assn. of the Americas.
On April 26, the average cost had fallen to about 98 cents a pound, the lowest since October, the most recent government data show.
---
For reporting and exclusive analysis from bureau chief John Myers, get our California Politics newsletter.
You may occasionally receive promotional content from the Los Angeles Times.